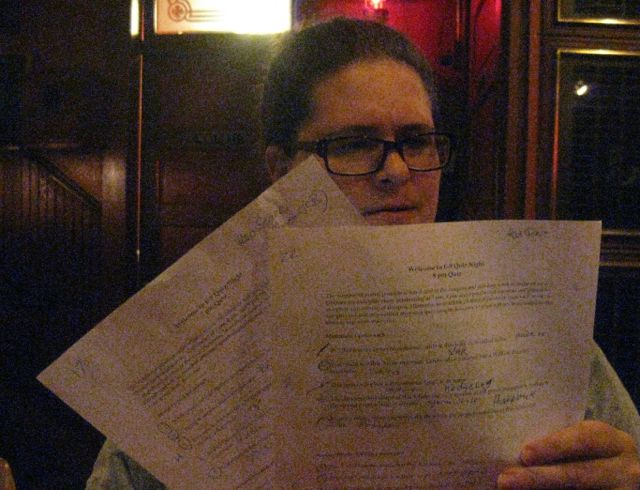 By Suzanne Skaar
For my friends and me, trivia is a great way to relive our glory days of Academic Decathlon and Knowledge Bowl, but without the rules against eating, drinking, or talking during rounds. And unlike medals that somehow were lost when we moved away to college, many Tacoma area Trivia Nights offer prizes that can actually be used. Here's how you can join the fun.
The Hub
Address:         203 Tacoma Ave S in Tacoma
Host:               Tarin
When:             Tuesday from 6:00 – 8:00 pm
Prizes:             Cold, hard cash.
21 and over
The questions are challenging and range from math to Central Asian geography. Play is divided into two rounds, ten sections each. The first place winning team of a round receives $50. On any given night, seating can be limited due to the popularity of the venue, so get here early!
Address:         754 Pacific Ave in Tacoma
Host:               Mike
When:             Every other Wednesday from 6:00 – 7:00 p.m.
Prizes:             Gift Certificates.
All ages (with the caveat that "unattended children will be given to the Borg.")
Dorky's is an old school video arcade, replete with air hockey, Star Trek the Next Generation Pinball, racing games, and Beer Pong (the arcade game, not the college drinking game). For owner Caroline, the arcade is proof of what can happen if you follow your dreams. Since opening only a few years ago, the business has doubled its physical space and gained a loyal customer base. The seating area is rather small, so get there early if you can.
Fortunately, Trivia Night has returned to Dorky's. Game play is divided into 5 stages that are sure to challenge your knowledge of comics, video games, and geek culture. Dorky's has a pretty wide selection of beers and a menu with options for both self-proclaimed carnivores and careful vegans.
Address:         5275 Olympic Dr NW in Gig Harbor
Host:               Joel
When:             Wednesday from 7:00 – 9:00 p.m.
Prizes:             Vary
All ages
Friends on the other side of the bridge can join the fun at Gig Harbor's Forza Coffee Company.
Players can expect topics ranging from "sports, movies, music, television, local happenings," but Trivia Host Joel also likes "to mix in some science, geography, Greek mythology.  I don't do themed rounds so every round is a mixed bag of questions."
He continues, "There are prizes for the winner of each round, and a grand prize for the overall winner at the end of the night.  Prizes range from gift cards to Forza, bottles of wine, candy, cookies, assorted desserts from the restaurant."
Forza does serve beer and wine in addition to coffee, and for food choices, Joel recommends the bacon chicken flatbread, and the baby pear salad.  Families are always welcome.
Address:         611 N Pine St in Tacoma
Host:               Matt
When:             Wednesday; Rounds start at 7:00, 8:00, and 9:00 p.m.
Prizes:             Giftcards
All ages until 10 p.m.
Engine House 9 has been a mainstay of the 6th Ave bar scene since before there was even a scene. This venue attracts a range of customers, from decades long regulars to local college students needing a break. On the most recent night I joined in, I found I was seated on "Mom Row," a term coined by local Jen, as several of us at adjacent tables were able to leave our little ones at home with their dads for the night.
Although crowded, the Trivia Night format at the Engine House is a little more laid back than the traditional format. Sheets of paper with the round's questions are handed out to the teams at their tables, and amiable Trivia Host Matt comes by to score each team's answers individually. Teams are able to take their time answering questions, as opposed to hanging on the host's every word, and in the process, decide for themselves whether the priority of the moment is conversation or determining the correct term for the Easter Island statues. (The answer apparently is "Mnori." My team did not correctly guess this one, nor did we win.) The result is that while many teams are technically competing against each other, the feeling of "competition" is taken out of the equation.
Well, for most teams. After our first total loss ever, teammate Jessica Corey-Butler and I started strategizing. Jess' sage advice for preparing is to form the Trivia Night "Dream Team."
"When rounding out the team, find the comic book guy, the chemist, in addition to the literati… instead of being just the English department of one school," she summarizes.