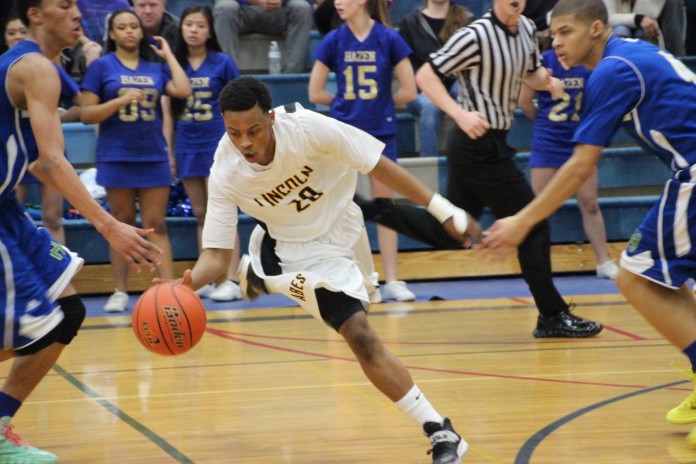 By Tom Rohrer
The further from the start of the New Year, the bigger the games become in high school basketball.
Following a grueling regular season in the 3A Narrows League, the Lincoln High School boys found themselves in a simple, yet challenging position:
Win Tuesday's District III 3A tournament game against Hazen and the season continues.
Lose, and the season ends immediately following the final buzzer.
It was evident early in the contest that the Abes had already decided on continuing their season.  The team blew the Highlanders away 66-47 in front of a spirited crowd at Rogers High School in Puyallup.
Lincoln led 25-8 at the end of the first quarter and parlayed their fast start into a 42-19 half-time lead.
Facing off against a Highlander front line featuring junior Dominic Green (6'6") and senior Anthony Phillips (6'9"), Lincoln applied stressful defensive pressure throughout the contest using a variety of quick and athletic guards.
This pressure generated offensive opportunities for Lincoln, and the Abe guards were able to move the ball up the floor quickly following turnovers.  The same guards displayed the ability to penetrate the Hazen defense, earning them the option to finish at the rim or kick the ball out to their teammates on the three point line.
A main recipient of those kick-outs was sophomore guard Trevion Brown, who had four three pointers in the first half en route to a team high 18 point performance. Cal-Berkeley commit Ahmaad Rorie and guard Josiah Barsh each chipped in 12 points and teamed up with Cameron Collins and Londrell Hamilton to harass the Hazen guards all game.
Green and Phillips added 18 and 11 points respectively, each of which were contested and hard-earned thanks to the interior defense of Lincoln's judicial duo of Justice Martion and Justiss Warren.  The 6'6" Martion was an offensive factor throughout the game as well, scoring six points in the opening quarter and 11 total.
With the victory, Lincoln will travel south Wednesday to take on Columbia River at Hudson Bay High School in Vancouver
No longer in win or go home scenario, Lincoln could fall to the Chieftains and still have a chance to earn a state berth in the district consolation bracket. A victory over Columbia River, who Lincoln defeated 55-33 in the first round of last year's state tournament, would secure the Abe's a berth in the regional round of the state playoffs.