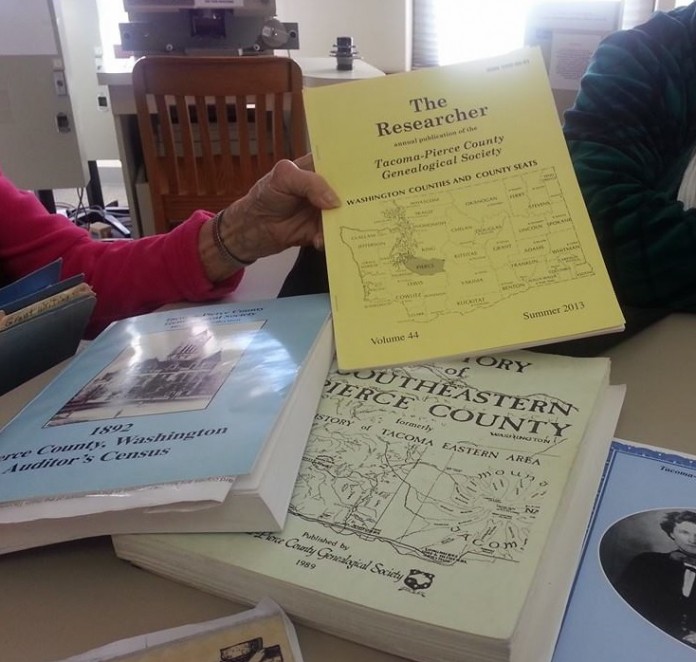 By Jessica Peyton Roberts
How far back can you trace your family tree?
You don't have to be a professional historian to conduct the research necessary to find and track your ancestors. The members of Tacoma-Pierce County Genealogical Society are committed to teaching you how to "find your people" as Membership Officer Carol Rikerd phrases it. TPCGS Webmaster Jane Irish Nelson chimes in with another good description she read somewhere, "It's filling in the dash between the birth date and the death date."
Founded in 1961, many members reached out to the organization once they realized much of their family's stories remained a mystery to them. Marie Hayden, Publication Sales Officer, explains that she started attending meetings in 1978 after her father had passed. In the course of learning more about her parents and their respective families, she reconnected with relatives in a way that was "very satisfying" and compelled her to continue working with the group.
As Nelson emphasizes excitedly, "There is always more to find!" Meeting with a group of TPCGS's officers in the main Tacoma Public Library's Northwest Room, our lively conversation quickly escalated in volume. A librarian came over to shush us, but added quietly, "I'd join you if I could!"
Meetings are even more fun for budding and experienced genealogists alike. The TPCGS meets the second Tuesday of every month at Bates Technical College, South Campus and anyone is welcome. A pre-meeting roundtable allows participants to share their findings, ask each other questions, and highlight new sources. During the meeting, a featured speaker addresses the group on topics extending beyond Pierce County; members do not need to be originally from the area to join TPCGS.
Janet Baccus, Record Preservation Chair, explains that the TPCGS's mission is to extract and preserve records, to share information, and to teach others the methods and sources for genealogical research. Baccus shows me one of the group's 2003 publications, an 1892 Auditor's Census for Tacoma-Pierce County, painstakingly assembled by volunteers working off of the original 3×5 index cards. The TPCGS continues to publish its findings for members and the public, offering invaluable resources to locate auditor, marriage, death, mortuary, cemetery, and parish records for a nominal fee.
And nobody has to go it alone. The officers assure me that anyone who sets out to trace their individual family trees will build up a network along the way. It is not uncommon for members to assist each other in locating a much-needed document, nor is it unusual to find new friends – and even distant relatives! – in the process.
Newsletter Editor, Janice Weihs, was in search of information regarding an ancestor who lived clear across the country. In the process, she connected with a man who was looking for an ancestor by the same last name. They worked together online, ultimately discovering that while they did not share a common ancestor, some of his relatives had moved out to the Tacoma area before 1900. By that point, Weihs was so invested in the man's research that she looked up his relatives' graves in different city cemeteries and accompanied him to each when he came out west to do research.
Sometimes an inquiry into our family's history helps us solve old mysteries. And sometimes, as Rikerd describes, it prompts new ones. When Rikerd was a child her mother refused to discuss her own mother, Rikerd's grandmother, and forbade a nine-year-old Rikerd from asking her cousin questions about the family during a visit.
It wasn't until her mother's death in 1988 that Rikerd started asking about her ancestors again. For years she let her mother's things sit untouched, until one day, searching for clues, she opened a trunk. Inside was a complete list of the family's genealogy, traced back to her great-great grandmother. Two weeks later Rikerd took a genealogy class at the library, and started learning from TPCGS members how to trace the lives of her family members. "The stories of people's lives are so compelling," she marvels.
Including the story of her great-grandmother. Rikerd found a quilt constructed in 1905 in Iowa, a present for her grandmother, who was moving away with her husband, a pastor. Each of the 502 parishioners' signatures was scrawled on the quilt in beautiful calligraphy that Rikerd suspects was done by her great-grandmother, who oversaw the production of the quilt for her daughter. One name – a man's name – had a box that looked like a coffin drawn around it.
Rikerd looked up the name and found it belonged to a man who was an eight-year-old boy at the time the quilt was made. Ten years later, at eighteen, he married a sixteen-year-old girl. After six months, when she decided she didn't want to be married anymore, the man murdered her and then killed himself.
Prior to the quilt, Rikerd had heard family stories about her great-grandmother, originally from Wales, as a "seer," with abilities to see into the future. The quilt added a new layer of intrigue onto an old family mystery.
The TPCGS wants people to know that everybody has their own fascinating family histories waiting to be uncovered. And rather than pay someone or a website to look up something for you, why not learn how to find and work with verifiable records yourself? Not only will you learn how to distinguish between credible sources and bunk, but also, you will find a network of people, near and far, who share your passion for rescuing people from the margins of the historical record.
As Nelson puts it, "Genealogy brings people back to life. They aren't forgotten anymore."