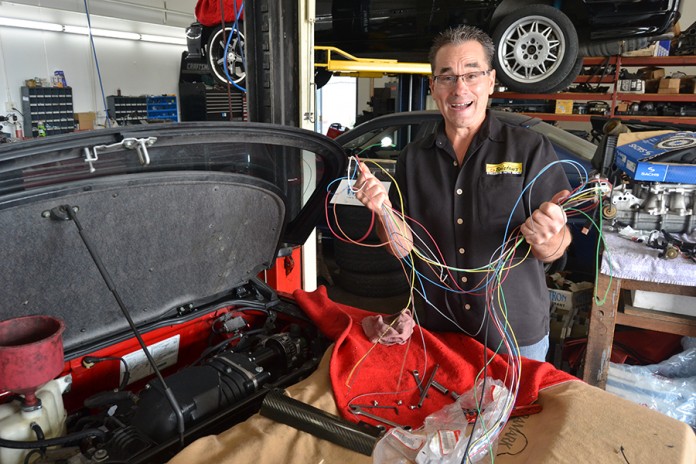 Maybe it's the fact that he was repairing the family car before he was even 10-years-old, but it would seem as though it was destiny that led Pete Bristow to a career in the automotive industry. Describing his job as a "hobby on steroids," Bristow's passion and knowledge for cars is nothing shy of impressive.
With countless racing awards under his belt, a commitment to continuing education and a love for all things "vroom," it's no wonder that Bristow is revered as a master in his field, and why Bristow's Exclusive Auto Repair is a trusted source in the South Sound when it comes to everything from simple repairs on everyday vehicles to custom care for classic and speciality cars.
Growing up, Bristow loved to tinker on cars and bikes, so much so that it led him to an apprenticeship and career as a heavy equipment and diesel mechanic at the age of 17. After completing his apprenticeship, Bristow continued to work for the same company for nine years, until a union strike presented him with a new opportunity. The strike was on and Bristow wasn't working, so he headed in to European Motors, the shop where he had purchased his first race car. "Why aren't you working?" the shop owner asked. Bristow explained that his union was on strike, and the shop owner excitedly told Bristow, "We have a place for your toolbox right over here." Bristow happily accepted the job offer, and quickly grew his skill set and experience even further.
By the early 1990's Bristow had acquired a business license and was fixing up cars out of his garage during evenings and weekends. As he continued to grow his client base, he realized he was going to have to quit his day job to keep up with all of the side work he was acquiring, and in 1995 he opened Bristow's Exclusive Auto Repair. Business thrived and Bristow's grew. Needing a bigger location to operate out of, in 1997 Bristow's relocated to its current South Tacoma Way location.
Staffed with a team of dedicated mechanics, Bristow's Exclusive Auto Repair's staff is friendly, knowledgeable and equally as passionate as Bristow himself. Of course, Bristow wouldn't have it any other way.
With an experienced and talented staff to back him, Bristow explains that providing his customers with quality service comes easily at Bristow's Exclusive Auto Repair. "We've always offered a personal touch, and we spend a lot of time educating our customers," he says. "We believe it's important to do maintenance on your car to prevent major repairs and safety is huge, but sometimes it's about evaluating whether repairs should be made, or if the customer needs a new car." This type of honesty and individualized care is part of why Bristow's customers tend to be so satisfied. It also helps that Bristow's offers a two year, 24,000 mile parts and labor warranty on the services that they perform.
Beyond Bristow's commitment to excellence at his own shop, he is also the Vice President of the South Tacoma Business District Association. In this position, Bristow has been able to impact the surrounding area by helping to promote a cleaner, greener community. His own shop is EnviroStar certified through the Pierce County Health Department, and he has extended his dedication to the environment by pushing for the installment of cigarette butt cans along South Tacoma Way, which was approved several years ago. Bristow explains that he has always been aware of the impact each individual has on the planet, and that it's important to be aware of the environmental repercussions of our actions, being sure to balance out those actions in other ways. By being EnviroStar certified, Bristow's Exclusive Auto Repair takes special measures to manage fluids, recycle, and contain outdoor spills.
Taking extra measures to ensure a productive, safe, clean and positive work environment, Bristow has cultivated an impressive establishment that his customers respect. While cars are his biggest passion, Bristow explains that the most rewarding part of his job is his customers, simply saying, "I love helping people with their cars."
Of course, even when the shop is closed, Bristow doesn't take a break. On the weekends, you can find him zooming around the race track for a shot at first place in a race, or sitting in the passenger seat as he instructs newcomers on the basic road rules of racing. Bristow purchased his first race car in 1981, participating in his first race within three months, landing a handsome collection of awards. Training other racers since 1988, Bristow instructs driving schools at various courses throughout the region.
With Bristow's dedication to excellence and his unrelenting passion for all things automotive, Bristow's Exclusive Auto Repair is a trusted South Sound source for tuning up your family vehicle, souping up your toy, and more.
Bristow's Exclusive Auto Repair
4731 South Washington Street
Tacoma, WA 98409
253-471-1663