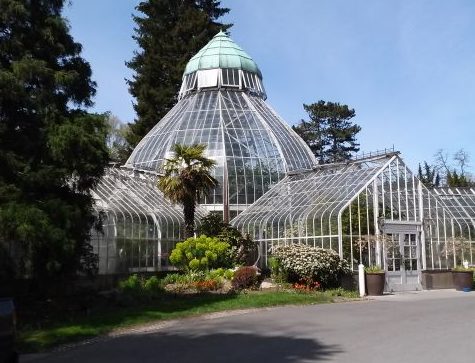 By Jean Janes
Always on the lookout for an interesting place to introduce to my four-year-old son, I recently happened across the W.W. Seymour Botanical Conservatory. More than just an indoor garden, the Conservatory is a wonderful community resource that offers an enchanting venue for nature appreciation no matter the weather outside. My son and I took a tour of the Conservatory and spent a moment speaking with Tyra Shenaurlt, the onsite manager, about the multiple events and nature displays presented at the Conservatory throughout the year.
Surrounded by orchids of every color, my son and I start our walk through the gardens by smelling everything with petals. Some of the fragrances are so strong and lovely that they greet us as we enter while others hang close to the flowers of origin. Along the way, we stop at a koi pond and he feeds the fish some food supplied by employee, Stacie Osborn. My son insists on feeding the fish one tiny pellet at a time, but in this wonderful and peaceful place, I truly do not mind taking the time. He decides that the red and silver koi is his favorite, and we continue along the stone path.
We happen to have visited in between the Conservatory's seasonal shows, but we are not disappointed. There are glass sculptures placed intermittently throughout the plants. Shenaurlt explains that this is the Hilltop Artist exhibit called "Symbiosis: A Mutually Beneficial Relationship" and it features student-made glass creations illustrating the interconnectedness of nature and all her creatures. The little glass birds and bugs are impressive and delightful. Explaining the plant-creature relationships to my son helps to demonstrate these dynamic qualities of nature, simplifying a complicated concept into terms he can understand.
While the Hilltop Artist exhibit is only on display for limited time, the Conservatory stages various plant themes year-round. Shenaurlt described their four main seasonal displays which include "Crave," "Vivid," "Crisp," and "Lavish." "Crave" shows-off the early blooms of spring. "Vivid" presents the summer burst of color with bright tropical foliage. "Crisp" is "an ode to autumn" with mums and ornamental peppers, and "Lavish" is "a celebration of a Victorian Christmas," resplendent in poinsettia, amaryllis, and paperwhite narcissus. Each presentation is a chance to experience the Conservatory anew and enjoy all that the season has to offer, no matter the climate outside. In addition to the four seasonal displays, there is also the "Tastey Tropicals" exhibition in August of edible plants such as cocoa and coffee.
I am particularly excited to learn of their "Second Sunday Concerts" and "Children's Story Hour" events. Regarding the "Second Sunday Concerts," Shenaurlt explains that every second Sunday, we have live music in the Conservatory. Like this last time, it would have been great for kids, we had a young musician…she was 15 [or] 16 years old, and there was a cellist." Live music in a magical garden setting seems like an event not to be missed.
"Children's Story Hour" is another fun activity at the Conservatory I plan to attend in the future. Normally provided once a month, the program shifts to weekly in July. Dates vary, so it is always wise to check their website in advance. Usually a half-hour story with 3 or 4 books and a craft to follow that relates back to the story theme for that week, Shenaurlt describes how during their most recent Story Hour, "the story this time was about 40 minutes because the kids were enthralled with the story." It is nice to know the staff is willing to accommodate curious minds for the sake of a little extra education.
As my son and I make our way through the Conservatory, spanish moss dangles from above, as well as baskets of suspended exotic plants. We stoop and stretch to inspect all the incredible variety that surrounds us. I make sure to look up to admire the structure of the Conservatory itself. We happen to have come on a sunny day so the light glimmers over the glass, filtering through the greenery, but I can only imagine how incredible this would be with rainfall. The air is substantial without being cloying or heavy, gently scented by all the exotic life around us. This is a remarkable place, and I am surprised I was not aware of it.
Shenaurlt relates, "This is a great facility…every day we get someone who has never been [here], but they've lived in Tacoma their whole life." I am so glad I have had the chance to visit, and will certainly be back.