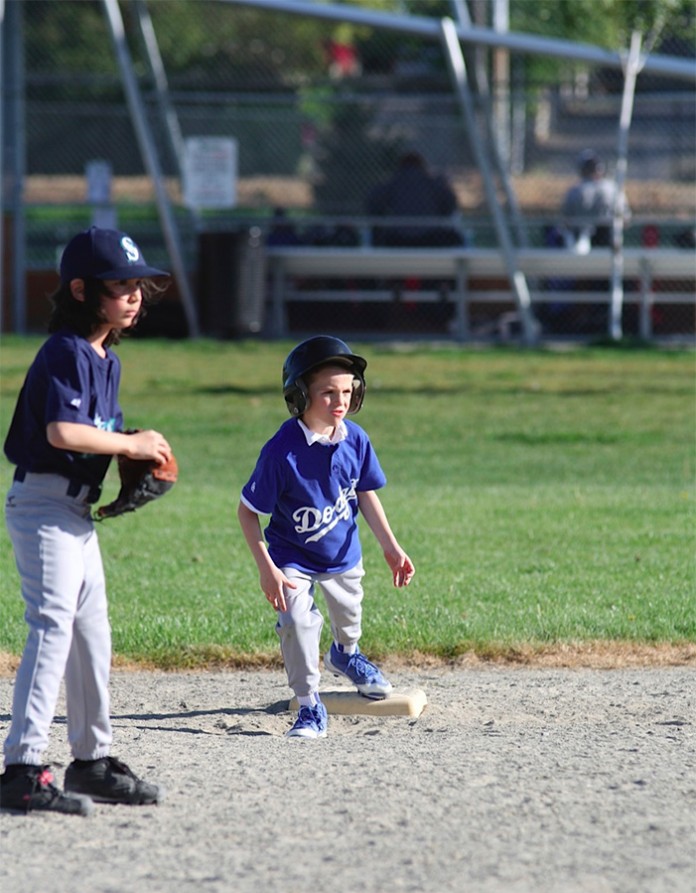 By Holly Smith Peterson
It's the bottom of the ninth, bases are loaded and the crowd goes wild. Except, instead of celebrity status Major League Baseball players, the field is loaded with children ranging in ages 5-18, who skillfully swing bats, throw pitches and catch balls while having fun as part of SoundView Little League, Tacoma's only Little League group.
Offering Tacoma youth with T-Ball, fastpitch and baseball recreation opportunities, SoundView Little League currently hosts 26 teams and is growing all the time. But more than just a team sport and outdoor recreation opportunity, SoundView Little League helps teach children important life skills that will stay with them forever.
Soundview Little League President, Lynn Clapp, coaches three SoundView Little League teams, and each of her three children also play on SoundView teams. "Playing for SoundView not only gives children an introduction to the sport of baseball, but it teaches them important life skills as well. We stress and encourage teamwork, perseverance and sportsmanship. We teach [each child] what it is to both win and lose with class," says Clapp.
A truly community-oriented and organized operation, the league is one hundred percent organized by SoundView's committed board of volunteers. Clapp says she is proud to work closely with a group of people who love the game of baseball and are dedicated to putting the kids first. "SoundView Little League is a well organized, yet fun and positive place for children to play baseball," she says.
"Our coaches are all volunteers, but they are terrific and experienced coaches," says Clapp. "While teaching their players how to improve, play hard and succeed, they are always cheering them on and helping build their self-esteem. The focus is on teaching and developing the fundamentals of the game of baseball through effective practicing, encouragement and game experiences."
But it's not just the kids who benefit from the sport, families love it too. "[Families] have a great opportunity to see their child develop into a great ball player and grow as a person. They get to cheer on their child during both games and practices. Many long term friendships have developed as children play on teams together and as they progress through our program," says Clapp. Clapp also notes that there are many ways for parents to volunteer with SoundView and encourages them to reach out if interested.
It's also probably a good idea to mention that these kids are extremely talented, too. "Last year our 9-10 softball team and 50/70 [intermediate] boys baseball divisions won the district titles and went on to the state tournament and did quite well, with the girls coming in 2nd place, and boys in 4th," says Clapp. SoundView is currently preparing for this year's all-star tournaments which begin in the middle of June. Clapp says people interested in spectating can join SoundView's 9-10 and 10-11 boys and girls on Saturday, June 14, and Saturday June 21, at Federal Way National Fields, or catch the 50/70 intermediate team on Saturday, June 21 at Browns Point Elementary.
SoundView also recently partnered with the Tacoma Rainiers, and is gearing up for SoundView Little League Night at Cheney Stadium. The event is open to all SoundView players, families, and friends, and anyone interested in learning more or becoming a player on a SoundView Little League team. Tickets cost $15 ($5 of which is donated back to SoundView) and include a ballpark meal, complimentary game program and access to special surprise events.
Clapp says that her hope in partnering with the Tacoma Rainiers is that it will help raise awareness about the the great opportunities available through SoundView Little League. SoundView Little League primarily serves Northeast Tacoma, but Clapp hopes to see the SoundView community extend to other reaches of Tacoma as more people learn about all that SoundView has to offer.
SoundView's current season is set to finish near the end of June when school gets out, but recreation opportunities will fire up again in August with the start of SoundView's Fall Ball season. Fall Ball is offered from August through November to children ages 9-13 and focuses on developing and improving skills with one to two practices per week and games on Saturdays. A great recreation activity to kick-off the start of a new school year, Clapp says Fall Ball registration information will be posted on SoundView Little League's website soon.
For more information about upcoming SoundView Little League games and events, or to find out how your child can become a SoundView player, click here.
All photos courtesy Liz Sawyer.