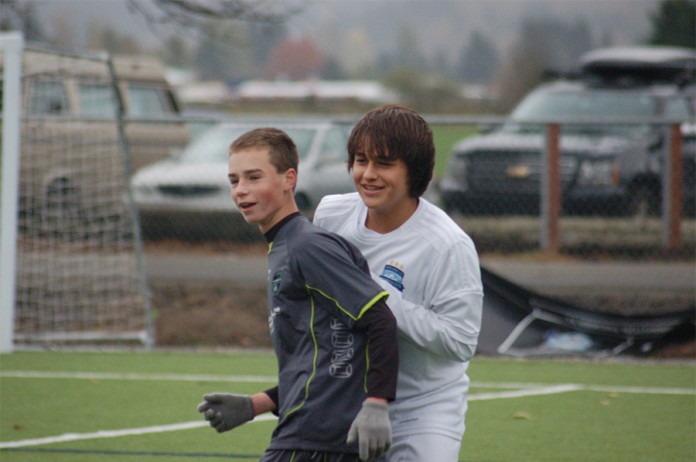 By Margo Greenman
For people living in the Pacific Northwest, the world's most popular sport is also a way of life. With a pro team like Seattle Sounders FC based in our very own backyard, chances are you know a handful of people who are "eternal blue and forever green," or, who have, at the very least, watched a game or two of soccer.
With so much excitement surrounding the sport, it comes as no surprise that kids get involved with the game at an early age, and in the South Puget Sound, getting involved is easy.
The third largest youth soccer association in the state of Washington, the Tacoma Pierce County Junior Soccer Association (TPCJSA) serves more than 8,000 youth across Pierce County through 14 clubs and more than 600 teams. With so many ways to play, TPCJSA provides Pierce County youth with soccer recreation opportunities for all ages and skill levels. And, with clubs in Orting, Spanaway, Gig Harbor and everywhere in between, there's a TPCJSA club near you.
Ray Moffatte Jr. is a National Assistant Referee and President of TPCJSA. Living and breathing the game, Moffatte has been a part of the soccer community since he was a kid himself. Passionate about the sport, Moffatte says a lot has changed since he started playing, but the game at its core has remained the same. "When I was younger, we were  playing ball. We weren't on cell phones or playing video games. Soccer is an opportunity for kids to get involved and stay active. Kids need to get out and play. When you're going to soccer practice three times a week and playing games, you're getting out of the house, away from the TV, away from the electronics. That's what it's all about," says Moffatte.
In addition to helping pull kids away from modern distractions, Moffatte explains that soccer serves as a community where lifelong relationships are formed. "The relationships built in soccer last forever," Moffatte notes, reflecting on the friendships he's formed with other coaches, parents and players over the years.
Dave Miller is a current referee and a former TPCJSA Vashon Island club coach. Miller became involved with youth soccer in 1994 when his oldest son joined a team, and has more than 20 years of experience with TPCJSA and youth soccer. Miller says the positivity that TPCJSA provides to the South Sound youth is carried with them well after their time with TPCJSA has come to an end. "I have seen a lot of kids over the years that, if it wasn't for soccer, they would have found themselves going down the wrong path in life. These same kids have grown into good young adults."
But, earning lasting skills and forming lifelong friendships is easy when you're having so much fun, something that Moffatte and Miller both like to emphasize. And, while most kids do just play for the love of the game, for some, TPCJSA is a place where their skills are nurtured, their talents shines, and opportunities are born.
Rachel Ross, a senior at Gig Harbor High School, has been playing with TPCJSA since she was 4-years-old. Currently playing for Gig Harbor High School and two TPCJSA teams, Harbor and Washington Premier, Ross has excelled in her game so much that she has already been recruited to play for Portland State University.
"TPCJSA has provided a platform for me to play soccer from early recreational stages to the highest competitive women's club level. Without TPCJSA and club soccer, I would of never been given the opportunity to further my soccer career and play D1 college soccer at Portland State University in the fall of 2015. TPCJSA has paved the pathway for my future not only with my soccer career, but my academic career as well and has provided me with memories and friends that will last a lifetime," says Ross.
Whether your child has dreams of being the next Clint Dempsey, or just wants to get out and have some fun, TPCJSA is a positive recreation opportunity for South Sound children and their families. As TPCJSA gears up for its September season, Moffatte encourages children and their families to consider the opportunities TPCJSA provides.
For more information about TPCJSA's recreation opportunities, to find a club near you and more, visit TPCJSA's website here.