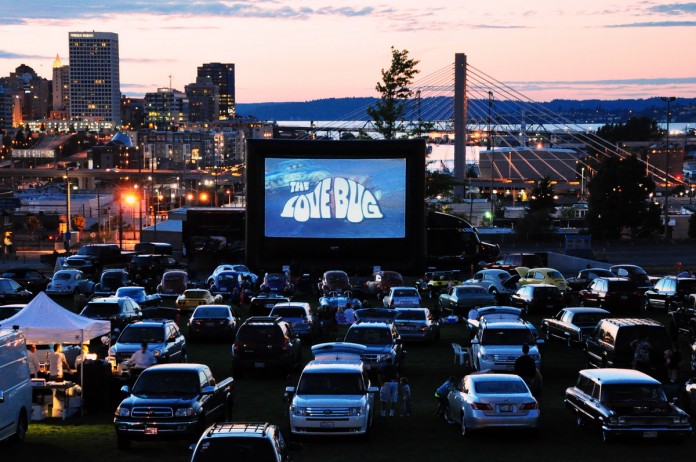 By Steve Dunkelberger
Summer nights of an age gone by – before the Internet, smart phones, Netflix and television – included treks to drive-in movie theaters. Families would pile into wood-paneled station wagons and snuggle while cartoons and the latest feature flickered on a massive screen a football field away.  Hormonal teens would snuggle in back seats, outside the eyes of their parents. Every community had a drive-in theater.
Those days are largely gone now. Locally, only Kitsap County's Rodeo Drive-In and Shelton's Skyline Drive-In have managed to survive the rise of streaming movies and YouTube.
But the tradition hasn't fully died out. A handful of summer events at parks around Pierce County will be offering the "drive-in experience" this summer.
The purist of the efforts can be found at LeMay-America's Car Museum, when the Haub Family Showfield will be transformed into a makeshift drive-in during select Saturdays to show car-related movies on a 40-foot outdoor screen.
The movies are free, although museum admission is not included and food from Pacific Grill will be offered for purchase. The schedule includes screenings of "Smokey and the Bandit" on July 26 and "American Graffiti" on Aug. 16. The parking lot opens at 4:30 p.m. and the movies start at dusk. People can either watch the movies from their cars or on blankets and chairs on the museum's lawn.
Across town, Cheney Stadium will be hosting free movie nights during select Fridays, when the Rainiers are playing baseball on the road. Franciscan Summer Movie Series is set for "The Lego Movie" on August 1, "Despicable Me 2" on August 15 and "Mr. Peabody and Sherman" on August 29. Shows start at 6:30 p.m. Families can pack a picnic and sit around the outfield to view the family-friendly movies on the largest video board in the South Sound.
Metropolitan Parks of Tacoma has a series of outdoor movies lined up for local parks as well.   The series includes the following free movies that begin at dusk:
"Cloudly with a Chance of Meatballs 2" on August 5 at People's Center,
"Hotel Transylvania" on August 8 at Kandle Park,
"Despicable Me 2" on August 15 at Star Center,
"Planes" on August 22 at the Center at Norpoint and
"Frozen" on August 29 at Stewart Heights.
Continuing the list, Pierce County Parks and Recreation will be hosting its own set of films at parks around the area as well. "Free Birds" will play July 11 at Meridian Habitat Park; "The Lego Movie" will play on August 1 at Heritage Recreation Center; and "Frozen" will play on August 22 at Sprinker Recreation Center. All movies are free and start at dusk, although people can come early stake out prime viewing spots, play preshow activities starting at 7:00 p.m. or visit concession stands.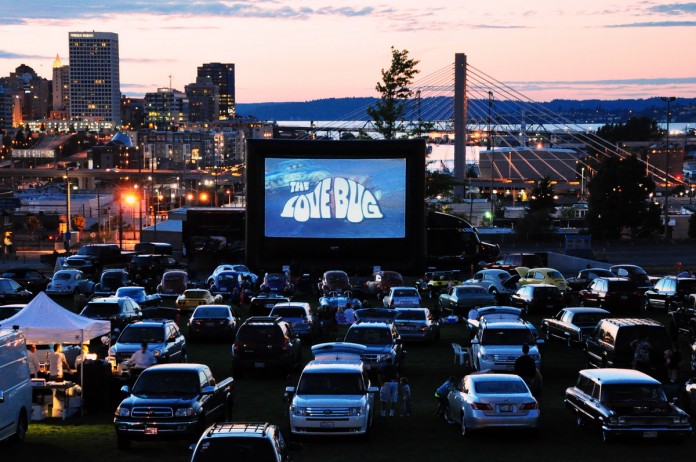 Fircrest Kiwanis will be hosting Movie and Picnic in the Park on July 25 at Fircrest Park to screen "Surf's Up." Activities start at 6:00 p.m. and the movie starts at 9:00 p.m.
Lakewood's annual Summerfest is a day-long event on July 12 that will include vendors, displays, games and exhibits of all sorts around Fort Steilacoom Park with an outdoor screening of "Jurassic Park" capping the event.
For free, indoor options, the Grand Cinema will be offering its Click Family Flick series at 10 a.m. on the third Saturday of each month. "Rio" will play July 19; "Antz" will play August 16 and "Despicable Me 2" will play September 20.