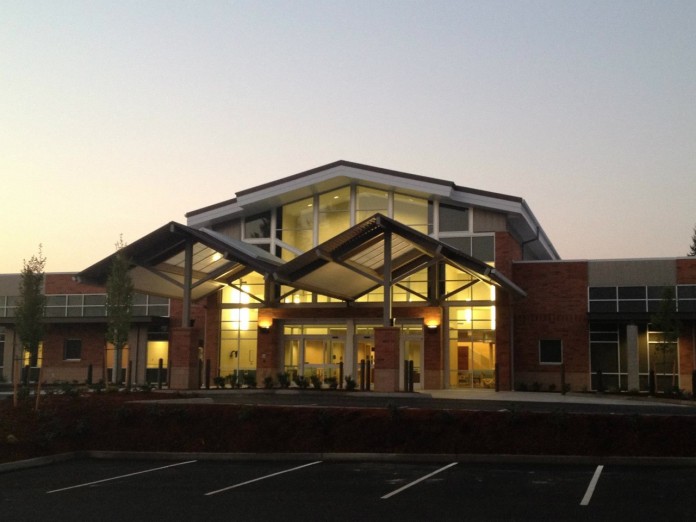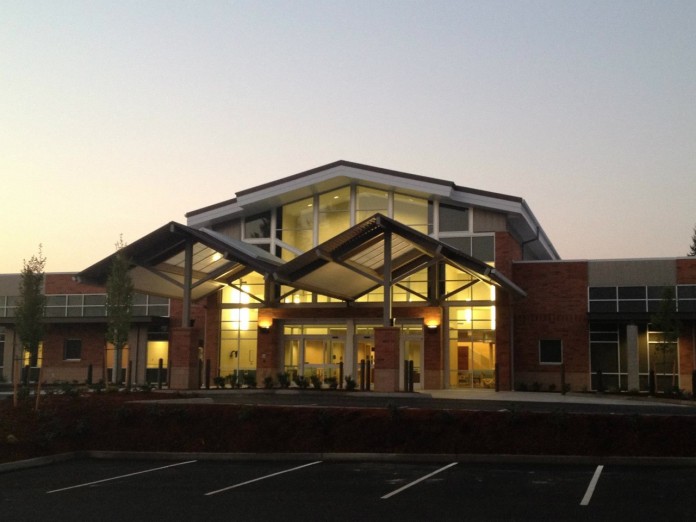 Olympia Orthopaedic Associates (OOA) is a long-standing fixture in the South Sound medical community. Founded in 1972 by Drs. John Coker, Jerome H. Zechmann, Alan Roser, and Kenneth Partlow III, the group has grown each year and now serves over 100,000 patients and performs over 10,000 surgeries annually.  Oly Ortho has three facilities in Thurston County: The Eastside Clinic on Lilly Road, the Westside Clinic and Surgery Center located across from Capital Medical Center, and The Yelm Clinic.
Opened in September 2012, the Westside clinic includes 35,000-square-feet of clinical space and 22,000-square-feet of surgical facilities. The 63,000-square-foot facility is one of the largest and most comprehensive orthopaedic centers in the Pacific Northwest including three state-of-art MRIs, two digital X-ray centers, a 5,000-square-foot physical therapy area, and a world-class Spine Center, along with the top-notch general orthopaedic care.
Orthopaedic care immediately brings to mind a broken arm, knee surgery, or a hip replacement.  And while Oly Ortho treats these conditions daily, "bones" are just part of the job. The doctors at Olympia Orthopaedic Associates provide full body musculoskeletal care including spinal care and neurosurgery.
Aside from the University of Washington, Olympia Orthopaedic Associates is the only provider in Washington to offer comprehensive, world-class spinal care and has a designation as a "Spine Center Of Excellence." The center consists of two neurosurgeons and two orthopaedic spine surgeons. Below, meet two of the talented surgeons in the Spine Center, working daily to correct spinal deformities and alleviate pain to help patients live full lives.
Dr. Andrew Manista – Orthopaedic Spine Surgeon
Dr. Manista came to Oly Ortho in 2008 after completing a spinal surgery fellowship at John's Hopkins Hospital in Maryland. His work at John's Hopkins included work with breakthrough technologies in spine surgery. He brings that expertise to OOA. Manista's title as "Orthopaedic Spine Surgeon" means he specializes in complex spinal deformities, either developmental or congenital, but also sees patients with back issues ranging from pain management to disc issues. It would be a typical path for a surgeon to have done undergraduate work in the sciences. However, Dr. Manista is anything but expected with his quick humor and easy laugh. Manista earned a Music Degree playing the upright bass at The University of Florida in Coral Gables. His repertoire ranges from classical to rock and anything in between.
Dr. Manista and his family moved to Olympia in 2008, falling for the beauty of the outdoors after a trip to the Olympic National Forest. Dr. Manista joined a team of veteran surgeons including Dr. Yoshi Yamamoto and Dr. Clyde Carpenter. "I have grown to love the relationships I'm able to develop with my patients over time," says Manista when asked what he enjoys most about his work at OOA. "As a spine surgeon, I don't just see them once or twice. I'm able to create a lasting connection."
Relationships are built among staff, too. "Being in this group at Oly Ortho is as good as it gets. The staff work hard and having a comprehensive team in such a terrific facility creates a real sense of cooperation, making us all better docs, giving the best care to our patients."
Dr. Ryan Halpin – Neurosurgeon
For the last three years, board certified Neurologist Dr. Ryan Halpin has been in the Spine Center at Olympia Orthopaedics. However, his history with Olympia is much longer. Dr. Halpin grew up in Olympia where he attended Capital High School and watched his father, Dr. Patrick Halpin, serve patients at Oly Ortho. Dr. Halpin knew he wanted to be a doctor as well and earned a Chemistry degree with Honors from Brown University before moving to Northwestern University to complete his Medical Degree and Neurology residency. He moved back to Olympia with his family, happy to be back in his hometown and join the team at OOA.
Dr. Halpin explains that, "The spine is where the two specialties of Neurology and Orthopaedics interconnect."  As with all physicians at Oly Ortho, Dr. Halpin works with patients on non-surgical options first to manage pain and promote healing. These include physical therapy and use of OOA's injection specialists. When non-surgical interventions are not enough, Dr. Halpin and his colleagues can handle even the most complex surgeries.
"I really enjoy the long-term doctor-patient relationships created during treatment," shares Dr. Halpin when asked what he enjoys most about his work. "I like following up with patients, seeing people get better and improving their lives." The Westside Clinic is also cited as a favorite, with improved efficiencies, well-designed traffic flow and comprehensive care in one building. "We can serve our patients so much better in this building.  It functions well and allows us to focus on our patients and their needs."
Olympia Orthopaedic Associates may have "Olympia" in the name, but the doctors at OOA are dedicated to serving all of Southwest Washington and beyond.  Patients routinely travel south from Tacoma, north from Longview, east from Aberdeen, and west from Yakima for the outstanding care they know they will receive.  Whether it is a degenerative spine disorder or a broken leg, the physicians at Oly Ortho are among the best you can find to help you heal and get your life back in motion.
Olympia Orthopaedic Associates
www.OlyOrtho.com
1-800-936-3386