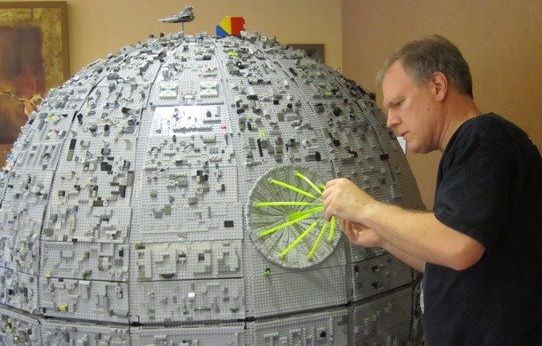 By Eric Wilson-Edge
Dan Parker pops his head out of the bathroom door. This is our first encounter. Parker says he'll be just a minute. I wait outside his shop admiring the Star Wars Speeder in the window. This is the realization of my childhood fantasy. The speeder looks operable, like I could chase Storm Troopers around the block. I can't believe the entire thing, all 10,000 pieces, is made of LEGOs.
Parker's hand is damp. He's been hired by a builder to clean up a collection that spent years outside.  "I'm running my hands through muck that two other shop guys refused to touch," says Parker. He found several dead creatures in the rubble, mainly bugs and snails.
The shop is pure imagination – with shelves. There are millions of LEGOs housed in different containers.  Entire bins are full of just one part whether it be steering wheels, dots or hinges. Organization is important in Parker's line of work.
Twenty years ago Dan Parker lived an entirely different life. He worked in a cubicle for an engineering firm.  The 53-year-old wanted a hobby, something that would allow him to express his creative energy. "I looked at motorcycle mechanics, furniture building, gunsmithing and LEGO building," says Parker. As he thought, he pictured the grease spot on the floor or the finger he was guaranteed to lose.
It helped that Parker played with LEGOs as a kid. "You can grab a handful of LEGOs and there's so many elements.  It's exponential what you can build," says Parker. He didn't waste any time with his new hobby. He built a train and working port crane from a mix of new LEGOs and ones his mom saved.
This was the early 1990s. "A grown guy playing with LEGOs was weird," says Parker. Then something magical happened. The Internet started to take off. Suddenly Parker could connect with builders around the world. This small group of enthusiasts pitched ideas, offered suggestions and occasionally worked together on projects.
Parker did his best to keep a lid on budding interest. He had a job, the LEGO thing was fun but he couldn't see it as a career. "I'm driving down the road near the Nintendo campus and I had a flash," says Parker. "A bolt of lightning hit me in the head and I could see myself doing this full time."
Parker opened his first studio in 2003. His current one is housed inside Freighthouse Square in Tacoma.   In the past decade or so Parker has become a rock star in the LEGO world. At events kids will have him sign blocks or instruction manuals. "I want to talk to them, I want to see what these kids are excited about," says Parker.
It's easy to see why Parker has been dubbed "The Lego Guy." In the past two decades he's built over 3,500 different projects for individuals, companies and trade shows around the world. Some of the more amazing pieces include a six-and-a-half foot tall model of the Makkah Clock Royal Hotel Tower, a million piece Christmas exhibit and a casket. The casket was for a young man who died of cancer. Parker and his team decorated it with race cars.
Parker hasn't let his status as a LEGO icon go to his head. He opens the shop during certain times of the year so people can come in and build. He also runs kids camps to help kids get excited about LEGO building.  "Everybody should have some kind of building skills that they can draw on and translate to other parts of their life," says Parker.
In his private life, Parker is married with two children. Both his kids took an interest in LEGOs. Parker's now 20-year-old daughter is in college. His 16-year-old son is a budding LEGO artist. "One of his earliest creations was a guy riding a slug across a post-apocalyptic landscape," says Parker.
Interacting with his kids has helped Parker see his craft differently. He's learning to step back and set his ego aside. Parker hopes one day to create pieces that are more artistic in nature and not bound by traditional rules of engineering. In this respect he's a lot like his projects, both are works in progress.
If you'd like to see more of Dan's work drop by "City Blocks" on D Street in Tacoma.  You can follow his creations on Facebook, as well.
You can also visit the "Block by Block" display at the EMP in Seattle. The exhibit runs until Labor Day.