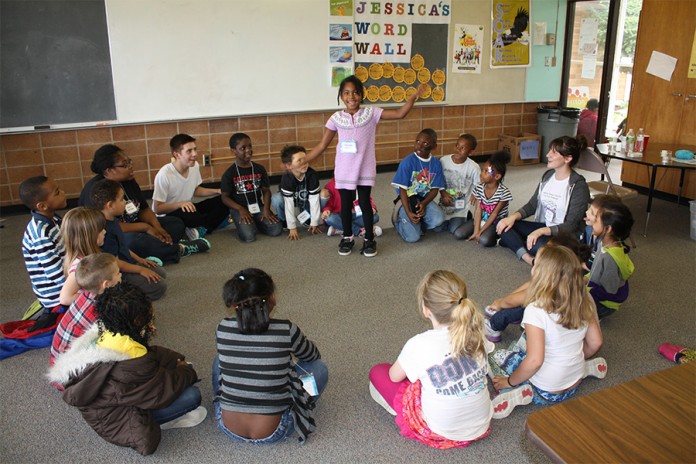 Submitted by KBTC                                                                                             
KBTC has been awarded a $100,000 American Graduate: Let's Make It Happen community service grant from The Corporation for Public Broadcasting (CPB) to help Pierce County improve youth outcomes for all students from preschool through college and onto careers. The nation's graduation rate is at 80%, yet significant "graduation gaps" still exist for students of different races, ethnicities, family incomes, and disabilities, as well as those with limited English proficiency.  In Pierce County, graduation rates are 78%, with the rate in Tacoma being 70.2%.
"Our 21st century economy puts a premium on quality education," said Representative Derek Kilmer. "But too many of our youngest students step into school without all the tools they need to find lasting success in the classroom. With this new investment KBTC and its partners in the Pierce County community can help young kids prepare for success in school and in life."
Kicking off as students in Pierce County head back to school, KBTC will work in Pierce County over the next two years to increase understanding about the challenges for at-risk youth and work with a network of community partners to help develop and illuminate long term solutions emphasizing the importance of a strong foundation in early education and the need for consistent caring adults.
"The research is clear. In order to earn a high school diploma, children need ongoing, community based educational support. And the first five years are fundamental for the development of every child," said Ed Ulman, KBTC Executive Director and General Manager. "That's why KBTC embraces the "cradle to career" concept and why we're pleased to collaborate with United Way of Pierce County, First 5 FUNdamentals, and Graduate Tacoma!"
"We are pleased to be working with KBTC on the American Graduate Project to build awareness that quality early learning experiences can positively impact graduation rates" said Susan Barbeau, Executive Director of First 5 FUNdamentals. "Kids gather the building blocks for school readiness long before they enter a formal classroom. The first five years of life are crucial to a child's overall success. As a community, we must ensure that every child has a positive learning experiences and adult support from the moment they are born."
KBTC will highlight local early childhood education leaders throughout Pierce County and Western Washington who are helping communities increase graduation rates. KBTC will also identify and share the stories of everyday heroes who are committed to improving education outcomes as "American Graduate Champions."
The initiative will feature new locally produced content alongside national productions and classroom resources – including PBS NewsHour's new education desk, American Graduate Day, 180 Days: Hartsville, and the youth-driven spoken word contest RAISE UP!, along with PBS Learning Media and PBS Kids assets. KBTC is part of the national American Graduate initiative in partnership with 33 other public media stations around the country.
"Public Media has a long history of investing in content that improves educational outcomes for children and United Way of Pierce County is thrilled to partner with KBTC in this community-wide effort focusing on early learning as a fundamental strategy to improve graduation rates" said Dona Ponepinto, President and CEO of United Way of Pierce County.
"Education is at the core of public media's mission. Through American Graduate stations' partnerships with over 1000 local organizations, we are proud of public media's content and on the ground engagement that has raised awareness to achieve 80% graduation rates nationally and helped America see the potential in every student," said Pat Harrison, CPB President and CEO. "By strengthening our focus on solutions, starting with our youngest learners, and highlighting local leaders who are creating sustainable change, together, we can set kids – and our country – on a path for long term success."