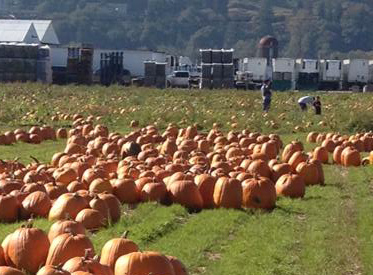 By Jean Janes
Autumn colors are quickly beginning to decorate the landscape in brilliant reds, gold and oranges, while the crisp breeze bears scents of pine and wood burning fireplaces. Nothing, however, signifies the start of the season quite like the sudden abundance of pumpkins at every turn.
As Halloween approaches, 'tis the season to stock up on said pumpkins and gourds galore. Whether to carve, to paint, or to bake, the best place to find superior squash of any shape or color is at one of Pierce County's several pumpkin patches. Not only is it a pleasure to seek out the pumpkin of your choice among hundreds in the field, but each pumpkin patch highlights a selection of fall festivities as well. Corn mazes, farm animals, tours, hayrides and more make the simple task of selecting a pumpkin more like a day at a harvest fair.
Below is a list of some of the pumpkin patches Pierce County has to offer. Each has fields of pumpkins to peruse, but there are other amenities and features to consider. Contact information and hours of operation is also included to help you decide which to visit.
Picha Farms
Picha Farms boasts "the best slingshot in Puyallup Valley," as well as hayrides beginning October 10. A seven-acre corn maze challenges as well as entertains. Answer eight trivia questions by finding the answers in the maze itself and win a prize. On weekends and on October 10, concessions such as coffee, hotdogs, kettle corn or caramel apples will available to fuel all that pumpkin shooting and hay riding. Picha Farms is open from 3:00 p.m. to 6:00 p.m. Monday through Friday, and 10:00 a.m. to 6:00 p.m. on the weekends. Contact them at 253-841-4443 for details or visit their Facebook page.
Picha Farms
6502 52nd E.
Puyallup, WA 98371
253-841-4443
Spooner Farms
Spooner Farms Harvest Festival and Pumpkin Patch offer a corn maze and field of pumpkins as well, but they also have pedal karts, duck races, and pony rides. On the weekends they also offer face painting and there are concessions for sale, including roasted corn. In addition to the usual fall fun, Spooner Farms gives Harvest Festival Group Tours for six or eight dollars by appointment. These tours provide an educational talk and visits to the farm animals, junior jungle, and a pumpkin house to name only a few of their tour stops. Their pumpkin patch is open daily 9:00 a.m. to 6:00 p.m. from October 1-31. The other activities are open during specific hours and some require additional admission. Visit their website and view their flier for details, or call for more information at 253-840-2059.
Spooner Farms
9622 Washington 162
Puyallup, WA 98374
253-840-2059
Scholz Farm and Garden
Also offering educational tours in October by appointment, Scholz Farm and Garden features a free corn maze, farm animals to meet, and abundant fall crops for sale. Visit Scholz to pick out a pumpkin and stay to enjoy their jams, jellies, and fall harvest selection. Make your tour appointment by calling 253-848-7604. They are open daily from 9:00 a.m. to 6:00 p.m.
Scholz Farm and Garden
12920 St. Rt. 162 East
Orting, WA 98360
253-848-7604
Maris Farms
Opening October 4, Maris Farms features activities for every member of the family from zip lines and pony rides to a paintball safari. Kids can choose from riding a monster truck, pony, or a camel. Not your typical corn maze, Mavis Farms has Sasquatch hiding somewhere in the more than six acres of twists and turns. Along with so many exciting activities, there are also hundreds of pumpkins to choose from as well. Mavis Farms is open daily through October 31 from 1:00 p.m. to 6:00 p.m. Monday through Friday, and 10:00 a.m. to 6:00 p.m. on weekends. Rates vary, and some of their special events and activities have different rates and hours. Be sure to check their website for details or call at 253-862-2848.
Maris Farms
25001 Sumner Buckley Hwy
Buckley, WA 98321
253-862-2848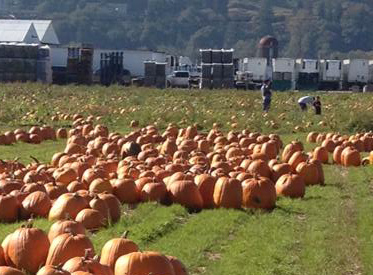 Jim's U-Fish at Old McDebbie's Farm
A great option for the youngest pumpkin enthusiasts, Jims U-Fish at Old McDebbie's Farm is an ideal place to introduce the little ones to some friendly farm animals or they can burn some energy on big toys set up for climbing. Pony rides or a walk through a musical forest is also available. Pumpkins are available through the end of October, with a special late night marshmallow roast on October. 24 Costumes are welcome, and they suggest bringing along a flashlight to see some sleeping animals or to walk a spooky trail in the dark. They are open in the fall Friday through Sunday from 10:00 a.m. to 6:00 p.m., except for the marshmallow roasting on October 24 when they will stay open until 8:00 p.m. Call them at 253-875-0356 for details or to make party reservations.
Jim's U-Fish at Old McDebbie's Farm
4924 268th St E
Spanaway, WA 98387
253-875-0356
With so many wonderful options, fall in Pierce County promises to be festive and bountiful. Be sure to visit at least one of our local farms to celebrate autumn and to take part in all that this vibrant season has to offer.