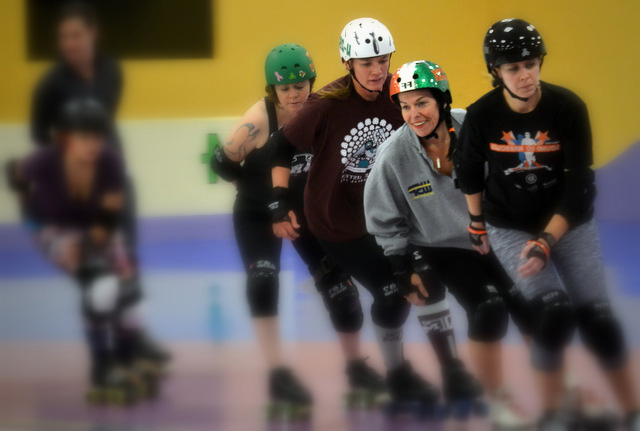 By Steve Dunkelberger
It takes a special kind of woman to work all day and perhaps even care for a child or two, all before heading to a skating rink located miles away to get bruised and bounced around for an hour.
Such is the life of the Dockyard Derby Dames, Tacoma's all-women flat-track roller derby league. The league is set to mark 10 years of bouts this season, one that is seeing increasingly louder and shoulder-to-shoulder crowds. And, each of the team's athletes has a story to tell about why they lead double lives as charming workers by day and bone breakers by night.
Dames are teachers, accountants, mothers, lawyers, nurses, machinists, social service workers, journalists, designers, students, business owners, sales associates, hairdressers, counselors, and massage therapists.
Kathy Glennon, for example, is a Department of Corrections counselor at Shelton Correctional Center during the workweek. But, on the weekends she is "Penny Tration," a multiple MVP jammer.
Glennon tried out for roller derby in 2008, when her daughter graduated high school and she found that she had spare time.
"I had an empty nest and I didn't want to just stay home," says Glennon, also noting that she had done speed skating in high school and watched roller derby in the 1970s. "I just pulled out my skates that I had from 30 years ago. I enjoy it. I like hitting people. I like skating. I like the workout."
She gets all of that on the rink.
"You know how some women like to go to the gym? Why? I don't know. But they do," says Glennon. "I like to skate. This is my gym."
Glennon has the scars to prove her dedication to her "workout." She has had ankle sprains, bruises, cuts, and a torn meniscus – all from the hits she has taken and given around the rink.
"There is zero show," says Glennon. "It is not like the WWF. We really hit."
Roller derby evolved into a sport when "endurance competitions" like dance-a-thons merged with the increasing popularity of skating rinks following the turn of the last century. It hit its peak in the 1970s, and then fell out of favor in the 1980s and 1990s only to rise again in the new millennium.
Scoring points in roller derby is rather straightforward. Two teams roll around an oval track in two-minute spurts called jams. Each team has a player known as a jammer who is tasked with racing around the track as many times as possible. Other members of the team, known as blockers, keep the opponent team's jammer for that mission by blocking, swerving, and checking. A team pivot sets the pace for the race and calls out plays for her team like a coxswain of a rowing crew. Teams score a point for every time a jammer laps the pack of blockers.
An elbow to the ribs here and a hip check there during a bout is all part of the game. Trash talking and team rivalries add to the drama. But that's all about the competition, since teams change every season. A one-time rival is a team member soon enough. The provocative nicknames and fishnet stockings are just extra fun. It's not lingerie football, after all.
"It's family oriented," says Glennon. And, Dames can often be found at street fairs and Special Olympics benefits throughout the year. Bouts also feature beer gardens, but no booze is allowed in the stands.
Kasey Noon, AKA "Briann Sexy Back," started roller derby skating three years ago, after she learned one of her banking customers was a Dame.
"I like that I can hit people and get out my aggression from the day," says Noon, adding that she now works for an orthopaedic surgeon who often shakes his head at her after-work activities. "I know he is going to fix me some day. I get to show him all my cool bruises at work. It only hurts when you aren't paying attention."
Noon played all last year's season, following a hip injury. This year she is back as a first-season jammer. The position is known for requiring the ability to dodge blows and take hits at every turn.
"It's so worth it," says Noon, adding that she drives more than an hour from Enumclaw to the practice track at Rollin' 253 in Fircrest each week just for the "privilege" of getting bruised. "I'm just going to skate until I can't."
For more information about Tacoma's Dockyard Derby Dames, including when and where to watch a bout, visit their website.