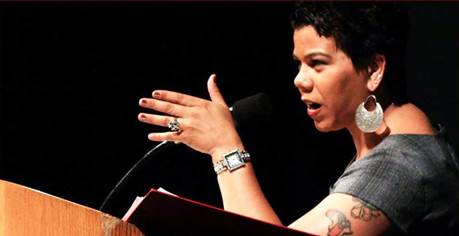 Submitted by University of Puget Sound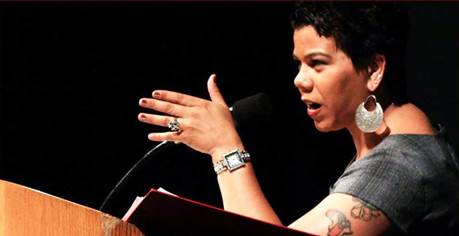 Rosa Clemente, black Puerto Rican community organizer, journalist, and former Green Party vice presidential candidate, will speak at the Martin Luther King Jr. Day celebration at University of Puget Sound in January 2015.
The event, marking the university's 29th year of honoring King's legacy, will start at 7:oo p.m. on Tuesday, Jan. 20, in Schneebeck Concert Hall on campus. The celebration is free and everyone is welcome. The doors open at 6:30 p.m.
Bronx-born entrepreneur and hip-hop activist Rosa Clemente will headline a program including messages from Puget Sound community members, live music from members of the college's Jazz Band, and the presentation of the Keep Living the Dream Award to a student leader.
Clemente, named one of the "Top 50 Hip-Hop Activists" by Red Eye Magazine in 2002, has been living up to that title for more than a decade. She has advocated for youth and justice on both sides of the microphone, covering Hurricane Katrina as a journalist and co-hosting the New York radio show Where We Live, as well as giving interviews to CNN, Democracy Now radio, and National Public Radio. She has written for outlets including The Black World Today and The Final Call, and she has been quoted in Village Voice and The New York Times, among other media.
"I am not Spanish . . . I am not Hispanic. My ancestors are not descendants of Spain, but descendants of Africa. I define my existence by race and land," she wrote in a blog featured in Huffington Post in 2013. "Being Black is my racial identity. . . . My Blackness is one of the greatest powers I have."
Clemente decries the chasm between Latinos and blacks, and the anti-black sentiment in America that has contributed to this. She tries to draw communities together and to empower young people. She has presented at more than 200 venues on topics including "African-American and Latino/a Intercultural Relations," "Hip-Hop Activism," and "Women, Feminism and Hip-Hop."
A graduate of University at Albany, SUNY and Cornell University, Clemente was the vice presidential running mate of 2008 Green Party presidential candidate Cynthia McKinney in 2008. Earlier she developed the media consultancy and speakers bureau Know Thy Self Productions, which has produced three major hip-hop activism tours, with performers including rapper M1 of dead prez, activist Fred Hampton Jr., hip-hop singer Mystic, and comedian Dave Chappelle.
Clemente's academic work as a doctoral student focuses on national liberation struggles in the United States. She is also currently writing a novel about the Young Lords civil rights movement in Chicago and the legacy of youth resistance.
The Martin Luther King Jr. Celebration is sponsored by the Division of Student Affairs, Associated Students of the University of Puget Sound, and the Office of Diversity & Inclusion at University of Puget Sound.