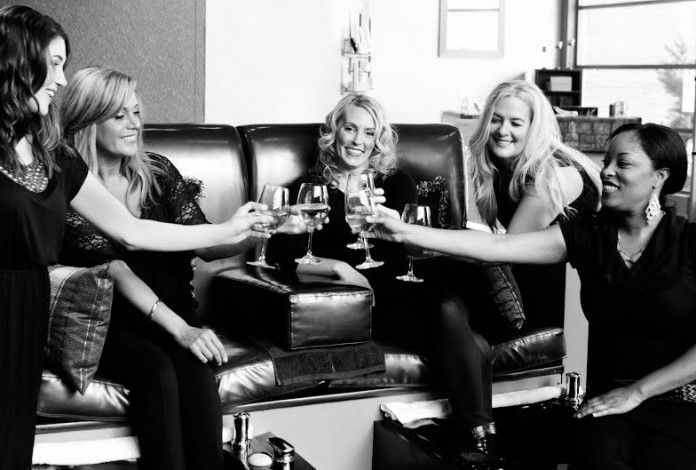 By Sonia Garza
The season of love is upon us. For most, this is a time to get all dolled up and enjoy a night on the town with the one you love, but for some MILSPOs (military spouses), this is a time to reflect on another holiday without your spouse. Use this guide to have a memorable and fun filled day with a friend or two, or just fly solo. Either way, any one of these activities will leave you feeling special and rejuvenated.
Olympia Valentine's Day 5k
There's nothing like a brisk 9:00 a.m. run on a foggy Pacific Northwest morning to get your heart rate up and get your "feel-good" endorphins going for a day of L-O-V-E. This is Olympia's first ever Valentine's Day Run and it will be held at Priest Point Park. All monies raised will benefit the Thurston County Food Bank's FORkids program.
Stanley and Seafort's: 20% military discount on your meal
This steak, chop and fish house with its superb collection of libations was voted best happy hour in 2012 by South Sound Magazine's "Best of the South Sound" reader poll. Stanley and Seafort's on the hill boasts one of the best views of Tacoma, day or night, with its panoramic windows. Take advantage of their weekend brunch for a spectacular menu without having to fight the dinner crowd. Their weekend brunch consists of a pear bread pudding, French toast topped with macadamia nuts, their signature salmon and crab cake benedicts, and more. The seafood louie salad is not to be missed with its Dungeness crab and jumbo prawn. For the more hungry eaters, enjoy the chophouse burger on a brioche bun. Feeling thirsty? Make sure to top your meal off with a tall glass passion fruit pineapple mimosa or a lynchburg mule.
Savi Day Spa & Salon Miro at Hotel Murano: 15% military discount
Savi Day Spa is tucked inside the swank Hotel Murano in downtown Tacoma. When you arrive, feel free to live like a rockstar and valet park. After all, it's free! How's that for star treatment? Let the stresses of life fade away with the calming atmosphere and exotic scents. Enjoy a relaxing aroma pedicure with foot massage for $45 or a blackberry hand massage for only $15. If you're going with friends, book a Celebration for four and receive Broadway Pedicures and champagne!
After your mani/pedi, head upstairs to Salon Miro, voted the best in the South Sound. Pamper yourself with a fabulous $40 haircut with deep-conditioning treatment or a $45 blowout to have your hair styled to perfection.
Feel the Love at Point Defiance Zoo: $2 military discount
Take a stroll through the Point Defiance Zoo and watch as animals delight in heart shaped treats. Elephants will crush watermelons and clouded leopards will lick whipped cream hearts off the glass of their exhibit.
Viva Valentine's at the Museum of Glass: $3 military discount
Feel beautiful amongst the ornate and delicate glasswork of the Museum of Glass. There's nothing like watching artwork being created by artisans in the Hot Shop to take your breath away. Spend the afternoon creating a one of a kind decoupage Victorian style glass jar keepsake. You can also create your own bead doll. Entertainment will be provided by the Lakewood YMCA dancers.
Miss Moffett's Mystical Cupcakes: 10% military discount
Valentine's Day is all about the chocolates and candies, but don't overlook the small cakes that pack a big punch. Miss Moffett's Mystical Cupcakes was founded by Olympia resident Rachel Young in 2012 and has been gaining notoriety ever since. Rachel uses her passion for baking to create unique cupcakes with names inspired by Tarot cards. Enjoy Valentine cupcakes flavors like Queen of Hearts with strawberry drizzle, Red Hot with a spicy buttercream or Cupid's Kiss with chocolate ganache, just to name a few. You can find two locations in downtown Olympia as well as convenient tables at the JBLM and McChord post exchanges.
Tacoma Comedy Club: $2 Military Discount
Need a good laugh? Take a couple gals to the Tacoma Comedy Club for a night that will leave you in tears—the good kind. Want the special treatment? Pitch in for the VIP table and receive seats in the front row, a bottle of champagne or wine and an appetizer. Open mic night on Wednesdays and Ladies Night on Thursdays are free.
The Blue Mouse Theatre
Want to end your evening doing something truly memorable and fun? The Blue Mouse Theatre opened its doors in 1923 on Proctor Street in Tacoma and has since been a historic landmark in the community. A special midnight presentation of The Rocky Horror Picture Show will take place with a preshow at 11:30 p.m. The talented cast of the Blue Mousketeers will perform along with the movie on stage. All this for $5 is truly a bargain!
SpouseBox
Feel like enjoying a night in instead? Consider checking out SpouseBox, the first monthly care package service for military spouses created by military spouses. Goodies will come to your door. Own your own business? You can even contribute your items to be included in the box.