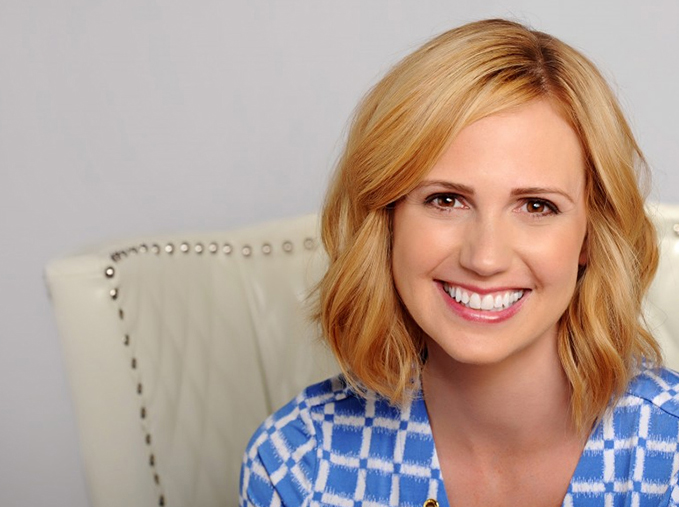 By Cara Bertozzi
At first glance, Richelle Futch, a stunning petite, spunky blonde who loves Harleys, may not invoke an image of someone who has expertise in managing stress and redirecting risky, destructive behaviors. Do not be fooled: Richelle's diverse real-world experiences and hard-earned personal education have established her as the successful small business owner of Mental Healthy Living and a statewide leading authority in Dialectical Behavioral Therapy (DBT).
Richelle grew up in Westport, but when her parents divorced during her senior year in high school, she found herself in a complicated situation while trying to finish school. She fluctuated between living in her car and with a boyfriend with whom she had a volatile relationship. She waffled over what to do with her life and was drawn to the idea of military enlistment due to her affinity for sports, travel and the opportunity for a secure paycheck and guaranteed room and board.
Richelle initially interviewed with Air Force recruiters, who struck her as being a tad on the dorky side, but found herself teasing and hitting it off with some Marines who were also working at the recruiting center. The freely exchanged banter and the tough aura of the Marines compelled her to enlist in the Marine Corps instead.
On her first flight ever at the age of 18, Richelle left her hometown for basic training in Paris Island, S.C. She immediately took to the structured, competitive lifestyle, and her athleticism and quick wits propelled her to the top of the class and earned her a promotion. This distinction resulted in her selection into a top military occupational specialty (MOS) school at Camp Johnson in N.C., where she trained to be a fiscal budget technician, the civilian equivalent of a comptroller.
Richelle's first duty assignment was in Okinawa, Japan, where the small town girl gained international experience through the friends she made on the island doing a little side bartending. Coming from a fairly sheltered town, these interactions really served to expose her to and develop fluency in culturally diverse relationships. Richelle was given a lot of independence balanced with responsibility in her role with the Marines and pushed herself to research ways to improve operations in her office. She detected a $1 million error, among other things, earning a prestigious Navy Achievement Medal as a young Lance Corporal. She also began taking basic undergraduate classes online to advance her education.
When Richelle was transferred to Camp Pendleton, Calif., she found herself in a different professional situation, this time working with an increased percentage of civilians in a more highly sexualized environment. Though Richelle had thoroughly enjoyed the adventures and training the Marines provided, she felt she had now outgrown her position and decided not to reenlist. Instead, Richelle's exposure to such a heterogeneous group of people kindled an interest in behavioral psychology and the motivating factors that cause people to modify personal patterns and effect lasting changes.
Richelle moved back to Washington where she completed a degree in social science with a minor in psychology at the University of Washington. During this time, she also volunteered as a court-appointed special advocate, advocating for children in foster care who were caught-up in court proceedings.
When Richelle graduated she took a job with the Washington State Juvenile Rehabilitation Administration, working as a counselor with young boys in the prison system. She received training there on DBT, a cognitive behavioral therapy that teaches skills for better understanding and addressing challenges in a way that motivates change and personal responsibility. This evidence-based technique has gained broad acceptance in the counseling community due to its success in helping people with borderline personality disorders, one of the most severe types of behavioral disorders.
With DBT increasing in popularity, Richelle became proficient at training other counselors in its use in various capacities but wanted to continue learning more skills herself. She entered the Master of Social Work program at the University of Washington and got married just before completing her degree, adding the experience of being a military spouse to her resume.
Richelle and her husband had two daughters in quick succession. With the changing dynamics of her family responsibilities and the unpredictable nature of her husband's job, she knew she needed a flexible career solution that would allow her to parent mindfully and provide a consistent environment for her children. She has skillfully carved out a niche assisting clients who are motivated to make a genuine change in their lives but need the skills and a plan to do so. Richelle sought out a counseling supervisor and registered for her Independent Clinical Social Worker Associate license; and just like that, Mental Healthy Living was born.
After a free initial consultation, Richelle determines if a prospective client is a good fit for her and either refers them elsewhere or enrolls them in a customized 12-week plan. Military couples are an especially good client fit, as Richelle can relate to the roles of both spouse and service member. The goal of her counseling sessions is to teach mindfulness, interpersonal effectiveness, emotional regulation, distress tolerance, and problem solving. In each meeting, new behaviors are introduced and then practiced outside the office. The client remains accountable by reporting on progress and conducting continuing self-assessments. Richelle also assists with identifying theoretical ideals and helping her clients set specific goals.
Richelle is quick to note that her services are not only aimed at people who have definitive behaviors they want help redirecting. She is highly invested in changing the cultural stigma against counseling that is especially prevalent in the military. If we neglect ourselves in our busy lives and fail to manage our stress, we may end up paying the heavy costs of professional burnout, marriage and other relational damage. Richelle is ready and willing to facilitate your commitment to mental wellness!
All photos courtesy of Richelle Futch.