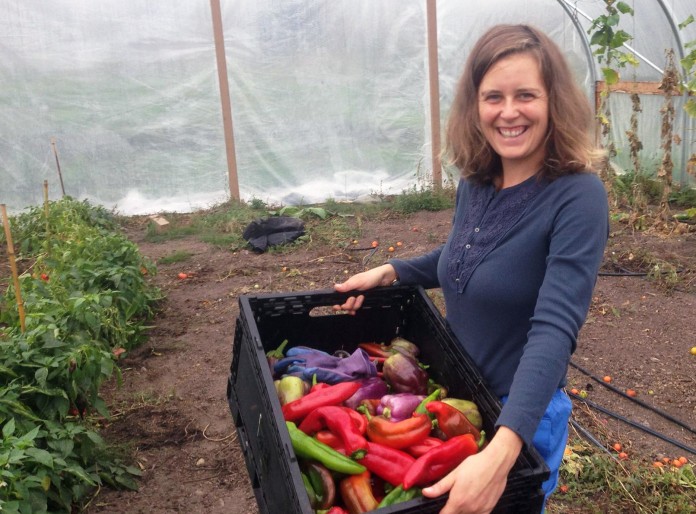 By Mariah Beckman
Gated plots of green and well-tended boxes full of soil sidelining Pierce County's city streets have been cropping up all over the place. Where you least expect to see them, South Sound residents and visitors are seeing the fruits of much labor ripen in community gardening spaces from Bonney Lake to Vashon Island. Tacoma, in particular, has an abundance of community gardening projects.
As prescribed by an initiative enacted by Tacoma's Mayor Marilyn Strickland, the City of Destiny is well on its way to becoming the town with the most community gardens per capita in the United States. More than 50 community gardens have taken root in neighborhoods across Tacoma since 2008. Community gardens, which are maintained by citizens from all walks of life, offer gardeners a host of great benefits. Today, there are 69 gardens in place or in development, and that number only continues to grow.
One of the biggest perks of checking out a patch in your neighborhood? If you ask Sue Ford of Proctor Garden in Tacoma, she'll tell you it's "connection." "Our society is really fragmented by all the roles we must assume—worker, parent, etcetera. The gardens give you an outlet for a role you want to have. I connect with fellow gardeners in my little garden, at other gardens and workshops, with garden communities I visit or seek out online, and neighbors who just walk by and visit our community garden," says Sue.
One of the peripheral benefits of these gardens, according to Lynnette Scheidt, has been the creation of a more sustainable and self-sufficient community environment. Lynnette, who is the President of the Dome Top Neighborhood Alliance, donated 110 pounds of locally sourced food to families in need during 2014 alone. "The Eastside of Tacoma is very diverse," Lynnette explains. "Eighty-nine percent of the children in this area are on free or reduced lunches. If you teach a person the basics of gardening, they can feed their family for a lifetime."
These gardens have also helped to weed out some bad seeds in Tacoma neighborhoods. While exact metrics that support a drop in crime in neighborhoods with community gardens are hard to come by, anecdotal evidence is in no short supply. Residents who participate in the community gardens, as well as those who live in the immediate area, have all reported that these little plots have made their suburb feel slightly safer. Participants and event organizers speculate that seeing people active in a community sends a message that areas and their residents are not easy targets, and that neighbors in this area are active and vigilant.
The Dome Top Alliance, if requested, will make a home visit to help individuals and families build a garden box free of charge (including the wood, dirt and seeds necessary). This organization's efforts echo the kind of major support that has come from the biggest influence in community gardening in Pierce County, aptly named Harvest Pierce County. Harvest Pierce County became a major driving force behind organizing community gardening, food forests, and gleaning projects in the South Sound.
In 2014, Harvest Pierce County was able to donate 120,000 pounds of food, harvested by an all-volunteer force, to those in need. Sourced from fruit tree and farm harvesting, local community gardens and farmers markets, and in collaboration with national organizations like Share the Harvest, this organization is working to build stronger, safer communities by connecting citizens to each other and to their local food system.
Kristin McIvor, urban agriculture and local access program director at HPC, says that the success and growth of community gardens in Pierce County is thanks not only to partnerships and funding from the City of Tacoma, the Pierce Conservation District, and local waste recycling organization Tacoma Grow (called Tagro for short). The prosperity of these initiatives hinge on the efforts of Pierce County's citizens.
"We clear a pathway for citizens to make their community better," McIvor explains. "If Tacoma didn't want community gardens, there would be nothing we could do to make them a reality." She goes on to say that by participating in these gardening and gleaning initiatives, citizens improve community health, promote access to good food, fight climate change, and cultivate the local economy.
Perhaps one of the most unsung benefits of gardening initiatives in the South Sound are the outreach and educational opportunities that are being made available in conjunction with these programs. The organizers involved in Pierce County's gardening efforts don't just want to provide a haven for residents. Educators like Sue Ford and Julia Martin-Lombardi, both of Tacoma, hope to foster a tradition of growth among the region's young people and adults.
Julia works with schoolchildren at the McCarver Garden, where she heads a program called Communities Actively Strengthening Tacoma in Neighborhood Gardens and Schools. CASTINGS, formed in 2009 under the Northwest Leadership Foundation umbrella, uses living laboratories to address how food and sustainability strategies affect children in underserved neighborhoods.
Julia is also involved in a partnership with James Beard recognized chef and author Maxime Bilet of Seattle. Inspired by and independent of the work being done in Tacoma's community gardens, Julia and Maxime have created the Hungry Owl Project. "CASTINGS has now merged with Imagine Food Innovation Group to form the Hungry Owl Foundation. Under the guidance of Maxime Bilet, our goal is to broaden our ability to reach a larger audience through outreach programs and use of our storefront location in Seattle. We are providing a place where families can come and explore the world of food."
There are so many ways and locations to get outside and get your hands dirty this summer. If you want to learn more about how you can become part of any facet of the South Sound's gardening scene, Proctor gardener Sue Ford explains her need-to-know list for any newcomers to community gardening programs as she has experienced them:
Walk through some gardens and get a feel for them before you decide you want to be part of it. Do you have any limitations and does this garden have gardening areas you can use? Do the people in this garden socialize and do you want to be part of that? Is there a volunteer requirement, like service hours or food bank donations; if so, can you meet these expectations?
Consider the investment of time and energy involved before you sign up. For example, do you have gloves and the patience to visit your garden, whatever the weather? Don't be afraid to try a potted plant before you sign up and see how you fare with that.
Consider the little things. Does your family take a vacation every summer, and can your garden go without you during that time? Do you think you can stomach a solid month's worth of radishes or carrots?
Contact the person who runs the garden that you are the most interested in. (Visit the list below or Harvest Pierce County regularly for access to an updated lists of names, phone numbers or email addresses. Some gardens are popular, and have a waiting list to join, so consider two or even three gardens that might be a good fit for you.
Get prepared and inspired! Visit garage sales to find second-hand tools and garden art. Visit shops check out seeds, send away for free seed catalogs, and perhaps most importantly, check out the free garden classes offered at HPC, the city and the county. Take advantage of gardening education, and learn before you begin to dig.
Don't forget to connect with your neighbors, too! Existing gardeners are a wealth of information. Join the Dome Top Alliance for information, recipes and to take part in seed swap events. Reach out to Julia or Maxime of the Hungry Owl Project for information on how to bring some green guidance to Tacoma's public schools and families. Look for Kristin leading workshops and gleaning projects in a Pierce County plot near you. However you choose to get involved, you can do so proudly, knowing that you're part of an amazing new tradition of sustainability and community in Tacoma and the South Sound.