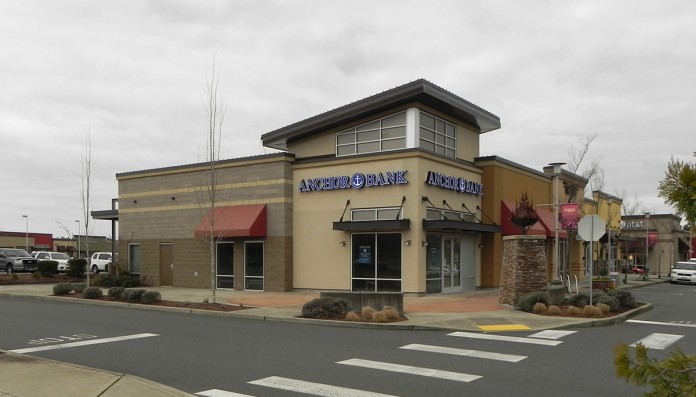 Banking beyond the ordinary. That's the motto of Anchor Bank. Ever since it opened its first branch in 1907, this local institution has been serving Northwest communities and helping businesses grow. In 2015, this South Sound community bank is doing a little growing of its own. The Puyallup branch has recently moved to a larger location, where it will continue to serve the South Hill community in a space that is even more accommodating.
Anchor Bank, which has been in operation for more than 100 years, opened the doors to its new location on February 24, 2015. Its commencement festivities continue on into the months of March and April, when Anchor Bank has several other welcome activities planned.
While Anchor is a small bank compared to national institutions, users forgo none of the conveniences that local banks sometimes lack. Anchor has 11 branch locations around the Puget Sound, as well as a network of more than 55,000 ATMs worldwide, all of which are completely free of fees and surcharges. The institution also offers mobile banking, online bill pay, credit cards and convenient utilities for local businesses.
Understanding the social connections between a business and its stakeholders, Anchor Bank's credo —banking beyond the ordinary — illustrates their commitment to a long-term business model. The banking pros here are looking to create lifelong relationships with their customers. While customers may enroll for simple banking services such as checking and savings accounts, many Anchor Bank customers build on this partnership for decades. These customers trust and grow knowing that Anchor will support them with a full range of business services, home and auto loans, IRAs and other financial ventures.
Good banks innovate to attract growth and work to build trust with their clients. Such upstanding organizations provide customers with a personal attention that is hard to come by from larger, national banks. Anchor Bank is looking forward to introducing customers to their new location, where they will continue to offer a full range of banking utilities for every need: personal accounts, checking, savings, CD, personal lines of credit, mortgages, and a full range of benefits for businesses. "At our new location," Puyallup Branch Sales Manager, Sandra Cadrona, explains, "we will be able to provide expanded services to our customers."
"Our Business Banking team has been developing business and funding projects in this area for quite some time," she adds. "We have added a Business Banker and Business Development Officer to our local staff. They are excited to have a local presence in order to provide more opportunities to fund local expansion and economic growth in our community."
This tenured institution isn't all about financial success and fiscal growth, either. It's not uncommon for local banks to use the money that customers invest to benefit a given area, often through charitable works, a donation of time, or both. Anchor Bank has contributed to more than 50 local non-profit organizations, schools, food banks and causes since they opened their doors three generations ago.
Sandra told us about Anchor Bank's most recent work with the Angel One Foundation. This local non-profit provides food, clothing, job-search assistance, and other aid to those in need on a local, statewide and international scale. "We work side by side with Angel One Foundation," says Cadrona. "We collect school supplies, food, and we also volunteer at their local food bank."
In addition to their ongoing work with Angel One, Anchor employees — along with the South Puget Sound Chapter of Habitat for Humanity — sponsored the first of 33 single-family homes in Lacey in 2014. Staff and officers spent hours at the site laying the foundation for what will soon be a completed neighborhood for deserving local families.
Anchor Bank also makes fiscal donations to organizations that impact South Sound residents. When customers invest at this local institution, they help to put money back into local businesses, charities and causes.
The bankers and administrative staff at Anchor all live in the communities that they serve, whether that's Gray's Harbor, Thurston, Pierce, Mason or Lewis County. This affords these banking professionals an insight into, as well as a vested interest in, the success of their neighbors, friends and local institutions. Anchor Bank is a small business of sorts, and is in a unique position to see that as it succeeds in providing dependable and exceptional service to other local businesses, families and individuals in the South Sound, everyone is the better for their involvement.
This valuable new addition to Puyallup's Sunrise Village encourages neighbors to stop in for the ribbon cutting ceremony on March 19, 2015 from 5:30 p.m. to 7:30 p.m. "Our grand opening will be a weeklong event," says Cardona. "It will feature a ribbon cutting with the local chamber of commerce, activities and outreach with other businesses in the Sunrise Village and surrounding community, cookies, refreshments, a small gift, and a chance to win a $1,000 cash card."
Customers and those who would like to learn more about Anchor's unique and personalized services will have a chance to greet the team and visit the space during the Welcome Week March 30 to April 3, 2015.
Anchor Bank
Sunrise Village
10514 156th Street East, Suite 106
Puyallup WA 98374
253-770-3444