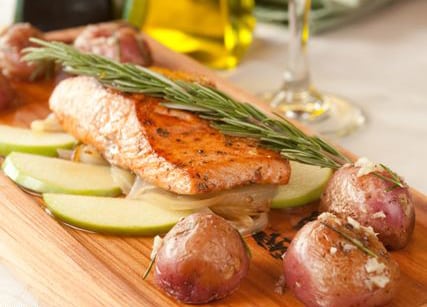 It's been said that "a people without the knowledge of their past history, origin and culture is like a tree without roots." Our region is full of amazing native influences and we've come to enjoy foods daily that define this rich heritage. From June 19 to 21, you can witness history come to life when the Quinault Beach Resort and Casino celebrates its 15th anniversary at the Cookin' the Blues Festival.
To showcase the Quinault Indian Nation and our region's favorite fish, the Casino's Cookin' the Blues Festival, Saturday, June 20, will feature a traditional salmon dinner from 4:00 p.m. to 8:00 p.m., for only $15.
Throughout the weekend, an array of blues musicians — including Jim Boyd, a Native Blues Artist famous for his 2002 Native American Music Award for Record of the Year and current Chairman of the Colville Tribe — will grace multiple stages.
Also part of the festivities will be free coupon books for Q Club members, native storytelling, native vendors, the Pieapalooza pie showcase ($3 for 3 samples, $5 for 6), coastal art and a canoe and memory walk where tribal elders will share their powerful, personal history.
According to the Wild Salmon Center, "[Historically], the Quinault sockeye (known as "Blueback" to the Quinault people) is one of only seven evolutionarily significant units (ESUs) of sockeye salmon in the Pacific Northwest. It has a unique life history specifically adapted to the Quinault River system. Of all the sockeye, Blueback are the most prized. Their rich oil content results in a much tastier fish — giving them a high market value."
National Geographic explains that "The name sockeye comes from a poor attempt to translate the word suk-kegh from British Columbia's native Coast Salish language. Suk-kegh means red fish. The sockeye, also called red or blueback salmon, is among the smaller of the seven Pacific salmon species, but their succulent, bright-orange meat is prized above all others. Sockeyes are the third most abundant of the species of Pacific salmons and are a keystone in the North American commercial fisheries."
The music and activities during this year's Cookin' the Blues Festival are free and open to everyone. Visit Quinault Beach at 78 State Route 115 in Ocean Shores and call 888-461-2214 with any questions; online event details can be found here.
The ability to see, smell, taste, and hear the best another culture has to offer are rare indeed; don't miss out on this amazing opportunity to teach, learn, and grow.