By Steve Dunkelberger
Drive-in movies were once the hallmark of every American teenager's summer schedule. Friends would pack into cars to watch movies under the stars, wishing curfew would never come.
Those days largely died with the rise of television, video games and home movie options. But the spirit of the classic drive-in movie experience is going through a revival with family-friendly movies in parks across Pierce County.
Bring a blanket, maybe a lawn chair, popcorn, soda and some candy, and enjoy sitting back while watching an outdoor movie in a park near you.
Tacoma
One of the big hits of summers in Tacoma is the free Summer Bash and Movies in the Park hosted by Metro Parks Tacoma. This summer, the family-friendly movies are presented by BECU and movie sponsor Click! Network.
The movie series kicks off at Ethnic Fest, Saturday, July 25, and continues on Friday or Saturday nights at various Metro Parks locations around the city. In addition to the flick, there will be live music, games, food vendors and much more at each venue until the movies start at dusk. Seating is on the lawn, so attendees are encouraged to bring blankets or folding chairs.
| | | |
| --- | --- | --- |
| July 25 (dusk) | The Book of Life | Wright Park, 501 South I St. |
| July 31 (dusk) | Dolphin Tale 2 | Kandle Park, 2323 N. Shirley St. |
| August 14, 6:30 p.m. to 8:00 p.m. | Big Hero 6 | Stewart Heights Park, 402 E. 56th St. |
| August 15, 6:30 p.m. to 8:00 p.m. | How to Train Your Dragon 2 | Gray Middle School, 6229 S Tyler St. |
| August 21, 6:30 p.m. to 8:00 p.m. | Penguins of Madagascar | Norpoint Park, 4818 Nassau Ave NE |
LeMay – America's Car Museum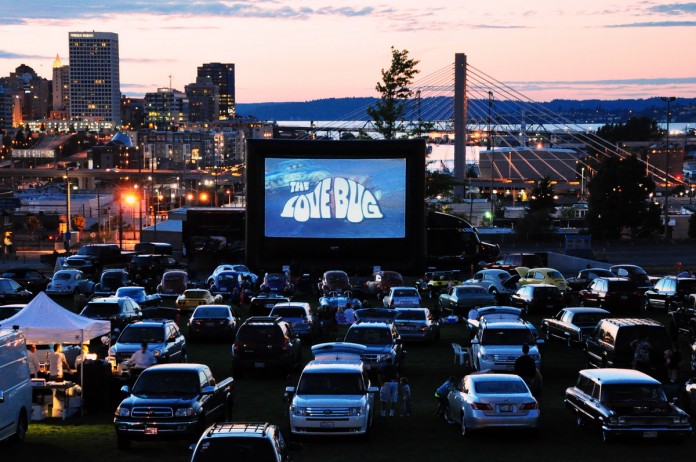 The Haub Family Showfield next to America's Car Museum transforms into a drive-in movie theater on select Saturdays again this summer with a collection of car-themed movies playing on a 40-foot outdoor screen.
The movies are free to the public, but donations are accepted. Museum admission is not included. The museum's drive-in movie series includes:
July 11, Wild Hogs
August 8, Cars 2
August 29, People's Choice
Pierce County
Pierce County's Parks and Recreation Department presents "Movies in the Park" throughout the summer at a host of its parks as a way to bring the experience to as many of Tacoma's neighborhoods as possible thanks to a massive outdoor screen. All the movies are free and start at dusk, but movie watchers are encouraged to come early for preshow activities and games starting at 7:00 p.m. Concessions on-site will also be available.
| | | |
| --- | --- | --- |
| July 25 | The Book of Life | Wright Park, 501 South I Street |
| July 17 | 101 Dalmations | Frontier Park, 21800 Merdian South, Graham |
| July 24 | Annie | Meridian Habitat Park, 14422 Meridian East, South Hill |
| July 31 | Big Hero 6 | Heritage Recreation Center, 9010 128th Street, South Hill |
| August 21 | Paddington | Sprinker Recreation Center, 14824 C Street S, Tacoma |
Movies are brought to you by Woofers Grooming and Goodies, Ivars, VCA Animal Hospitals and FunballzNW.com. (Pierce County's annual "Cinema on the Sound" was canceled this year because of the US Open at Chambers Bay Golf Course but it set to return in 2016.)
Lakewood
The City of Lakewood's SummerFEST is set for Saturday, July 11, at Fort Steilacoom Park. The all-day event will include the final leg of the Sprint Triathlon, classic cars, a petting zoo, public market booths, games, activities, two stages of live music and displays of police, fire and military vehicles. But the fun won't end when the sun goes down. That's when the jumbo screen kicks on for a showing of "The Lego Movie."
Gig Harbor
Gig Harbor has its own free Movies in the Park lineup, with "Friday Night Date Night" and "Saturday Night Family Night" through the summer. The movies are provided by sponsors of Taylor Thomason Insurance and MultiCare Gig Harbor Medical Park. Movies will take place at two locations in downtown Gig Harbor, Donkey Creek Park on Friday evenings and Skansie Brothers Park on Saturday evenings.
| | | |
| --- | --- | --- |
| July 10, 9:15 p.m. | Space Balls | Donkey Creek Park |
| July 11, 9:15 p.m. | ET | Skansie Brothers Park |
| July 24, 9:00 p.m. | Back to the Future | Donkey Creek Park |
| July 25, 9:00 p.m. | Frozen | Skansie Brothers Park |
| August 7, 8:30 p.m. | Blackfish | Donkey Creek Park |
| August 7, 8:30 p.m. | Happy Feet | Skansie Brothers Park |
Movies will be canceled during rain or high wind. Bring chairs or blankets. Free popcorn is available thanks to Kitsap Bank and additional help provided by Gig Harbor Kiwanis. Harbor WildWatch, Tom Taylor Family YMCA, and the Gig Harbor Film Festival will provide special activities and introductions at the movies.
Puyallup
The City of Puyallup's Parks and Recreation Department will have outdoor "Flashback Friday" movies every other Friday in July and August at Bradley Lake Park, 531 31st Ave. SE. Concessions are available for purchase but bring lawn chairs and blankets. Admission is free. Movies screen at dusk.
This year's lineup includes:
July 10, Space Jam
July 24, An American Tail: Fievel goes West
August 7, Cool Running
August 21, Homeward Bound