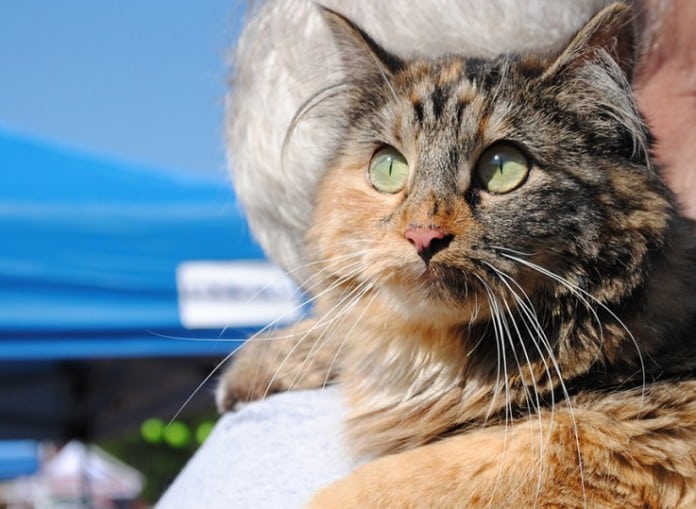 By Shelby Taylor
"The cat could very well be man's best friend but would never stoop to admitting it." — Doug Larson
Eight years and a couple hundred kittens ago, Laurie Cinotto met Charlene Butterbean. After this introduction, her life would never be the same.
At the time, Laurie's neighbors Kim Henle and Sarah Hoskins were heavily involved with fostering for the Humane Society for Tacoma and Pierce County, taking litters of young, fragile kittens and nurturing them for two weeks at a time or longer.
"In their care was a special kitten who we fell in love with and eventually adopted — her name is Charlene Butterbean. Prior to that, I did not know that 'fostering kittens' was even a thing," Laurie said.
Eight to nine months later, Laurie dove in, sharing litters with Kim. In Laurie's words: "[Kim] traveled for work, so when she was gone, we would care for them, and when she was home, she took over kitten duties. Eventually we started flying solo, the blog was born, and the rest is history!"
The Itty Bitty Kitty Committee
Laurie's blog, The Itty Bitty Kitty Committee, is dainty and cutesy with a pale pink background and darling descriptions of orphaned kittens that pairs fabulously with the sweetest cat pictures you ever did see. Originally, this local kitten wrangler used the space to market kittens in her care, seeking out good homes for the fur balls. She hoped that by writing about her own fostering experience, she would inspire others to become pet foster parents, too.
Laurie soon found that fans were further utilizing her blog as a day brightener, visiting her page for a daily dose of cute. "These aren't potential adopters; they just like cute kittens," Laurie said.
Laurie's blog then caught the attention of other blogs, to the point that The Itty Bitty Kitty Committee became an international sensation. A network was born.
A Virtual Community for Good
In 2009, Laurie checked her mail and spied a half sheet form from the Humane Society inviting her to the Dog-A-Thon to raise pledges on behalf of homeless animals, cats included. She set up her page at firstgiving.com/dogathon and set her fundraising goal at $2,500.
"By the end of that first day, I met that goal," Laurie shared. "Everyone was excited to support us, and we earned over $20,000 in our first year! It was very shocking to see how many gave outside of our physical community. There was a whole virtual community, with the shelter at its center."
Every year, team Itty Bitty Kitty Committee raises the bar a little bit, growing their goal. Laurie is very strategic with her posts, explaining how each and every dollar makes a difference. As well, she tells exactly where funds will go to on a given day. Sometimes a day's fundraising will be designated for the foster program, others will be set aside for senior cats, Trap/Neuter/ Return, or other programing. With the option to donate to a specific cause, people can give to what they care most about.
Following Laurie's Lead
Want to raise pledges for the Dog-A-Thon to provide support for Humane Society adoption programs? Pick up your pledge form at the shelter,  located at 2608 Center Street in Tacoma, or at local pet-related businesses. You can also raise pledges online at firstgiving.com/dogathon.
To have the most impact, Laurie advises, "Be creative! Use all your resources. Use whatever social media — Twitter, Instagram, email. Your people can tell their people. Be persistent, but don't be a pest."
And having seen people from 13 different countries contribute toward The Itty Bitty Kitty Committee's efforts, Laurie really knows what she's talking about.
You've Raised the Funds, Now it's Time to Celebrate!
When July 25 swings around, bring pledges to the Dog-A-Thon and soak it up! Stop by the registration table at Fort Steilacoom Park to turn in the money you've raised and collect your Dog-A-Thon swag. Then, with or without a canine companion, choose to walk the one-mile paved path around Waughop Lake, or opt for the longer route. Both have rest stops for water, treats and toys.
Back at the event site, you can enter contests for "Best Trick," "Best Kisser," "Best Costume" and more. Watch herding dogs, police K9 teams and other demonstrations. Shop dozens of pet-related vendor booths, have your pet micro-chipped for just $20 and celebrate the joy of pet ownership.
Be on the lookout for The Itty Bitty Kitty Committee and Laurie, who will have Wylla the cat riding on her shoulder in a sea of dogs.
Learn more about the Dog-A-Thon, the Humane Society's Walk for Homeless Pets, by visiting the Humane Society for Tacoma and Pierce County online, or by following the humane society on Facebook. Donations to Laurie's Itty Bitty Kitty Committee can be made online.