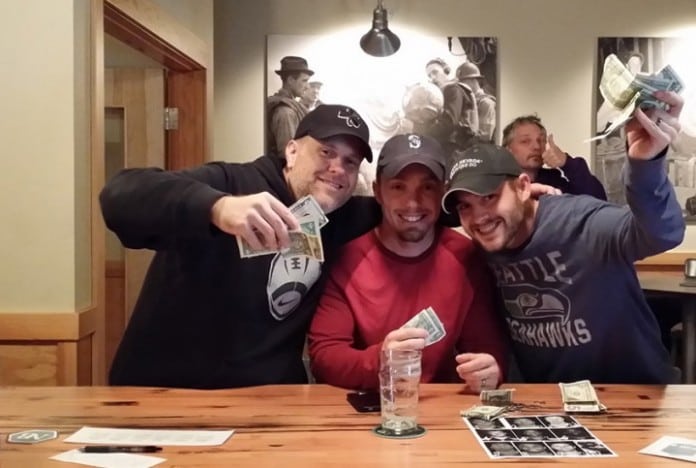 By RC Victorino
Haven't you heard? TV and the Internet make you dumb. Remember that "Walking Dead" show? You know, with the zombies? Yeah, those folks got that way because of the tube. (Trust me.)
Consider this a public service announcement: It's time to breathe life back into your brain cells. But before you roll your eyes, keep this in mind:
We're talking about thinking with a little bit of drinking. We're talking about pub trivia. So lift up your glass and get ready to flex that gray matter floating between your ears.
Welcome to Tacoma's Pub Trivia Circuit. Okay, I may be overstating things here. There is no official trivia curcuit (yet), but there are plenty of trivia hotspots throughout Tacoma where you can gather your friends and strangers alike and demonstrate your brilliance. Here's where you can reign supreme at pub trivia.
Treos in Old Town
Tuesday Trivia offered by Treos in Old Town is a unique approach to pub trivia. For starters, Treos isn't really a pub; it's a cafe. But, rest assured, there is plenty of fine wine and local beers here with which to top off your trivia.
Treos offers one of the most intimate settings to test your wit, which has resulted in some good ol' fashioned rivalries and trash talking from the regulars who fill the seats. There are typically three rounds, with just one winner per round. The winning team usually takes home a bag of coffee, a bottle of wine, a bottle of beer or some Treos swag.
Treos
2312 N 30th St.
Tacoma, WA 98403
Tuesdays, 6:30 p.m.
Half Pint Pizza Pub
For those who are looking for a bit more pub in your pub trivia, Half Pint Pizza (formerly Medi's) is a solid option. Half Pint always offers up two rounds of trivia, hosted by Tacoma-based artist Stein Hansen. Each round features five categories. The categories can be virtually anything, except you can always count on at least one music-based category.
And at Half Pint, you don't have to come in first to take home a prize. Each round features two winners. First place usually wins $20, while second place earns a pitcher of beer.
Half Pint Pizza Pub 
2710 6th Ave
Tacoma, WA 98406
Wednesdays, 9:00 p.m.
Farrelli's
What's better than winning at pub trivia? Doing so while eating wood-fire pizza. That's certainly what's made Tuesday nights at Farrelli's so popular. Karl Berger of K-Pod Entertainment hosts this long-running event and usually tips his faithful trivia players in advance of what the night's topics will be via his Facebook page. Tuesday's trivia night usually attracts a younger crowd (21 to 30) thanks to nearby University of Puget Sound, but folks of all ages are invited to join the fun. The night, which takes around two hours to complete, includes three rounds of 20 questions each. The first place winner at the end of the night wins a $30 gift card to Farrelli's. Second place wins a $15 gift card, and third place wins a free 12-inch pizza.
Farrelli's 
3518 South 6th Ave
Tacoma, WA 98403
Tuesdays, 8:00 p.m. to 10:00 p.m.
Two Town Pub and Cafe
Two Town Pub and Café offers two rounds of trivia, with one usually focused on current events (such as an upcoming holiday). Winners of the Two Town Trivia night can win anything from gift cards to Rainiers box tickets, make-your-own-bar kits, and Seahawks swag. Two Town's Trivia is all-ages, meaning even the kids can come strut their smarts. For folks who are of age, however, the bar kicks off a late-night happy hour at 9 p.m., to coincide with the thick of the trivia tussle.
Two Town Pub and Cafe
5005 Main St.
Tacoma, WA 98407
Tuesdays, 8:30 p.m.
Narrows Brewing Company
If trivia is what you're after, then you have to check out Narrows Brewing Company's Mind Tap Trivia. Featuring five (count them, five!) rounds (including a picture round) Narrows' slant on pub trivia puts you to the test. Teams can be made up of one to seven people, with each participant paying $2 to play. The winning team at the end of the night takes home all of the money, while the last place team wins the Red Lantern prize, which is being able to pick a category topic for the following Mind Tap Trivia night. Depending on how many people are on your team, and how many other players show up on any given night, you could walk away with some serious dough.
Narrows Brewing Company
9007 S 19th St.
Tacoma, WA 98466
2nd and 4th Tuesdays, 7:00 p.m.
Harmon Brewing Company (Harmon Restaurant, Harmon Tap Room, The Hub)
Harmon Tap Room, Harmon Restaurant and The Hub are three distinct and separate establishments, although the same people run them all. Between these three Tacoma locations you can find your trivia fix — three times each week.
Each trivia night is run similarly: the night begins at 6:00 p.m. and runs roughly two hours. The winning team from each round wins $50 in cash. Categories change every week, and the crowd is pretty diverse, with a heavy slant on young professionals after work. At the Tap Room, specifically, many trivia-goers arrive early to take advantage of the pub's happy hour (which begins at 1:00 p.m.).
Harmon Tap Room
204 St. Helens Ave.
Tacoma, WA 98402
Mondays, 6:00 to 8:00 p.m.
The Hub
203 Tacoma Ave.
Tacoma, WA 98402
Tuesdays, 6:00 p.m. to 8:00 p.m.
Harmon Brewing Company
1938 Pacific Ave.
Tacoma, WA 98402
Wednesdays, 6:00 p.m. to 8:00 p.m.