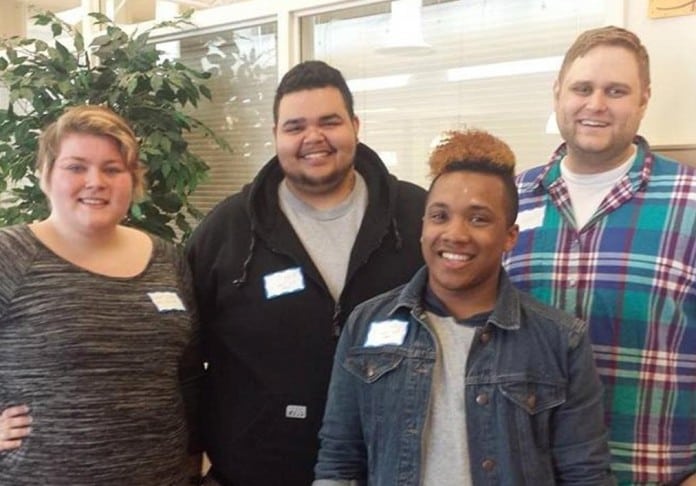 By Margo Greenman
Between puberty, peer pressure and all the trials and tribulations that come with adolescence, growing up is hard. Tack on the stress and fear that many LGBTQ youth face daily, and the weight of it all can be life threatening.
In communities across the country, each day can be a challenge for youth who identify as LGBTQ. And whether they were born into welcoming families or not, society is not always as accepting — especially during teen years.
Bullying, abuse and other hate crimes make the world a scary place for LGBTQ youth, but in Tacoma, there is at least one place where these adolescents know they can feel safe, welcomed and accepted: Oasis Youth Center.
For the past 30 years, Oasis Youth Center has provided Pierce County-area youth with a safe place to be themselves and connect with others. Centered around programming focused on advocacy, prevention and leadership, LGBTQ youth ages 14 to 24 are invited to learn, connect and thrive with other LGBTQ youth and allies from across all corners of the region.
Oasis Youth Center Executive Director, Seth Kirby, says there are very few stand alone youth centers like Oasis, which makes it such a valuable resource for youth who would otherwise have to travel to Seattle or Olympia. "People come here from all over," says Seth. "We served 515 youth from 14 different counties in 2014."
With numbers like that, it's obvious that the need is there, and for many of the youth who come through Oasis' doors, having the support of others can be life-changing and — sometimes — saving.
From Thursday night drop-ins and special programming to field trips, counseling services or just a hot meal, Oasis is a safe, welcoming place for youth from across the community to gather, find acceptance and grow together. "It's a place where [youth] can learn who they are, be who they are, and connect with others," says Seth. "That can be powerful and life-changing."
Oasis Youth Center, which is funded both publicly and privately, features a long list of programs and services designed to empower local LGBTQ youth. In addition to immediate-need services like Oasis' 24/hour crisis line, free HIV testing and more, Oasis also provides a variety of services and trainings to help empower youth and help them find their place in society. One example of this is Oasis' youth council.
Seth says Oasis puts an emphasis on leadership training, and this is especially true for youth involved in the organization's youth council. From organizing special events and fundraisers to promoting advocacy and outreach in the community, Oasis' youth council and other leadership training opportunities empowers youth in ways they may not have experienced before.
For Seth, seeing a confused, scared teen grow into a confident, empowered adult is the ultimate reward. "I remember one youth who found Oasis who was going through coming out, and he was experiencing rejection from family." Seth says shortly after the youth came to Oasis, he ended up moving. His parents were in the military and they had been deployed. But Seth recalls that even after the youth left, he would call Oasis to check-in. "He has since gone to college, got a job and is doing amazing things," says Seth. "What he continued telling us [when he called], is that we gave him an opportunity to connect and that he wasn't alone."
Stories like this are the norm at Oasis because the organization is effective in creating a community for LGBTQ youth who wouldn't have one otherwise. And this, says Seth, is why Oasis spends a lot of its time in the community.
In order to bring about real change, youth need to feel safe in all corners of their life — at home, at school and in their communities. This is why Oasis Youth Center is always eager to connect with local schools and other organizations. "The climate of each school is very different, and it can change each year," explains Seth. Because of this, Oasis works with schools through training sessions and advocacy to help educate teachers, administrators and staff on how to create supportive, accepting environments for all students, no matter their sexual orientation.
Oasis Youth Center also relies on the support of the community in order to fund programming like field trips — or what Seth calls "the fun stuff." The organization is currently working hard to spread the word about its new program, Project 13. With more youth coming out earlier than ever before, it's more important than ever to create safe environments in which they can do so. "A 9-year-old doesn't have the life experience to know who will be supportive," says Seth. "People need to have the skills to support younger students." Through Project 13, Oasis Youth Center opens its doors to middle school-aged children ages 11 to 14.
Seth says there's still a lot of work to do in schools and in the community, but until the tide changes, Oasis Youth Center is a safe place "where queer youth thrive."
For more information about Oasis Youth Center, visit its website or call 253-671-2838.