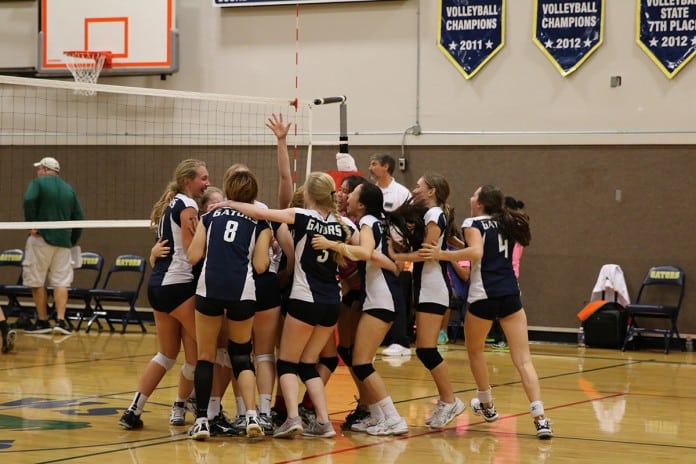 Submitted by Annie Wright Schools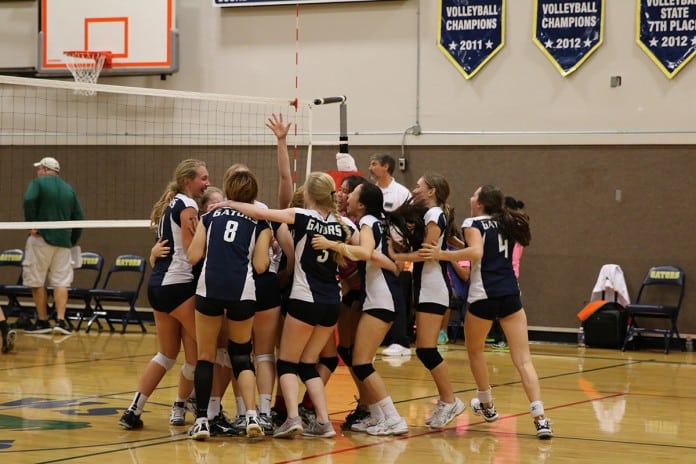 Annie Wright Upper School's District 2 championship varsity volleyball team will compete in the 2015 1A WIAA Washington State Volleyball Championships held at the Yakima Valley SunDome. Annie Wright's Lady Gators are seeded #1 (D1) and will play against Charles Wright Academy at 11:30 am on Friday, November 13 in Yakima.
The Gators secured an automatic State berth and are District 2 champions after defeating Forest Ridge and Overlake School in three sets on November 5 in the Emerald City League Volleyball Tournament.
Three key players for the Annie Wright Gators are juniors Abbey Turner, Annika Cederstrand, and Britnie Casillas. Cederstrand is a highly versatile all around player, received All League First Team recognition, League MVP, and is one of the Gators' team captains. Casillas runs the offense as setter and Turner plays smart and tough on the right side, both also receiving All League First Team honors.
Cia Jones, senior power hitter and captain, performs well under pressure along with junior Lauren Leeden, outside placement hitter, rounding out the team for the Gators. This is coach Rodney Kalalau's tenth season leading the Lady Gators, and his eighteenth coaching high school and college volleyball. Assistant coach Mackenzie Jones celebrates her fifth year coaching for the Gators.
Cheer on the Lady Gators at the Yakima Valley SunDome; 1301 South Fair Avenue; Yakima, Wash. Can't make the game? Keep posted on the Washington Interscholastic Activities Association website at http://www.wiaa.com/Brackets/T1205.pdf.