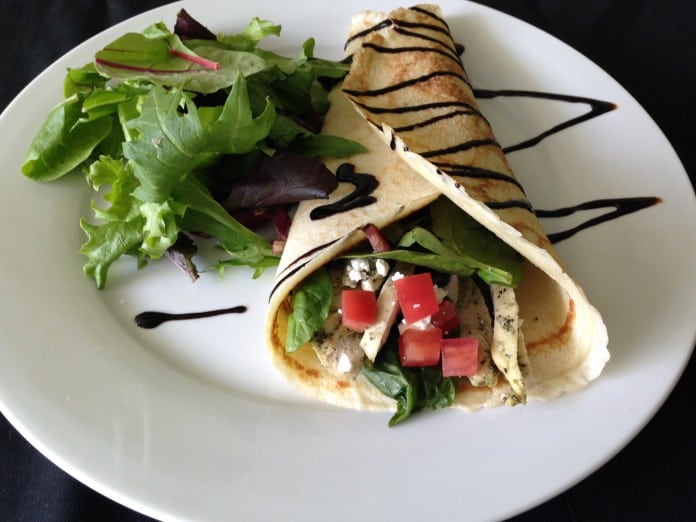 Stuffed with strawberries and vanilla bean infused crème fraiche. Whipped with espresso and filled with a fluffy chocolate mousse. Rolled with slender slices of prosciutto, spinach and feta and smothered in hollandaise. These, ladies and gentlemen, are not your mama's crepes.
Skinny cousin to the pancake, this versatile and wafer-thin treat makes up for its slender build by welcoming all manner of the sweetest and most savory fillings into its folds. Lightweight enough to feel healthy and exotic enough to feel decadent, it is no wonder that crepes can be found in no short supply in the South Sound.
Savor Creperie
One fan favorite, Savor Creperie, opened its doors in Tacoma in 2013. Since that time, husband-and-wife team, Thomas and Vickie Vigue, have been awarded the title Best Crepes in Western Washington every fall. "Showcase Magazine" recognized Savor as one of the Best Restaurants in 2014 and 2015, too.
Maybe it's the couple's training at the Culinary Institute in Florida that's given this kitchen such a sweet reputation. It could also help that Savor now pairs select regional wines with its broad menu of roughly 30 unique crepes. As the Vigue's explain, however, the details are what really makes these crepes stand apart.
Tacoma's dedicated crepe spot came about after the duo spent two weeks in Europe in 2011. Overseas they sampled their fair share of Parisian crepes and authentic Belgium waffles. When they returned home, they brought their zest for European flavor back with them. They knew that they wanted to channel this enthusiasm, and soon decided that they would like to open a restaurant together. During a visit to Tacoma, the pair says they fell in love with the vibrant and growing community they found there.
"We instantly fell in love with Tacoma," Tom remembers. "In fact, we often say it feels like we were always meant to be here. We wanted to participate in a community that offers a wide variety of diversity, art, culture and educational opportunities. The people are the best part — they are authentic and we love the personal and professional relationships we've built. And being outdoor enthusiasts, the beautiful natural resources can't be beat here. Tacoma has it all."
The eatery's name — Savor — hints at the amazing selection of both sweet and savorous dishes ripe for the sampling. "In naming the restaurant, we felt it was important to select something that was simple for customers to remember, but also reflects the love of good food. We brainstormed a long list of potential names, then selected 'Savor' because it reflects the feelings of a satisfying meal, and is also a spin on the French meaning, 'savour' from where our crepe idea originated."
The couple has built a loyal following thanks, the Vigues say, in part to their exceptional service. You cannot walk into Savor without receiving a genuinely friendly greeting from the staff. "Even though we're a casual eatery, the staff goes above and beyond to make sure the customer's dining experience exceeds expectations."
The selection of crepes themselves play a huge part in what makes Savor a regional favorite as well. Whether it's a rosemary chicken, roasted sweet potato, toasted pecan and balsamic reduction or an egg, bacon, mushrooms, onions and brie creation, people can't get enough of the mouth-watering combinations. Best of all? The rotation of specials changes daily, and all are made from a tried-and-tested Savor-signature crepe batter and recipes.
"We not only tested recipes from cookbooks," Tom says, "but we also invested extensive time designing, creating and refining our own recipes. What you see on our menu today is a result of that extensive experimenting and feedback. Our crepes are so good because of the fresh ingredients we use. It is a very labor-intensive menu, but our customers can definitely tell the difference!"
A little further from the rustic energy of Tacoma's University District is another charming town with just as much to offer crepe lovers in the Pacific Northwest.
Craft.19 Espresso + Creperie
Too new to have garnered any awards just yet, the South Sound welcomed a new creperie in October of 2015: Craft.19.
Craft 19 was the vision of physician Dr. Waldo Dagan, who has an internal medicine practice in Sumner. Dagan says that when he opened this charming bistro, it was with the goal of invigorating the scenic small town of Sumner with some fresh artisanal energy.
Head chef, Natasha Gunia, designed the menu for Craft from scratch, and general manager Jake Davis says that this original measure makes the crepes at this café truly one of a kind. "No other place will have our crepe recipe, and that's one of the things that sets us apart. We're not claiming to offer something better than anyone else, but we are promising something special and something different."
The menu changes seasonally to reflect perennial produce and flavors, and so far the community has embraced the fare with open arms.
"I think it's so popular because it's so different," Davis explains. "The nearest place to find a crepe from what I hear is in Tacoma. To offer specialty coffee from local Dillanos coffee roasters and crepes in Sumner gives a whole new vibe for all of Pierce County. Something different in this case is something fun and something awesome."
"And it's such a great area," he continues, "such a great downtown that when people come to see Craft.19 they see everything Downtown Sumner has to offer. All of the businesses around us shine just as bright as we do. We're so happy to be a part of that."
Contemporary décor brings a mod ambience to this eatery that's balanced beautifully with the cozy hometown feel of Sumner. While the atmosphere is fantastic and the great service is another point of pride for this locale, the crepes and espressos at Craft are not to be undersold, either. From pears and prosciutto to pumpkin and cream cheese, the menu offers a selection of breakfast and lunch edibles that are designed specifically to pair with carefully crafted gourmet coffees and teas.
Coffee is such an integral part of the menu here that the café is actually named after their signature espresso recipe. "The coffee itself is very special and what we do with it is in itself an art. We handcraft each beverage with a carefully dosed shot of 19 grams of espresso. Thus the '19' in 'Craft.19.'"
While both Craft.19 and Savor have received rave reviews around the South Sound, these are but two of the great places where crepe connoisseurs can whet their appetites for stuffed pancakes for breakfast, lunch or dinner. The map below lists many other creperies, cafes and diners that offer delicious crepes on their menu year-round.