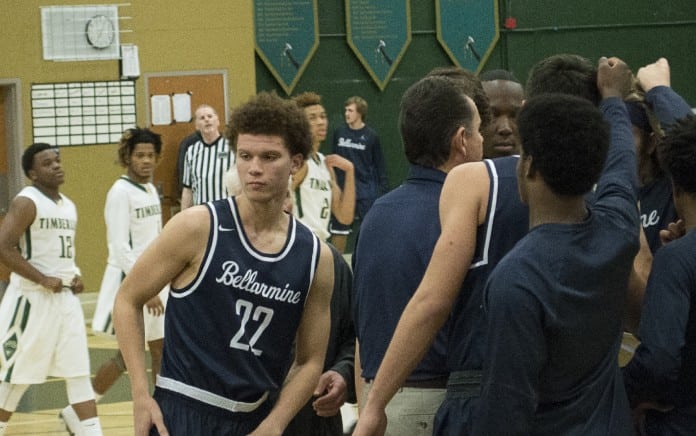 Malachi Flynn is a nightmare of a match-up. A blur in sneakers with incredible range capable of hitting a big shot from just about anywhere on the court.
The Bellarmine Prep senior can score in quick bursts and is one of the state's most prolific scorers, but don't overlook his defensive prowess, as Flynn is usually tasked with guarding the opposition's top player.
His demeanor is quiet, soft-spoken and unassuming. It doesn't have to be boisterous; his play says enough without him speaking a word.
Bellarmine's boys' basketball program has been stacked with talented guards over recent years with the likes of Abdul Gaddy and Avery Bradley headlining the list.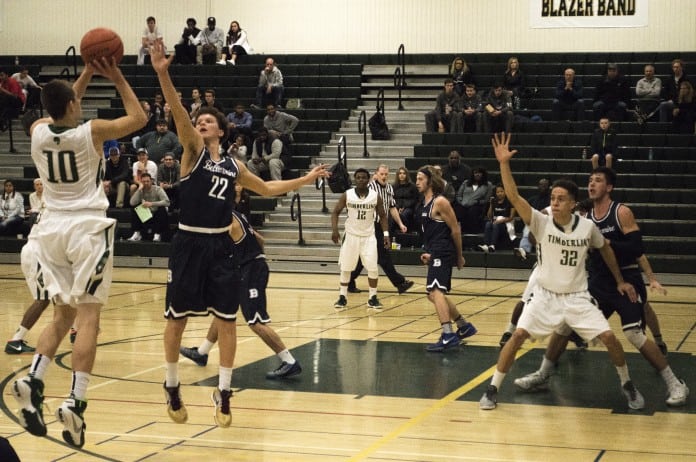 The 6-foot-2 Flynn is definitely continuing that lineage of greatness.
After a junior campaign were he averaged nearly 24 points a game and was named 4A AP All-State honorable mention, Flynn was expected to be one of the area's premier players this season.
The expectations were enormously high. Flynn, however, has been even better.
Flynn, who sports a 3.8 grade point average, is averaging 32 points a contest this season, scoring 33 or more points in five of the Lions' first seven games, including a career-high 43 points against highly-regarded Lincoln in Bellarmine's season opener.
"I was hoping to get off to a fast start this season," Flynn said.
It's safe to say he accomplished that. Behind Flynn's deadly offensive outburst, the Lions rallied from 15 points to send their game against the Abes into overtime by outscoring Lincoln, 29-9, in the fourth quarter. The comeback would fall short with the Abes registering a 76-73 overtime victory, but despite the loss, defenses around the state were put on notice — Flynn was going to be even more difficult to stop this season than previously thought.
A second high-scoring effort from Flynn followed in the Bellarmine's next game against Curtis, but once again the Lions fell, losing 64-60 to the Vikings after Flynn went off for 36 points.
"I actually think losing those first two games helped us a lot," said Flynn, who also scored 41 points last year in the Leo LaRocca Sand Dune Classic in San Francisco in a 69-59 win over Jesuit (California). "[Lincoln and Curtis] are both great teams. We were able to take a lot from those games. We will be a better team because of it."
The proof is in the results as the Lions haven't dropped a game since, opening 4A Narrows League play with three consecutive victories, including a 68-54 win over defending champion Timberline in a game where Flynn scored 34 points.
During the Mission Prep Christmas Classic in California, Flynn's talents were placed on a national stage once again and he delivered, leading Bellarmine to wins over Windward of Los Angeles (76-73) and Troy of Fullerton, California (65-42) in games where Flynn scored 35 and 33 points, respectively.
Already on several D-I school's radars, Flynn's stellar start to his senior year has drawn increased interest from numerous programs.
Flynn originally announced he had committed to the University of Pacific in late September, but has since decommitted and reopened up his recruitment.
Although he did not site it as a reason for his decommitment, Pacific recently received several penalties to its men's basketball program following a joint investigation with the NCAA over academic misconduct. The Tigers' self-imposed sanctions include the reduction of six scholarships over the next three years and limits to their recruiting efforts.
Flynn had initially selected Pacific over Montana State and the University of California, Davis.
"After talking it over with my family, we felt this was the best decision for me," Flynn said about the re-opening of his recruitment. "I currently don't have a leader. I am really trying to just focus on my senior season at Bellarmine Prep. That is my top priority right now."
Flynn is hoping to lead the Lions to a league championship — a feat which was last accomplished in 2013 when his brother Isaiah was a senior starter on the Bellarmine squad — and back to the 4A State tournament for the first time since 2014.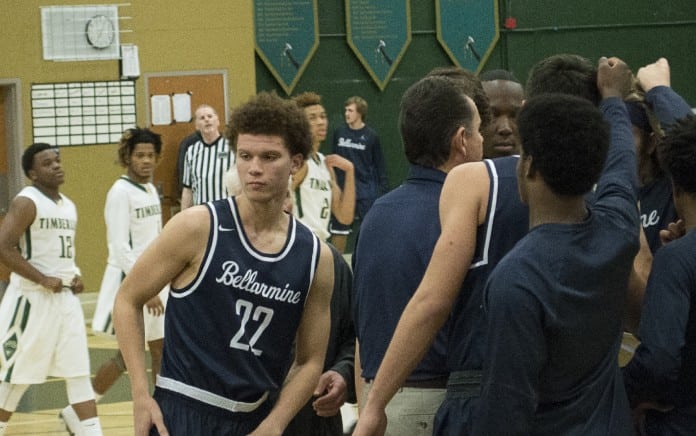 "A big part of my game is the ability to score, but I just want to win," Flynn said. "If that means scoring eight points, I will score eight. If I have to score 40 for us to win, I'll do that too. It doesn't matter to me."
Bellarmine came up just shy of advancing to the state tournament last year, dropping a 62-61 loser-out contest during district play to Timberline, a team the Lions had defeated twice last year.
"That was a tough one. To see your season end to a team you had already beaten twice was difficult. It's always tough to beat a good team three times," Flynn said. "Losing that game, missing a final shot has definitely served as motivation for this year. I want to just continue to improve my all-around game and see how far we can go this season."