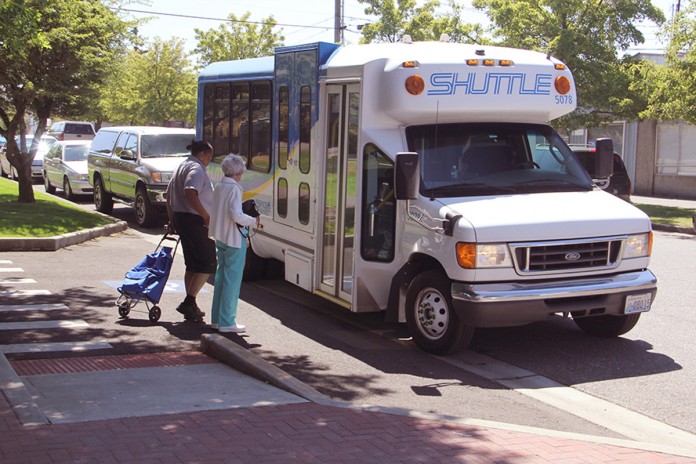 How do you get from point A to B? While many people drive their personal vehicles to and from work or to get around town, others rely on the public transit system as their primary form of transportation. Many people have a car but make transit their transportation of choice, skipping the hassle and expense of driving and parking.
For the past 35 years, Pierce Transit has provided safe, reliable, innovative and useful transportation services to communities around Pierce County. Covering a total of 292 square miles, Pierce Transit provides service to Washington state's second-largest county, in more ways than one.
Offering Fixed Route, SHUTTLE paratransit and Vanpool options throughout the region, Pierce Transit has been helping area residents get where they need to go for a generation.
Looking to the Future
As Pierce Transit looks ahead to the next 25 years, the public transit system is working toward expanding its services and taking the steps necessary to provide even better service to its customers. In the years to come, Pierce Transit customers can expect to see new routes, more of Pierce Transit's environmentally-friendly buses, and innovative trip-planning technology.
"Our goal is to roll out a new service plan with additional service hours in 2016, as well as a plan to continue restoring service over the next six years," Pierce Transit CEO, Sue Dreier, stated in the organization's 2015 Report to the Community.
But Pierce Transit doesn't plan on doing this alone. Instead, the local transit provider is turning to its customers for feedback and involvement in order to create a public transit system that works for the community.
In the months ahead, community members will be invited to weigh in on the future of local public transit in Pierce County. On Feb. 25 Pierce Transit is holding an open house in Lakewood intended to educate the community about Destination 2040, Pierce Transit's Long Range Plan, and collect feedback on how Pierce Transit can better serve the community. Later this spring the agency will invite public feedback on a comprehensive analysis of its current routes and proposed changes to improve and enhance service.
Better serving the community
There's no doubt that Pierce Transit's future is bright, but the local transit provider isn't dragging its feet. Pierce Transit has already introduced some changes that are making it easier for the community to get around town.
Thanks to an increase in sales tax revenue, Pierce Transit was recently able to initiate its first service expansion since the economic downturn of 2008. These expanded services include everything from increased weekend service, improved connections on the east and west sides, and a variety of specialty services designed to help the community get where they need to go.
In addition to these expanded services, in 2016 Pierce Transit is launching its new Care-a-van program, designed to help not-for-profit organizations around the community with their transportation needs. When Vanpool vans or SHUTTLE vehicles reach the age of retirement from transit, Pierce Transit will donate a number of them to qualifying non-profits that provide rides for people with special needs. The vehicles may be used for everything from delivering meals to those in need, to providing mobility for low-income seniors. This is just another example of how Pierce Transit is working to improve and expand upon the services it offers to the community.
Get where you need to go, hassle free
Whether you use public transit once a day or once a month, there are countless ways to ride and pay your fare, but none are as simple as the ORCA card.
The ORCA card works like cash or a pass, automatically tracking the value of different fares and transfers. But this smart card isn't limited to Pierce Transit. With the ORCA card, riders can transfer between transit systems and even ride the ferry, making it easy to get to wherever you need to go. Personalize your card for your specific commuter needs and never worry about a transfer again.
With a plan to increase service in the short-term and a thorough service examination and a long-range plan underway, public transportation is becoming a more feasible option for people living in and around Pierce County. Don't miss your opportunity to share your vision for the future of Pierce Transit. For more information about Pierce Transit's Long Range Plan, upcoming public events and how you can weigh in on the future of transit in Pierce County, visit Pierce Transit online.
Sponsored