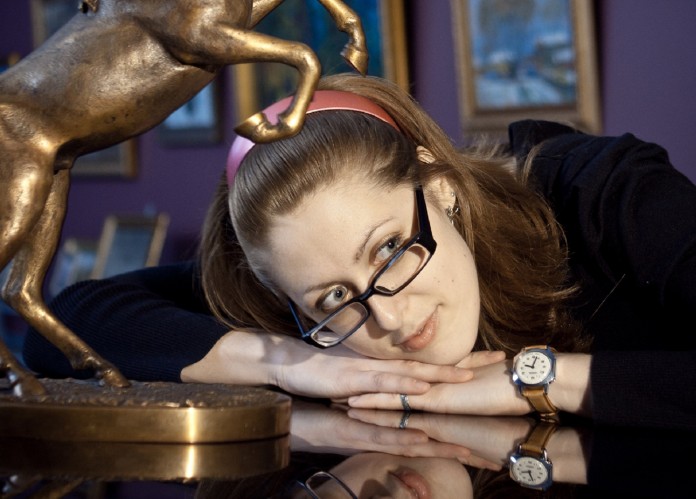 "I've always loved working with my hands," Tanya Pilant says with a smile, smoothing a homespun cap and pair of suspenders flat against her pristine carpet. The sound of "The Little Mermaid" floats into her studio intermittently, along with the peel of laughter from her giggling little ones — Eve (4) and Sophia (18 months). She has several bins of special-order hats, infant caps and costumes that she's made for shoots over the years: a plush lion cap, a delicate beanie for a preemie, and a big-eyed owl with earflaps.
"I made all of these," she says, hints of her Russian accent surfacing as she speaks. She spreads a few more knit and crochet outfits out in front of her and then gestures to a child-sized hatched egg across the room. "I made that, too."
Tanya's room is tidy but contains props that give her workspace a dreamy quality. The vinyl backgrounds she keeps on hand for shoots are brilliant, and a pair of softboxes stand like sentinels in the corner. An oversized bunny rabbit and carrots oversee the scene from a spot on the floor, and there are handcrafted props like fractured Easter eggs, oversized blooms and exaggerated mushrooms that punctuate the scene with whimsical flair.
Tanya's daughter toddles up to the baby gate, a big grin and bouncy curls on top of a floaty little dress and bare feet. She points to the TV set in the other room, and Tanya seems to know without further investigation exactly what she means. "You just watched Ariel," she says with a laugh, rising to her feet. "Again? Already?"
Patience is something that all mothers have in spades, but Tanya's comes in especially handy when she's photographing wee ones, a full-time job that's kept her running on all six cylinders since she hung up her shingle in 2014. This former teacher turned photographer loves snapping weddings and senior portraits, but her favorite subjects are ages 10 and under.
There's much more to it than just taking pictures, she explains. There are travel expenses and props, backdrops and specialized lenses, marketing and bookkeeping, specialized releases for every session and event — it takes more than just a good eye to capture beautiful memories. Tanya officially opened for business in 2014, right before their first fighter, Eve, was born and not long after she and her husband welcomed their second child, Sophia, to the family.
Her growing family didn't slow her down, but instead cemented her love for children's photography. Tanya read and reached out to photographers she admired for pointers, joined groups online and locally to learn from others, and took on as many events as a new mother comfortably could. Her base of clients slowly but surely began to grow, and eventually, Tanya saw a dramatic spike in numbers.
The basics of the craft were already in place: Tanya learned about lighting and composition in college and on the job both in Russia and in the US. In school she worked as model part time, and after graduation, she found work in a gallery cropping, framing and processing photos after she studied art and photography in college.
She started off with real estate photography, special events, weddings, senior portraits and family photography, but once she started doing more creative shoots for new families, Tanya really began to hit her stride. "I have a real knack for getting children to smile and laugh and pose for me, and it's such a joy to capture those moments," she explains. "Nothing makes me happier than to see little ones light up and smile, and it's so wonderful to hear from happy families who love their new family photos."
Tanya's photos are eye-catching not just because of her photography chops, but also because of the fantastic and thoughtful variety of props she curates so carefully. She does a number of themed events each year that have been very popular, and to make these sensational, she works with several costume designers to handcraft the custom outfits that she can't make herself. The creative costumes and props Tanya creates and commissions are reminiscent of the darling style of photography made popular by the artist Anne Geddes — but with a delightfully modern twist.
You might find babies sprouting from flowerpots or nestled in homespun peapods in Pilant's portfolio, but she stands apart with her appreciation of pop culture and fantasy. Tanya has photographed families decked out in their favorite "Star Wars" regalia and Potterheads styled with Hogwarts-inspired finery. She's done birthday party shoots and mini sessions that include nearly every combination of Disney princesses, and she offers little sweethearts a package called Me Like My Doll that includes a custom made doll, doll dress and matching dress for little ones — all to keep — that ties the session together.
For her Magic in the Woods event, Tanya provides outfits for little fairies, hobbits, sprites and gnomes of all ages. Her home, which is located in a very austere, woodsy location in Graham, is peppered with hobbit doors and the elf-sized windows that bring a fantastical finishing touch to natural mossy logs and the sun-streaked woods that surround the property. (Tanya's husband Justin — a pretty handy woodworker — often helps her create props for these themed shoots that add a first-class flourish.)
This affordable photographer is also a savant when it comes to Photoshop. Her packages come, like most professional sessions, with five to seven retouched images as well as a CD containing as many as 500 photos from the shoot. For an added bonus, Tanya has inserted some truly amazing additions into her shots upon the request of her customers. Children can cradle newborn fawns, appear in the center of a snow globe or frolic in the foreground while caribou graze at their back.
Her photogenic home in Graham is a beautiful setting for all manner of event sessions, but like most professional photographers, Tanya is happy to come to her clients too. She has regular clients in Renton, Seattle and Tacoma and can commute to just about any site with advance notice. The rate is typically only slightly higher — $10 more in most cases — for off-site booking, and she packs as many props as possible wherever she goes. She loves visiting sites but advises clients to check out her enchanted home studio during fair and not-so-fair weather conditions to see the possibilities that are — literally — right in her own backyard.
All of Tanya Pilant's current rates and plans can be easily found on her Facebook page. Repeat clients and those who come to her home studio will receive graduated discounts on future sessions, making Tanya's photography an investment that pays customers back with each visit. Facebook is also the best way to contact her for booking information and questions. Tanya is happy to meet with clients in person or over the phone in order to help new clients get a feel for the fit. She has quite a few special events and prices running around the holidays; be sure to visit her page or drop her a line with any specific questions about rates, locations and availability.