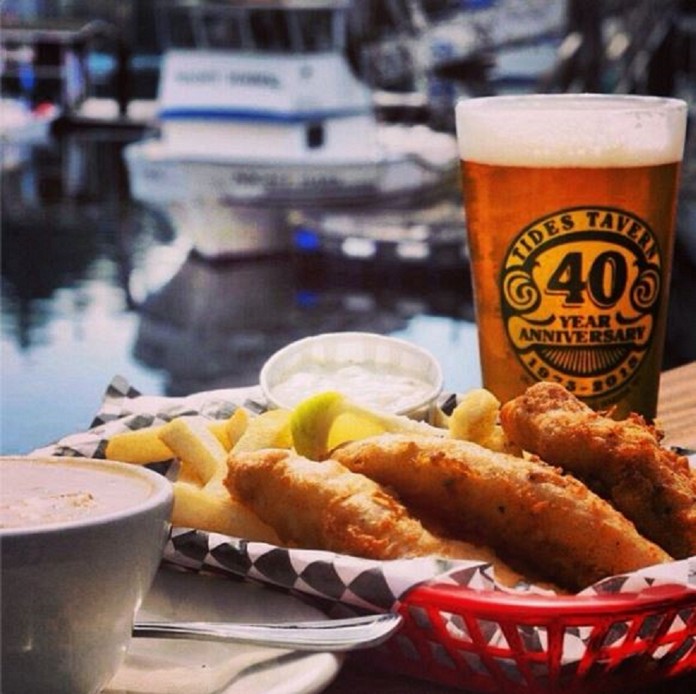 For a quintessential taste of the Pacific Northwest, Sunset, Thrillist, Travel + Leisure and more all agree that there is no finer seafood than the fresh and made-from-scratch fare you'll find at Gig Harbor's Tides Tavern. Some of the best chowder, fish and chips, and burgers in all the land can be found at this destination diner.
A South Sound institution located across the Narrows Bridge in Gig Harbor, this pub is packed to the gills every weekend. Not just some weekends: every weekend. Rain or shine, there's a line out the door. More or less every single weekend from the early '70s on, this rustic waterfront pub has been serving up local craft brews and irresistible fare so popular it's recognized the world over and has become synonymous with the maritime town.
Locals and out-of-towners (including a darling pair of literal love"birds" that regulars have dubbed Stella and Mac) flock to this Gig Harbor institution from January to December every year. The historic tavern offers deck-side dining when weather permits, and on a clear day, Mount Rainier looks down on al fresco diners while the tide rises and falls below their feet for a spectacular view of both land and sea. On Saturday and Sunday, the tavern's adjoining 128-foot dock offers moorage to boats, kayaks and paddle boarders so that diners of all ages can enjoy waterfront service in the shadow of this 21-and-older restaurant and bar.
A little history lesson
Tides Tavern, which combines the festive atmosphere of a neighborhood pub with the cheerful amenity of a cozy beach house, is set atop pilings and juts from the low slope of a hill that looks out over the harbor. The exterior is white-washed, and the rustic interior is paneled from floor to ceiling in wood that has a maintained but well-worn look, ornamented with the scuffs and dings from its many, many visitors over the years. Gig Harbor artist Toby Reid painted the signage for the Tides at its opening, and it's all still intact, adding to the nostalgic atmosphere of what has become a Washington landmark and eatery.
Built by Axel Uddenburg in 1910, the site once served the area as a general store called the West Side Mercantile. It was located next to the town's only public ferry landing, which was unofficially dubbed the "People's Dock," and which brought a steady stream of customers into the grocer through the first half of the century. When Prohibition came to an end in the 1930s, a tavern was added to the busy dock that has survived, under one name or another, to present day.
Tides Tavern celebrated 40 years in 2013 under the ownership of Peter Stanley, who bought the waterfront property in 1973 when he was just 26 years old. He bought the pub from a colorful character named Jack Miller, who had owned and operated what was then called Three-Fingered Jack's Tides Tavern for four years prior. When the Stanleys bought the building in 1973, the building was unfortunately in great disrepair: dirt was piled high inside the tavern; muddy water found its way indoors when it rained; the floorboards were worn so thin that the waves from the harbor could be seen below.
Present-day owners threw themselves into an intensive renovation of the building before a grand re-opening but strove to strike a delicate balance between updating the facility and preserving its historic design and fixtures. The kitchen and deck may have been upgraded since then, but for all intents and purposes, the Tides looks much like it did when it was built at the turn of the century.
Today, this open and energetic tavern seats just over 250 people inside, at the bar and on the deck. The restaurant celebrates its rich history with the historic photos that line the walls. It's become a tradition for patrons to purchase Tides Tavern t-shirts and take this souvenir along with them on their vacations and adventures. Fans and patrons will send in photos wearing their Tavern tees, and the owners place these photos in the restaurant as space permits. Since there are a lot of photos and only so much space on the walls, these pics are available to explore online in an interactive map as well as on-site.
Seafood worth savoring
The restaurant is renowned for its quintessential seafood fare. Breaded and fried with the Tides' signature batter and served with house-made tartar, the fish and chips at Tides Tavern are by far the most beloved item on the menu. Chef Ernie Davis cooks up mussels, scallops, shrimp and salmon seasonally to offer the freshest, local seafood around. No matter the season, the Tides keeps the offerings simple and focused on timeless seafood-shack essentials. The menu has definitely grown over time but remains mostly true to its roots. Award-winning chowder is made from scratch and available daily, and every weekend patrons can sample the not-to-be-missed jalapeno chicken chowder. The Tides burgers, halibut, and fish and chips have earned accolades year after year, but there's also pasta, pizza, steak and veggie options for diners who like to try a little something different. Whatever you get, the Tides' menu is hard to beat for portion and taste.
Boaters can pick-up or tie up and dine at the Tides every weekend from Memorial Day to Labor Day, weather permitting. While the restaurant is for diners aged 21 and over, dockside service is all-ages. Dedicated servers deliver menus and food to boats that moor at the dock or maritime travelers can choose to pop their heads inside if they're looking to stretch their sea legs.
Salty sea dogs who're looking for some smooth suds can quench their thirst at the Tides, too. The pub offers eight beers on tap year-round and another eight seasonal and craft brews that represent local breweries and the Pacific Northwest at large. Patrons can savor a distinctly local experience thanks to a partnership between the bar and local brewers. Tides Tavern teamed up with nearby 7 Seas Brewing to create two signature brews: the Tides Tavern Anniversary IPA and the Long Ass Day Double IPA. Marketing manager Michael McManus teases that another beer curated just for the pub is expected to hit the tap sometime in 2016.
Tides Tavern has become widely known as one of Gig Harbor's favorite places, providing a gathering space where friends have met friends for nearly 50 years. Experience award-winning suds and tavern fare for yourself to discover why so many call this the best place to dine for a Pacific Northwest experience.
Tides Tavern
2925 Harborview Drive
Gig Harbor, WA 98335
253-858-3982
www.tidestavern.com
Hours:
Monday – Thursday: 11:00 a.m. – 10:00 p.m.
Friday: 11:00 a.m. – 11:00 p.m.
Saturday: 9:00 a.m. – 11:00 p.m.
Sunday: 9:00 a.m. – 10:00 p.m.
Breakfast served Saturday and Sunday 9:00 a.m. – 10:40 a.m.
Happy Hour: Monday – Friday: 3:00 p.m. – 6:00 p.m.