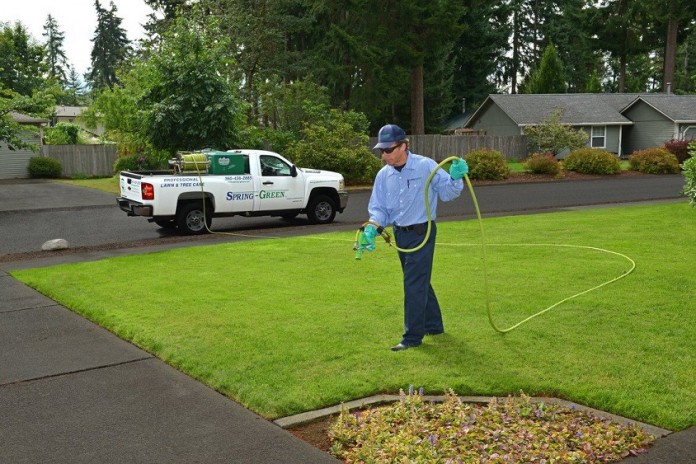 When summer rolls around with its long, hot days and seductively balmy nights, the last thing you want is extra work. So enjoy that Popsicle in the shade or freshly grilled salmon and let Spring-Green Lawn Care's safe and easy annual lime treatments save the day.
Studies show that our region's lawns are prone to "acid conditions, common west of the Cascades because of historical extensive forest cover and rainfall leaching our soils." While we love our Evergreens, they can wreak havoc on our lawns.
Applying lime helps reduce soil acidity (raises soil pH), allowing grasses to better absorb nutrient-rich fertilizers, prevent the occurrence of thatch build-up, and ultimately enhance the overall health and growth of your grass. And because weeds grow best in acidic soil, pH-balancing lime treatments provide an extra layer of defense against these unwanted plants, providing a healthier environment for your grass to thrive.
And a healthy, well-maintained yard is more than a summertime delight. Looking to sell your home in the near future? "More than likely, the last place that anyone looks to increase their home's value is to improve his or her lawn and landscape. However, a well-manicured lawn and landscape, according to some real estate agents, can raise your property's value by over 5%. At those rates, improving your lawn and landscape is an easy way to improve your investment in your home."
After a free landscape evaluation, Mike Bell and his Spring-Green team will provide you with a personalized assessment of your yard's maintenance needs. These can then be incorporated into one of several Service Packages to meet your specific requirements. Call soon and lime treatment will be included for free in either the Preferred or Preferred-Plus Programs.
These packages include seasonal visits, evaluations and treatments. Also available are services to tackle moss, crane flies, and root feeding of on-site trees, making the ultimate backyard BBQ as easy as it is gorgeous.
With our wetter springs and overall warmer weather, ask Mike about perimeter pest control or flea and tick services too. When it comes to invading, biting bugs in your home, prevention is substantially easier and cheaper than remediation.
Active in our community for almost 40 years, Mike and the Spring-Green family proudly belong to the National Association of Landscape Professionals, plant trees on behalf of the Arbor Day Foundation, and provide lawn care for those deployed on military service through Project Evergreen — GreenCare for Troops.
To learn more, watch an educational video on the Lime Treatment page of the Spring-Green's website. From there you can also order services and read testimonials from satisfied clients — who may just be close friends and next-door neighbors.
For a free lawn and landscape evaluation, call Mike at 360-438-2885 or 877-438-2885. You can also fill out the online form and he'll call you to discuss your lawn care needs.
Washingtonians love to be outdoors. Get the most value out of your yard — and host the season's best parties, birthdays, and margarita nights — by adding just a little lime.
Sponsored