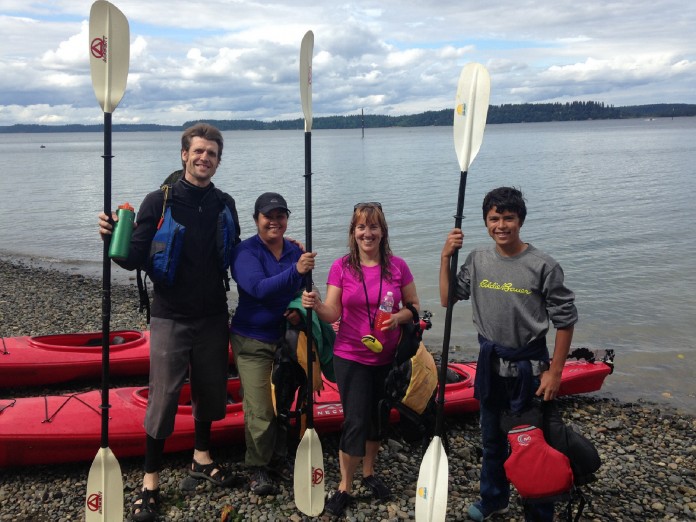 When the weather changes, it can inspire the adventurer in all of us. Spend months cooped up waiting for dreary fall and chilly winter to pass and you find yourself daydreaming about hiking trails and wildlife watching. Sunny days start to outnumber the rainy ones and suddenly you've got the urge to get your feet wet in a kayak. Thanks to Outdoor Adventures, pining can easily turn into planning for individuals, couples, kids and families in the South Sound, year-round.
Outdoor Adventures was established by Metro Parks Tacoma in 1992 and moved to the Tacoma Nature Center in 2015. The program is a grant-funded initiative that aims to take citizens out into the natural world and help facilitate a positive outdoor experience. Some of the trips that the program has organized in the past include kayaking in the spring, summer and fall, as well as snowshoeing and sledding activities organized in the winter at Mount Rainier National Park. About 300 to 400 people participate in the Outdoor Adventure program's group activities every year.
Instructor and Outdoor Adventures Program Coordinator, Kyle Clogston, says that all of the outings that Outdoor Adventures organizes are designed to encourage a lasting love of outdoor play and to accommodate adventurers with little to no experience. Kyle grew up biking, backpacking and fishing, and because he values the outdoors, he pursued a career to educate others about the many merits of getting outside. As program coordinator for Outdoor Adventures, Kyle has developed activities that are designed for adults and youth such as family kayaking, snowshoeing, hiking and climbing trips. During the summer, Kyle facilitates an eight-week outdoor camp for middle school-aged youth.
"We teach participants basic skills they will need and make sure they are doing well throughout the day," says Kyle. Whether the activity is rock climbing, hiking, snowshoeing or kayaking, program participants will learn how to safely navigate their environment and pack accordingly for the day's fun. Kyle currently leads a majority of Outdoor Adventures' trips and is one of several instructors, some of whom work seasonally, that is a trained and experienced outdoor enthusiast.
Outdoor Adventures activities are conveniently designed to make sure participants get the most out of their experience, taking in the fresh air with a community of their peers. For families that want to adventure together, there are a few options on offer. Kayak outings, which are priced per person, get the whole gang out for a paddle around the South Sound. Paddlers have sculled around the historic 11th Street Bridge, Thea Foss Waterway, Dofflemyer Point Lighthouse, Steilacoom and other points of interest in the past, and new destinations and itineraries are added routinely. There's also a family kayaking option designed for homeschool students and their families that allows participants to learn the basics of kayaking and get a chance to meet up with other homeschoolers and their families.
For landlubbing families, there are also campouts held at Owen Beach that are offered three different nights a year. Space is limited, so outdoor lovers should reserve their spot the Wednesday before each event (check the schedule online here). In addition to the pleasure of spending a night together under the stars, participants will receive tent space, an evening snack and program, crafts for kids, games, and a sunrise breakfast for the price of registration.
Another offering from the Outdoor Adventures program is an eight-week summer camp designed for tweens and teens. This outdoor camp offers kids a chance to get outdoors over summer break and get a real taste of the best that outdoor fun has to offer. At camp, youth get to experience many different outdoor activities including kayaking, canoeing, rock climbing, backpacking, hiking and swimming. Shorter camps are on offer, too, such as the Kayaking, Backpacking, Fishing and Canoeing Camp, and Rock 'N' Paddle Camp. These two- to four-day adventures get kids out and about, exploring Washington's wild places at Titlow Park and Lodge.
Don't think that Outdoor Adventures are simply child's play, either. The program offers a few adults-only activities that are geared toward getting grown-ups out and enjoying the great outdoors. Kayaking trips are popular in the summer. Adults can take in scenic views and spy wildlife in and along the waterways as they explore the harbors near their homes. Trips take place in tandem kayaks over the course of two or three hour guided tours and are designed for adults ages 18 and older.
Kyle says that the Tacoma Nature Center has plans to expand pickup and drop-off areas for all of Outdoor Adventures' programs as interest continues to grow. Administrators hope this expansion will make these popular classes more accessible to citizens throughout the park's district. The organization is also trying to add new classes to bring exciting new experiences to South Sound residents.
"New this year," Kyle says, "we have partnered with the Tacoma Dragon Boat Association to offer lessons for families and adults. This summer we will also be offering, among our many trips, a new trip on July 4 for the Freedom Fair on Ruston Way. We also are partnering with Evergreen Mountain Bike Alliance this year to run classes and camps on the Swan Creek mountain bike trails."
No matter what kind of outdoor fun floats your boat, there's a strong chance that you'll find what you're looking for in any season with Tacoma's Outdoor Adventures. Visit the program's website for information about how you can reserve your space for an upcoming adventure camp or group adventure.
For questions or to learn about organizing a private group adventure, contact Kyle Clogston at 253-320-1111 or via email at kylec@tacomaparks.com.