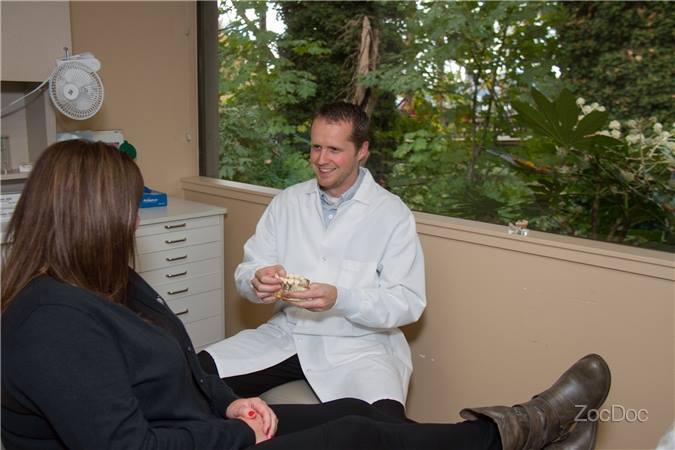 Whether you're simply going in for a routine teeth cleaning or need more advanced dental work, it's nice to know you have an experienced, caring dentist at your side. With a strong commitment to helping others, years of experience, and a broad range of services, Dr. Scott Crane, the sole dentist at Dental Care of Sumner, offers his patients a one-stop shop for nearly all of their dental needs.
From pediatric dentistry and implants, to sleep apnea therapy, sedation dentistry and more, Dr. Crane and his team are committed to providing their patients with top-notch care in a comfortable and relaxing environment. Although, with a background in providing care to the underserved and a passion for creating an environment where patients feel comfortable and relaxed, it's no surprise that Dr. Crane has transferred his caring, worldly philosophy with him to his Sumner practice.
And his office, tucked away in downtown Sumner — with its picturesque view of the White River — is filled with like-minded staff. One step inside will make anyone feel welcome.
"We have a very caring staff that's willing to work with people from all different backgrounds, and you can really feel that they care about you as a person and help you achieve your goals," Dr. Crane says. "We try to be very understanding and we're willing to work with all different kinds of people. We try to be a really friendly, open office to help patients feel comfortable for getting their dental needs taken care of."
Dr. Crane was raised in Puyallup, but spent time training, learning and serving around the world before landing back near his hometown. He earned his Bachelor of Science at Brigham Young University and then went on to get his Doctorate of Dental Surgery from UC San Francisco.
While not everyone knows what they want to be when they grow up, Dr. Crane knew early on that he wanted a career helping others.
"I wanted to be a dentist since I was probably in sixth grade," he says. "Obviously, how much can you know at that age exactly what it is and what you're getting into, but I've always wanted to be able to help people. I knew I wanted to be a doctor or a dentist, but I didn't know if I wanted to do surgeries and different things that doctors do. Little did I know, it kind of is pretty similar. With being a dentist, you can do as much or as little that way as you like. The more you learn about different ways you can help people, the happier you can make patients without having to send them here and there. The more I've learned about it, the more I wanted to be a dentist."
Today, Dental Care of Sumner aims to be a dental office that can handle a wide variety of patients, including everything from basic cleanings to more complicated surgeries and procedures that may require sedation.
Helping others, including underserved populations, has been a constant theme throughout Dr. Crane's training and professional life. At 19, he went on a mission for his church to Hong Kong. While the mission was not related to his dental training, he spent his days helping and serving the community and also picked up a second language — Cantonese. While he doesn't get the chance to use his Cantonese often in his Sumner practice, it's come in handy a few times along the way.
Previous to landing back near his hometown, Dr. Crane worked at Olympic Dental in Centralia for two years. The clinic served many lower-income families who may not otherwise have been able to get necessary procedures done.
"My favorite thing about that position was helping kids," he says. "If kids don't get any help early on, many may end up with dental problems, and not understanding why they're in the situation they're in as far as their teeth go. It was good helping kids learn what it should be like, starting from the beginning."
Today, his spirit of serving continues at Dental Care of Sumner. While day-to-day operations include routine cleanings and basic procedures, Dr. Crane also helps with complicated dental issues. Many may not think of dental care as life changing, but it can be for some.
"The bigger thing is when you get people who come in with a lot going on — they have cavities, they're nervous, there are reasons they haven't been coming in, they're in pain all the time, and a lot of people come in living with infections in their mouths," Dr. Crane explains. "Once you get people in that situation coming in, once you get them past the point of being apprehensive, to see someone actually following through with fixing their health issues — it's one of the best feelings you can have. We get all those bad things out of their mouth and fix things up for them. We can do implants and give someone a smile back. It's rewarding to see someone not hurting anymore, to see someone smile again."
Dental Care of Sumner is located at 1006 Fryer Avenue in Sumner. For more information or to schedule an appointment, call Dental Care of Sumner at 253-863-2995 or visit Dental Care of Sumner online.
Sponsored