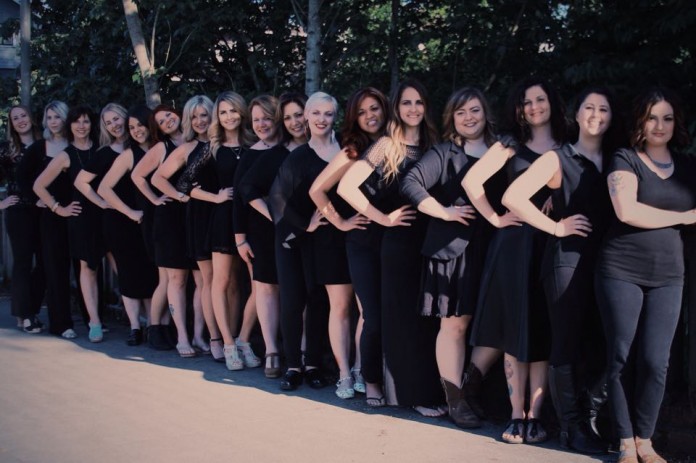 Located in Tacoma's beautiful but often unsung Three Bridges District, Willow Salon and Spa is one of Tacoma's most unique places to go for a haircut, style or spa treatment. It's not a large, corporate salon. It's not a small, cozy space either. Instead, Willow is a medium-sized salon that feels immediately warm and welcoming when you walk in. A smile from a staff member usually greets you and you'll most likely be offered a cup of tea (it's Star Spangled Herbal by Barnes and Watson and, yes — it is excellent).
Humble beginnings 
Headed up by husband-wife duo, Jolene and Dave Dittmar, Willow Salon and Spa opened in 2007 and has occupied a space on the corner of North 21st and Oakes Streets in North Tacoma ever since. With its focus on top-notch customer service, what started small has turned into a community mainstay and an excellent place to enjoy a little relaxation.
"Jolene and I had often talked about going into business together, but had never pursued it more than that," said Dave. "One summer evening, we found ourselves walking on the North 21st Street Bridge at dusk. The lamps were aglow and the sky was a beautiful dark blue. As I looked down the street on this magnificent evening, I made the comment that I would love to have a business on this storybook street. The area was the picture-perfect neighborhood community business location. Well, the years rolled past. We had looked at a few locations, but nothing really seemed to feel right. Then one day out of the blue, Jolene called me and said there was space available near the bridge. I told her that this was our sign to go for it."
The space had formerly been a March of Dimes facility and was filled with old carpet and cubicles — not exactly an ideal setup for a salon. Dave's general handiness served to transform the space, and his background in business and management helped the business get off the ground and grow to be what it is today. On the flip side, Jolene's background was in hair — she had trained at Gene Juarez in Federal Way and worked in that area for a few years. But it was a move to Kentucky that set her on a new path. There, she worked at a salon that would shape the ideas that eventually became the pillars of what makes Willow something special — namely customer service, education and structure.
"I really wanted to create an environment that was professional and really had great customer service, but that was also flexible enough for this field where people are used to flexibility," said Jolene. "This industry doesn't attract the types to clock in and out at specific times, or have their lunch at specific times, or be set to two weeks of vacation a year. I didn't want it to be corporate, but I still wanted it to have enough structure that it ran well and required an expectation for service."
The secrets to an amazing salon
One of the core pillars of that structure is Willow's level system — something Jolene picked up from the salon in Kentucky and that benefits stylists and customers alike. Willow's stylists are ranked into six levels — a level one is someone new to the salon or new to doing hair. Level six is educator level, a stylist with years of experience and training under her belt. The levels in between include all kinds of skills and stylist ability.
For stylists, the level system gives a structure to their career path. For customers, it creates different price points. For someone who doesn't want to spend a lot, a level one stylist is perfect. For someone who wants a specific skillset or a stylist with years of experience, the salon can select the perfect person for the job.
In fact, it's the staff that truly sets Willow apart. The staff are all extremely nice and work together to train and learn and create a collaborative environment. You might even notice your stylist consulting with another during your appointment or chipping in on a conversation nearby. Jolene takes special care to hire team members who will fit with this dynamic.
"I don't even look at their skill first and foremost," she said. "I look at how they handle themselves professionally and how they can have a conversation, and do they look put together when they come in, and do they seem personable. I don't care how much experience someone has if they come across arrogant and rude or if they aren't confident whatsoever. We all feel like we can help them with their skills, but you can't teach a person to be professional and have tact and be personable."
"We can develop their skill set, so we try to imagine how they would fit in with the team," added Dave. "We have always strived to have the team be our strongest asset."
In return, team members feel valued and grow as a result of their access to training and educational opportunities.
"I have been doing hair for 15 years and I have worked at Willow for seven of those years." said Alison Hegland, a level 6 stylist at Willow. "It has been the best seven years of my career. Dave and Jolene have been very instrumental in paying for a large portion of my education, which developed my skill set beyond what I imagined possible. There really aren't enough words to describe what it feels like to be part of the success of Willow. I have been here for successes and growing pains, and I can honestly say and have always said that it is by far the best place I have ever worked."
Services and sustainability
It's also the team of stylists that bring a bevy of services to Willow Salon and Spa. While all are required to do basic hair, each then comes with specific interests and specialties. Often services offered in the spa or salon are driven by who wants to learn what. Willow pays to have stylists train to learn new skills, and then adds those skills to the menu.
The result? A salon and spa that does a little bit of everything. Classically beautiful or traditional hairstyles? You got it. Fun razor cuts? They've got you covered. Subtle balayage? No problem. Even wild colors and edgy cuts are on the menu. If you haven't been to Willow before, let them know what you're looking for and they can place you with a stylist who specializes in what you seek.
Willow also stocks a collection of hair products to suit special tastes. They use ammonia-free color to cut down on toxic chemicals (and strong smells), and offer both a vegan and a paraben-free product line. They hope to soon also have a gluten-free product line. Sustainability is also important to the salon, which is why they recycle everything they can and use VOC-free paints and energy-efficient lighting.
Satisfaction guaranteed 
Every haircut comes with a special bonus — a scalp massage done with aromatherapy oil.
Hair is guaranteed, too. If you don't love your new style, let the staff know and they will work with you to fix it.
"We focus on customer service, we focus on education, and we focus on working as a team," said Jolene. "We try to provide a great place to work because we believe if your staff is happy and they enjoy coming to work, that's going to reflect on the service they give customers."
Willow Salon and Spa is located at 2702 N 21st Street in Tacoma. For more information and details about stylists and services offered, visit the Willow Salon and Spa website or call 253-759-2000.