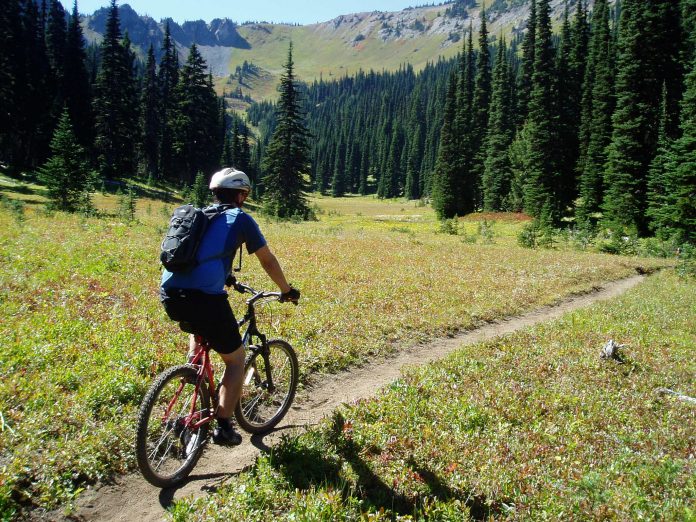 Crystal Mountain is a popular go-to spot for people living in and around the South Sound when it comes to wintertime skiing. But you don't have to wait for the snowfall of winter to bring you back to the mountain. Summertime at Crystal is an endless adventure, with everything from hiking and mountain biking to disc golfing,  sunset dinners and more — and all against the backdrop of the beautiful Cascade Mountains and Mount Rainier.
Gondola Rides
Pile into Crystal's Mount Rainier Gondola for a unique experience for the whole family. This scenic 12-minute ride will take you over 2,000 feet to the summit, where you'll be met by an awe-inspiring view of Mount Rainier. Sit back in one of the comfy lounge chairs on the patio, have a picnic, go on a hike, visit the Summit House restaurant and Summit Gift Shop or explore at your will. The gondola is wheelchair accessible, and each cabin seats up to eight.
Hiking Trails
Whether you start from the parking lot or take the gondola to the summit to get started, there are endless opportunities for hiking at Crystal. It's a great place to see wildflowers in later spring and early summer. Dogs are welcome on trails, so feel free to bring along your four-legged companion for a day on the trails.
Disc Golf
Probably the most epic and scenic of all disc golf courses in the area is found on Crystal Mountain. There are 30 holes with two different route options to play. The 18-hole Lower Course starts at the base of the mountain, while the 12-hole Summit Course starts at the top, accessible by gondola (or by an uphill hike for those of you looking for an ambitious day). Once you hit hole #10 of the Summit Course, follow the Lower Course to the bottom of the mountain. Be sure to come prepared with sturdy shoes or hiking boots, and bring along water and snacks for what can be a long day. And keep a keen eye on your discs — this fun but challenging course is known to swallow many a disc in the mountain brush.
Mountain Biking
While bikes aren't allowed on the gondola, you are welcome to take your mountain bike up to Crystal Mountain and explore the trails there on two wheels. If you're up for a climb, you can even ride all the way up to the summit, where you can grab lunch before getting in some exciting downhill riding back to the parking lot. There are many options for routes to choose from (like this one from Evergreen Mountain Bike Alliance). Do some research ahead of time to decide on a route that is right for you. Be sure to stay aware, and always yield to hikers and horseback riders on the trails. Get a map from the Mountain Shop before heading up.
Horseback Rides
What better way to explore the mountain scenery than to take a horseback ride? Chinook Pass Outfitters has you covered, offering one-hour, two-hour, day and overnight rides. Call 509-895-9120 or click here to learn more or to make a reservation.
Yoga
A few Saturdays every summer, yoga classes are offered at the base of the Discovery chairlift. For a yoga practice unlike any other, pack your yoga mat for a day of Mountain Yoga at Crystal.
Dining at the Summit House
At the top of the gondola, at 6,872 feet, sits the Summit House. Enjoy the spectacular views over tasty Pacific Northwest fare. The menu offers items like fish and chips, strawberry pear spinach salad, "The Mountain" burger, and more.
There is so much to do at Crystal in the summertime that you're sure to go home happy and exhausted. If it looks like there is too much fun to fit into one day, be sure to look at options for lodging and RV parking or camping to extend your stay. If you've got time, explore the surrounding area, where there is much more to see and do. Consider fishing at high elevation lakes and streams, hiking to meet up with the Pacific Crest Trail and more.
For driving directions to Crystal Mountain Resort, click here.