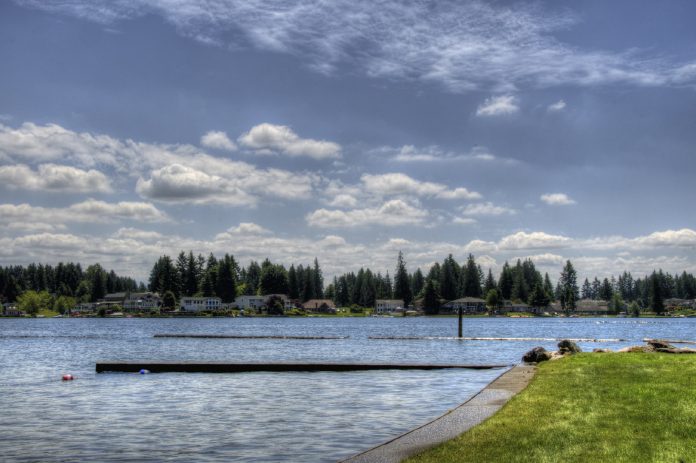 Grab your swimsuits and flip-flops — it's summer in the South Sound. There's plenty to keep you busy out and about during this beautiful season, but when you need to cool off, try splashing around in one of these popular lakes, located just south of Seattle.
At Steel Lake Park in Federal Way, you'll find a sandy beach perfect for stretching out on a towel and catching a little sun. Cool off in the lake, where you'll find lifeguards on duty during some hours. An enormous wooden playground and skate park make this park friendly for kiddos who've had their fill of aquatic fun, and a concession stand has the essentials stocked if you forgot to pack any drinks or snacks.
Another park outside of Federal Way is Auburn's Five Mile Lake Park. A nice sandy beach area surrounds this spring-fed lake. Here you can enjoy the views from land near the lakeside playground or any of the other spots a-plenty to plop down for a picnic. The lake is stocked with rainbow trout and largemouth bass for those looking to catch a little dinner while they're out and about. Boating is permitted as well. While there's no boat ramp, car-top crafts can be launched from the eastern shore.
In Lakewood, five-acre American Lake Park is popular in the summer for swimming along its north shore. There are lifeguards on duty during peak season and free swimming lessons offered some summers (be sure to call ahead at 253-589-2489 for details). Plenty of parking, a playground and boat launch with season passes available are a few other highlights of this serene spot.
In Kent, Lake Meridian is another rural swimming spot. Lifeguards are on duty during some hours around the beach during the summer to keep visitors safe all season long (or call ahead for more details about when lifeguards are on duty at 253-856-5000). This is another spot with plenty of amenities to sweeten an already tempting oasis: picnic shelters equipped with electricity and running water, barbecue grills, a concession stand, showers and a changing area, public art and even lighted trails.
Swimmers as well as boaters love Lake Tapps North in Bonney Lake because it has lots of lunching spots and tables perfect for picnicking, a concession stand and boat launch. A sandy beach surrounds the lake on this 80-acre site, and incredible views of Mount Rainier make this a scenic spot to spend an afternoon when the mercury rises. Explore nearby trails, stroll along the 10,000 feet of sandy beach that surrounds the swimming area or spend a day on the water until this lake closes for public use after school starts in early fall.
The southern side of Lake Tapps is where you'll find Allan Yorke Park. This site is equipped with a playground, plenty of public bathroom space and easy access to the ample swimming area. There's nearly 1,000 feet of tails to explore around this park, plus fishing and a boat launch, too. If you feel like exploring, you'll find some shy gnomes living nearby, too. Kids who aren't interested in swimming can work on their grinds and flips at the nearby skate park.
Spanaway Lake Park is an enormous recreation center with beautiful lake views. Two swimming beaches are just one part of what this impressive venue has to offer. There's no shortage of places to set up camp for a picnic or family gathering, and there's also more than one play area to choose from, so this popular park never feels too crowded. Boat rentals are another way to get out on the water without getting too wet, as well as a fishing pier and boat launch; call the boathouse at 253-531-0555 for details about renting a non-motorized boat. Explore three miles of trails surrounding Little Spanaway Lake after you take a dip if you like to air dry on the move.
Check out one or all of these fantastic lakes for swimming, fun and frolicking in the sun the next time the heat's got you down. Our handy map below features a growing list of swimming spots uncovered by readers just like you.