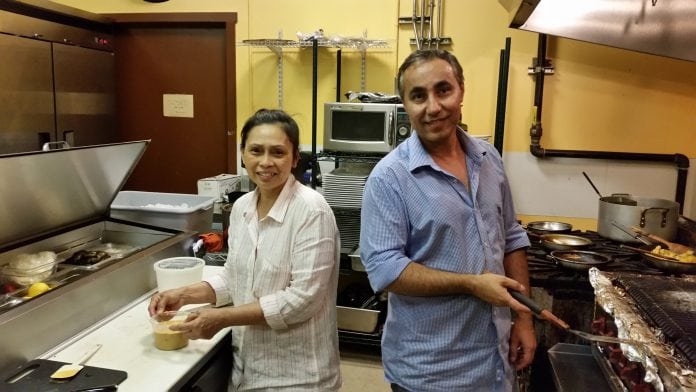 Tacoma residents have been enjoying Ammar Mannaa's food since he opened his first restaurant, Mediterranean Palace, inside of Tacoma's Freighthouse Square in 1989.
While Mediterranean Palace is a casual, gyros and kabobs kind of place, his second restaurant, Ammar's Mediterranean Grill in the Dome District, has a more upscale vibe and a much more diverse menu — which is kind of the point.
"I opened here because we'd be able to show more variety in the menu like our good Italian food as well as our skills with a variety of foods, like Thai," says Ammar.
Thai food might sound like an anomaly in a restaurant named Ammar's Mediterranean Grill, but Ammar's wife, Sorada Mannaa, is from Thailand — and she's quite gifted in the kitchen.
In fact, Ammar lights up when speaking about his wife of 22 years. "She is very intelligent about food," he says proudly. "She makes most of the food now."
The Grill's other featured cuisines, namely Italian and Greek, come mostly from Ammar and Mannaa family recipes. And while the three cuisines may be uniquely different, they all have two things in common at Ammar's Mediterranean Grill — amazing flavor profiles and incredibly fresh ingredients.
"The key is the freshness," Sorada says, informing us that Ammar only buys local. She even makes her own curry paste rather than use store-bought.
"We only buy limited amounts of food at a time because we don't freeze anything," she continues. "He picks up ingredients every few days. If we run out, it's done."
While these days she runs the back of the house, before Sorada met Ammar, she didn't really cook. "I had studied food and beverage," she explains. "But then I studied very, very hard to learn different recipes, and I would have him try the food, and everybody try the food, until it was perfect."
It's the couple's dedication to perfection that results in extremely satisfied, and loyal, customers. Marty and Rita Latsons, who were there for lunch when we visited, raved about the food and the service.
"We've been coming here since the beginning," says Rita. "We came and we enjoyed it very much and now we come all the time. My favorites are the Greek salad and the lentil soup. And Ammar is so nice. It's like we're friends now."
Marty chimes in: "There are only two desserts I eat. One is pecan pie. The other is Ammar's baklava."
The Latsons aren't the only customers loyal to Ammar and Sorada's food. The restaurateurs mention that they have many regular customers aside from the many customers who find the Grill when visiting Tacoma for events at the Convention Center, to visit LeMay – America's Car Museum, or other local attractions.
"It's a ritual. Every time I catch a show at the Dome, I head to Ammar's first for hummus and salmon kabobs," says Seattle resident Harold Finnegan. "Their food is so delicious, I almost find myself making excuses to come to Tacoma just to eat there."
And the food really is off-the-charts delicious. The wildly popular chicken gyro features moist, tender chicken breast chunks and a sublime garlic sauce. Sorada's red curry, which can be ordered with vegetables, chicken, beef, or shrimp, is made from scratch, and pairs ideally with the perfectly-cooked white jasmine rice that accompanies it. Falafel is also handmade and a real treat. Italian dishes such as the spaghetti with meat sauce and the fettuccine Alfredo are both quite savory, and satisfying, as well.
Considering the quality of the food, the prices are extremely reasonable, and the servers are always friendly and accommodating.
But most of all, Ammar and Sorada's passion and exuberance make visiting their restaurant a real joy. While they are both extremely busy, running two restaurants and the Grill's catering service, you can usually see one or another making their way across the Grill's floor on their way to the kitchen or the office. Since Sorada is usually whipping up her crowd-pleasing dishes, it's usually Ammar and his winsome smile that will catch your eye. Make sure to say hello and you just might make a friend for life.
Ammar's Mediterranean Grill
409 E 26th St
Tacoma, WA 98421
253-272-1047
www.ammarsmediterraneangrill.com