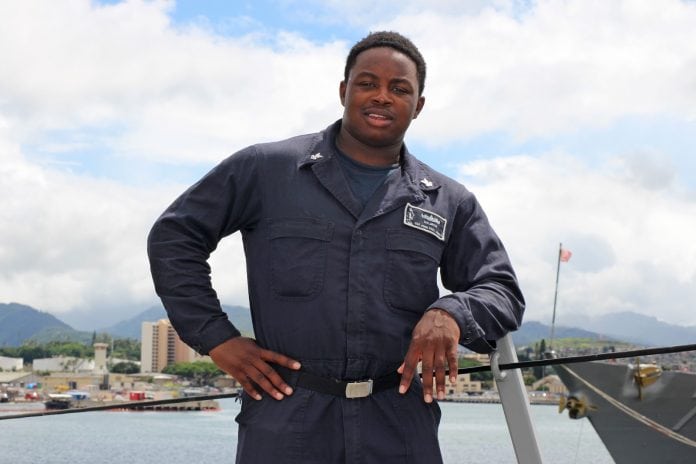 By Mass Communication Specialist 1st Class Tim Miller, Navy Office of Community Outreach
A 2012 Spanaway Lake graduate and Tacoma, Washington, native is serving in the U.S. Navy aboard the guided-missile destroyer, USS John Paul Jones.
Petty Officer 2nd Class Naass'on Salmon is an operations specialist aboard the forward-deployed Arleigh Burke-class guided-missile destroyer operating out of Joint Base Pearl Harbor-Hickam, Hawaii.
A Navy operations specialist is responsible for the identification and tracking of air, surface and subsurface contacts around the ship.
"I get to train all the new sailors, and teach them about the Navy," said Salmon. "We operate some very advanced navigation and radars, and are really involved in the ship's missions of air control, surface and subsurface warfare, and in the new ballistic missile defense mission."
John Paul Jones measures approximately 500 feet and is powered by four gas turbines that allow the destroyer to achieve more than 30 mph in open seas.
According to Navy officials, destroyers are tactical multi-mission surface combatants capable of conducting anti-air warfare, anti-submarine warfare and anti-surface warfare, as well as humanitarian assistance. Fast, maneuverable, and technically advanced, destroyers provide the required warfighting expertise and operational flexibility to execute any tasking overseas.
"Our Naval Surface Group Middle Pacific guided-missile destroyers are poised, trained, equipped and ready to deploy forward and support the Fleet," said Rear Adm. John Fuller, Commander, Navy Region Hawaii and Naval Surface Group Middle Pacific. "Working with friends and allies, our MIDPAC sailors provide sea control, advance maritime security, enhance regional stability, and foster continued prosperity in the Indo-Asia-Pacific region."
Approximately 30 officers and 300 enlisted men and women make up the ship's company. Their jobs are highly specialized and keep each part of the cruiser running smoothly, according to Navy officials. The jobs range from maintaining engines and handling weaponry to washing dishes and preparing meals.
"We're the most cutting edge ship in the Navy, and I like being a part of something really important," said Salmon.  "We're getting the rest of the fleet ready to take on the challenges of the future."
Challenging living conditions build strong fellowship among the crew, Navy officials explained. The crew is highly motivated, and quickly adapt to changing conditions. It is a busy life of specialized work, watches, and drills.
"Serving in the Navy means that I know I can take care of my family, my friends and my country, and keep them safe," said Salmon. "My dad served in the Navy, so it's a bit of a tradition in my family, and I'm proud to be a part of it."