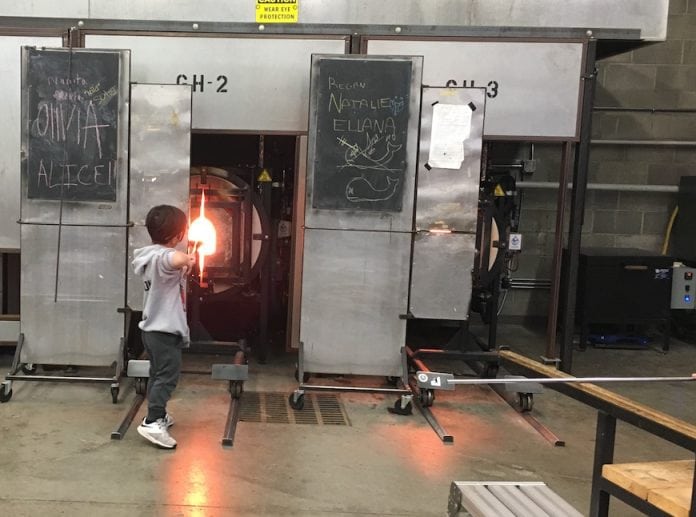 The Hilltop Artists have been providing local youth with opportunity and inspiration since the program was founded in 1994 by world-renowned glass artist, Dale Chihuly, and local gallery owner and supporter of the arts, Kathy Kaperick.
Since the very beginning when Chihuly and Kaperick created the program at Jason Lee Middle School, thousands of kids have been given the chance to use their creativity in hopes of better futures. The two of them founded the program with Tacoma's teens in mind, hopeful that it would act as an alternative to steer kids away from the gang violence that was so prevalent in Tacoma's Hilltop neighborhood.
To this day, the Hilltop Artists are thriving and working hard to pave the way for the members of their program. Instructors use glass art in different forms to engage students of diverse multitudes and lifestyles, providing them with glass art education and guidance, free of tuition. Their hot shops are located at Tacoma's Jason Lee Middle School, Woodrow Wilson High School, as well as providing flame work classes at Ford Middle School.
Hilltop Artists support 650 members each year between the ages of 12 – 20, and the numbers continue to grow each year. Jason Lee and Wilson now offer this program as a daytime art elective to students who are interested in participating. Others can apply online to join their after-school programs and can even join summer school programs when the school year comes to an end. Outreach programs are also offered to help students obtain food and housing, as well as the tutoring and educational support that they may need.
We had a chance to sit down with executive director of the Hilltop Artists, Dr. Kimberly Keith, who joined the program in 2017, and is no stranger to the worlds of glass and education. In 2001, she served as the associate director at Tacoma's Museum of Glass, designing their education and outreach programs. She told us, "Glass is at the program's core in the means of engaging with the young people, but our mission is really getting kids to better futures; that's staying in school getting an education, and that's getting them the social and structural support that they need to do that."
Dr. Keith has been developing partnerships throughout the South Sound community and is in the first steps of extending Hilltop Artists to the University of Washington Tacoma campus, expanding their programs and glass blowing to the upper age range of students that the college serves.
"When I worked for the Museum of Glass, I knew Hilltop Artists and I would regularly visit and see what was going on, so when I think about how it's grown and changed since 2001 when I was first involved, it's really amazing," Dr. Keith said. "One thing that I'm particularly proud of is that our first student intern at the Museum of Glass is now our main instructor for our programs over at Wilson High School. Seeing him go from that 16 year old learning glass to now seeing him instruct students is an incredible example of growth and change."
Dr. Keith finds joy in the growth that their students experience through working with glass. Some students have grown to doing excellent things for the Hilltop Artists and were provided the opportunity to have bigger roles within the program. Trenton Quiocho joined the Hilltop Artists first as a student and now he works as the program's assistant production manager. "I started working with glass in 2005 as a student in Patricia Davidson's glassblowing class at Woodrow Wilson High School. The material was fascinating and I was hooked from the beginning. As assistant production manager, my favorite part about being involved in the program is working with the students. We have a lot of fun in the hot shop," Trenton told us. "As a material glass can be very therapeutic, and for a lot of students it's the highlight of their day."
In addition to working with the students involved in their regular programs, Hilltop Artists have extended their services to help others in need. When Dr. Kimberly Keith started working at the Museum of Glass, she designed a program for incarcerated female offenders between the ages of 11 – 18 at Remann Hall in Tacoma. This program not only worked with these young women while they were at the detention center, but once they were granted probation and parole, also coached them on public speaking so they could work as docents, giving the public tours of the artwork at the Museum of Glass.
"A number of years after I left the museum, that program was brought here to Hilltop Artists, reconfigured a bit and renamed Arts Connect. That's the program we work with now for girls who have been through the court system and girls who are in diversion foster care."  Arts Connect is every Tuesday and Wednesday and works with about 100 girls each year.
Hilltop Artists has momentously evolved since its beginning in 1994, starting with only 20 students in their after school program. To this day they are dedicated and encouraged by their mission, "Using glass art to connect young people from diverse cultural and economic backgrounds to better futures."
To learn how you can apply, volunteer, connect with Hilltop Artists, visit their website for more details.