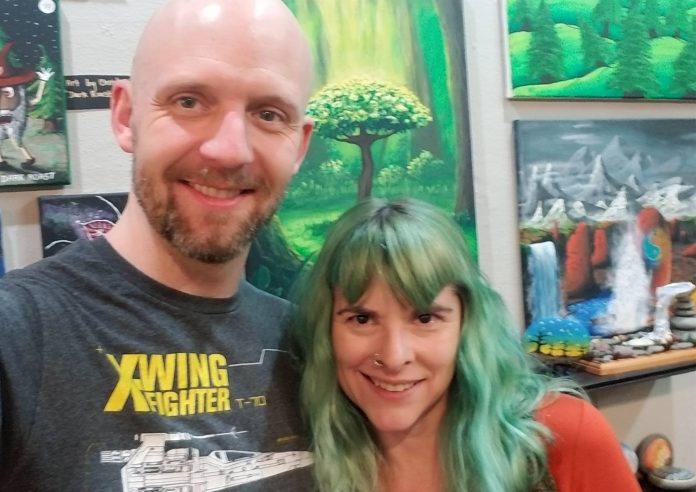 Everyone is an artist. Even (and perhaps especially) if they don't know they are.
This is the operating principle at Dazed and ReUsed Coffee & Crafts Art Studio, where every aspect of the space, and the art within it, is "created with love." Located on 6th Avenue, this welcoming "paint and sip" art cafe offers a place to let your creativity flourish. You'll also find retro clothing, local artists' work and inspired workshop offerings. Owned by Nancy and Chris Franklin, Dazed and ReUsed offers a no-fear vibe and an affordable way to paint and relax in a family-friendly setting.
Come sit and paint in the coffee lobby after work, on a date night or as a family outing. Creating to your heart's content is just $10 per hour and includes supplies and clean-up. Paint a beautiful sandstone river rock or try your hand at a small canvas (rocks and canvases are available for $2-6 dollars, or you can bring your own). Enjoy coffee, tea or a non-alcoholic beverage at their coffee bar, including service from an "art barista" who will attend to your every artistic need.
Lining one wall of Dazed and ReUsed is a thoughtful selection of vintage women's clothing. Items are hand-picked by Nancy for the energy they carry: tops and dresses in vibrant colors and eclectic patterns encourage the wearer to feel self-confident. "We're all works of art," Nancy says. Each piece is uniquely beautiful, and it's important to Nancy that the fashion featured offers an eco-friendly and empowering shopping experience. Prices are good, so while you enjoy browsing, consider pairing your find with some vintage shoes, or adding one of Nancy's handmade pendants or necklaces.
The Franklins feature about a dozen local artists at their shop. From wall art to wearable pieces, you'll find a wide selection of aesthetics at reasonable prices. They offer options for consignment and volunteering in the shop in exchange for display space. Promoting art, and truly celebrating our local creative community, is a heartfelt mission for the Franklins. Says Christopher, "I'm doing what I love and sharing it with the world."
Nancy and Christopher exude warm and sincere energy as a couple. The pair, who live in Pacific, met when Nancy posted an ad online for a friend, "and met my soul mate," says Nancy. They have three kids and two dogs between them. Prior to opening their shop, Nancy had worked as a caregiver for over 20 years, working with people with disabilities. Christopher was a therapist, working at Pierce County Alliance and Drug Court. They realized they wanted to help heal and empower people through art.
Although Nancy never called herself an artist, art has always been "a way of life" for her. From the age of three or four, she helped her grandmother with a monthly craft show for Duwamish Improvement Club. She began creating mandalas for healing and self-expression. She found self-worth through art and loves to help others do the same. "It's not just about the training," Nancy says. "Art comes from the heart."
In 2016, Nancy sold all her furniture to start Dazed and ReUsed. She started with $1,000 and found a small space on Broadway and a landlord who supported her vision. "I literally decorated the space with what I had," she says. Initially, she sold vintage clothing and art. After a year and a half, the couple sought a building that was warmer and had space for a studio, and they opened shop on 6th Avenue.
Nancy, who had been collecting river rocks her whole life, was unloading the rocks one day and got the idea to paint them. She held her first class – titled Monster Rocks – which was a rousing success. She remembers, "I had a blast. I realized I wanted to do this every day." With her warm nature, the art classes quickly took off. They now offer a variety of classes, from Mystical Mandala Stones to Airplant Fairy Garden Terrariums. Check out their current offerings and register here.
Christopher says their healing and helping experience translates into every aspect of what they do. "We want to offer positive energy, and a healing experience that's creative and fun. We want to be life sustaining." People come to the classes with no experience and leave feeling empowered. "We're sending home artists. People tell us that their experience at Dazed and ReUsed has changed their lives."
Much more than an art studio, shop or classroom, Dazed and ReUsed offers a true creative hub for the community. Their studio would be a great place to book a painting party for a special occasion. Not only do you come away with a beautiful keepsake, but you get to share a creative experience.
Christopher and Nancy are clearly very passionate about what they do. Says Nancy, "We're just the little art cafe…where art is on the menu."
You can also find them on Facebook and Instagram. Drop in any time they're open, or to schedule a private party, call Nancy and Chris at 253-480-5633 or email thefranklins@dazedandreused.com. ­­­­ 2607 6th Avenue, Tacoma, WA 98406.
Sponsored