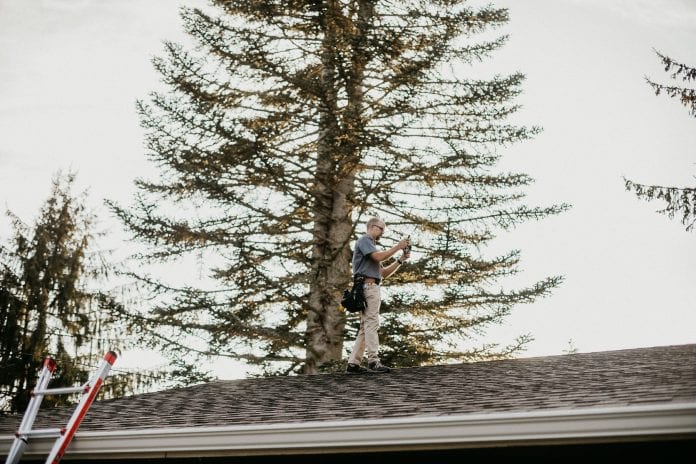 Home inspectors across the Puget Sound region know that some of the worst damage that happens to homes occurs during the winter storm season. "Though our region doesn't usually receive loads of snow, winter weather can be very damaging to structures in our area," says Dwayne Boggs, president and CEO of Boggs Inspection Services. Whether it's a historic home in Olympia, a bungalow in Tacoma or a recently built home in Puyallup, rain, wind, and even moderate temperate changes can take their toll on the best built building. So, check out the tips below to help keep the elements at bay before those cold winter winds begin to blow.
Prepare for Rain
If our region is known for one thing—it's rain. Love it or hate it, it's here to stay. "Water is one of the most destructive forces to a home," says Dwayne, "and it's very important to keep it moving away from the home."
Clear out your gutters and downspouts. Make sure the gutters aren't sagging and trapping water. Tighten gutter hangers and downspout brackets and replace any worn or damaged materials. A properly functioning gutter system will keep your home dry when winter storms blow in with a downpour.
Good perimeter drainage is essential to keeping your basement dry. Even if you don't have a basement, water sitting up against the foundation can cause massive cracks and structural failure. Moisture can also accumulate and lead to mold problems that work their way up from the basement or crawlspace.
Walk around your home and feel for any spongy ground. Soggy areas, especially when everything else has dried out can be a red flag. Puddling or areas of standing water around the home is another concern. Get to know the water flow around your home and ensure that it's always moving away. If you live on a street with storm drains, make it a habit to ensure they are clear, especially once the leaves have fallen.
Prepare for Wind
As the cold winter winds begin to blow, the treetops begin to sway. Regular pruning will keep trees healthy. Dead or weakened limbs can be removed before a strong wind comes through and brings them down. "Trim tree branches to ensure any tree limbs or branches surrounding your home are at least three feet away from the house," says Dwayne. Keep an eye on the trees on your property, he advises. Damaged or diseased trees should be removed and pay attention to trees that may be reaching the end of their lifespan.
Your Best Defense Against Rain, Wind, and Cold: Your Roof
If there is any part of your home that receives the brunt of the elements, it's your roof. Day in and day out, it shields the rest of your home from the constant onslaught of weather. Wind, rain, temperature fluctuations, and even sunny days take their toll, so it is important to ensure you are caring for your roof, so it can care for you.
"Check on your roof before the storm season hits," says Dwayne. Look for cracked caulk, rust spots on flashing, or cracked and worn rubber boots around vent pipes. These small problems should be repaired before water starts leaking into the home. Shingles that are buckling, curling, or blistering are signs that your roof needs a replacement soon and are not signs you should ignore. Missing or broken shingles should be replaced, and if your roof is still under warranty, your roofer may do it for free.
Masses of moss and lichen or other flora is more harmful than you may realize. As the plant grows, its roots and new growth can spread between the shingles. Whenever it rains, the plant material holds moisture and water can wick upwards into the roof, rather than flowing down to the gutters and downspouts. Professional removal and cleaning are recommended to protect the longevity of your roof.
Before you know it, chilly winter mornings will be accompanied by dark winter storm clouds on the horizon. It's time to make sure your home is ready. The team at Boggs Inspection Services wants you to be comfortable, cozy and dry when those winter storms blow into our region. If you would like a professional to take a look around your home to make sure it's winter-ready, schedule an inspection with Boggs Inspection Services.
Sponsored