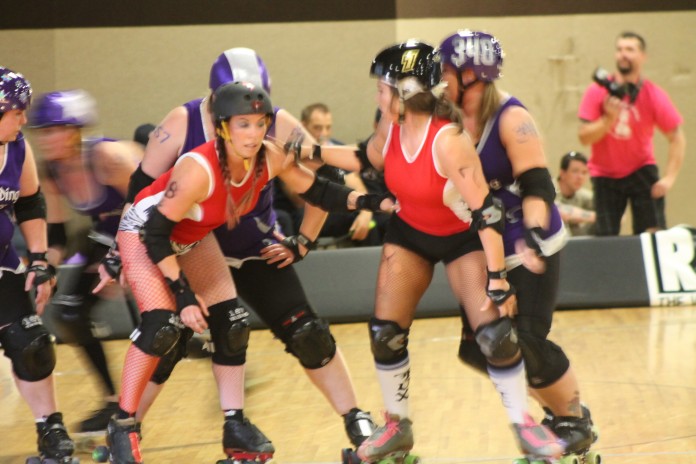 By Tom Rohrer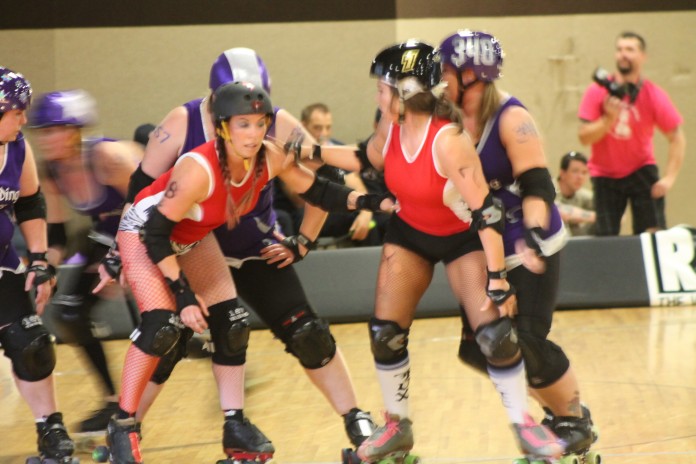 Sports have the ability to bring people of all kinds together.
The sport of roller derby is doing exactly that in Western Washington.  Local teams from across the region continually compete and win at national tournaments, including the Oly Rollers, who won the 2012 USARS National Championship.
Less than 30 miles north of the Oly Rollers home track at Skateland is another roller derby club that is looking to make strides similar to their competitors to the south.
The Joint Base Lewis-McChord Bettie Brigade, which was started in 2010, is an all-female roller derby team and league based in the JBLM community.
Prior to the Bettie Brigade's inception, there was a team under a similar name that competed for about a year in the late 2000s.  In 2010, Gloria Sass contacted Foxy Blocker, a very accomplished player who had competed for the Oly Rollers, in Olympia's Underground Derby League and helped form the Rainy City team in Centralia Foxy Blocker would become the coach for JBLM Bettie Brigade while not stepping away from her role as an instructor and a talented player since.
For Foxy Blocker, the transformation of the program has been especially rewarding, as she is the only team member not affiliated with the military.
"I'm actually the exception of the team in that I'm not military affiliated," said Foxy Blocker.  "What that's done for me is helped form a bond with an amazing group of people.  Now my heart is so touched for what we've done to become a family for other families that deal with deployment. It provides a second family and it touches my heart."
Playing and practicing at AFC Arena on the base, the Bettie Brigade is comprised of exactly a 50-50 split of players in active military service and military spouses.  This team composition provides a diverse foundation of talent that come together for a common cause.
"There are so many different women from so many different walks of life, just women from all different places on the base," said Sailor Cherry of the Bettie Brigade.  "This sport gives us that common ground that brings us closer."
Currently, the league holds around 25 team members and a small coaching staff and plays teams in Washington and Oregon.
Like other clubs, the Bettie Brigade has a successful junior program, Bettie Bratz, a boys and girls youth team that is coached by senior team members, including Sailor Cherry and Foxy Blocker.  The sport appears to have found a place in the hearts of young girls on the base.  Participation in the junior team continues to rise since its inception in 2011.
"They've become my pride and joy, and the transitions I've seen them make are incredible," said Foxy Blocker.
"It's almost more fun to watch them and see them excel at what you were teaching," said Sailor Cherry.  "We're setting the groundwork for them and it's very beneficial."
As one would expect of a team on a military base, there is constant turnover on the Bettie Brigade, whether it's on the coaching staff, roster, board of directors or junior players.
Families may have to deal with deployment or transfer, making it essential for the Bettie Brigade to continue recruiting new team members and acclimating them quickly to the sport.   Foxy Blocker noted that when team members are transferred to other areas of the country, the JBLM Bettie Brigade helps them and their children find a new team to join, something that has led to the creation of several junior programs across the nation.
"It's more of a reality than a challenge," said Foxy Blocker of the turnover.  "That's what makes this team unique in the sport, and why the bonds between us are so tight.  You have to find the positives in any situation, and how I look at it to an extent is I get to meet new people constantly and bring them into this family of ours."
"We are super fortunate to have 'Jeff In The Box' as one of our coaches," Foxy Blocker continued. "He just has a talent working with brand new skaters and makes sure we cover all of the bases."
Sailor Cherry at one point was one of those new players.  She had never participated in the sport when her family moved to the area from Alabama.
"When I started out, it was different, but it was very fun and exciting and was a chance for me to have something that was mine, unrelated to my kids or husband," said Sailor Cherry. "At this point, I feel extremely comfortable out there, and just getting the consistent exercise is such a mood lifter.  I can't imagine not playing at this point."
Sailor Cherry and Foxy Blocker both serve on the league's board of directors, making them responsible for the non-profit organization.
"Serving on the board, that provides skills for the real word," said Foxy Blocker.  "I know it's helped me communicate more efficiently, and just learn new skills I couldn't see myself obtaining before.""I haven't been in the work force for seven years, but when I look to join it again, that's something I can show companies and those are skills I can use in my future," Sailor Cherry said.
Whatever the league's board of directors have been doing, it appears to be working.  Participation is up in both the junior and senior teams, and the fan base has developed extremely well since the league's inception.
"The environment in our league is so different," said Foxy Blocker. "We have such a huge amount of support, loyalty and understanding from everyone. Everyone just takes care of everyone else. It's like a family and it's great to be a part of that.  And with our turnover, we get new athletes, and then their families come, so we get new fans, new members of our family."
Both Sailor Cherry and Foxy Blocker encourage people new to the sport to come experience derby for themselves.
"I would like to encourage people to come watch at least," said Sailor Cherry. "It's transformative. I know it changed my life and I know it will change yours."
"People have an idea about it before, then they come and they discover it's very athletic, very engaging," said Foxy Blocker.  "People don't realize how difficult it is to compete, than they see it, and are hooked."
The JBLM Bettie Brigade league will be back in action on Saturday June 8, at AFC Arena on the JBLM base.  It will be an interleague bout titled "Heroes vs. Villains", which will pit half the league's players against the other.  Doors open at 4:30 pm.
For more information on the Bettie Brigade, visit http://bettiebrigade.com/.