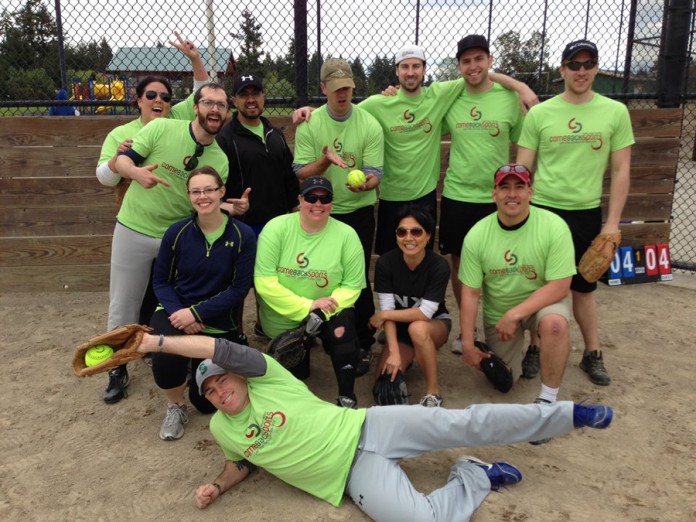 By Margo Greenman
Few things are as satisfying as a sunny day in the South Puget Sound. And, after months spent in hibernation, Pacific Northwesterners don't hesitate to flee their nests at the first sign of sun.
For some, the return of warm weather and longer days comes in the form of working in the garden, basking at the beach or hiking a wooded trail, but for others, it means lacing up their sneakers and heading out to enjoy a classic American pastime. Resurrecting all your favorite team sports, Comeback Sports provides men and women of all skill levels with co-ed recreation opportunities to get their heart rates up while having fun and making friends.
From kickball and bowling, to dodgeball, soccer, softball and more, Comeback Sports provides South Sound adults with a variety of indoor and outdoor sports to help them revisit their glory days, or just stay active. In addition to the recreation and fitness opportunities Comeback Sports provides its players with, playing on a Comeback Sports team is also a great way to meet new people and form lasting relationships.
Tyler Ball moved to Tacoma two years ago. As he integrated himself into the community and sought out new friendships, he met someone who invited him to join a dodgeball team through Comeback. Having been a member of Comeback Sports ever since, Ball says he has met some of his closest friends through playing on Comeback teams. "Before moving to Tacoma I had never done adult intramural sports. Ever since starting with Comeback I have made more friends, gotten more exercise and have had more fun than I would have in any other scenario I can think of," he says.
Ball plays on kickball and dodgeball teams and also heads up one of Comeback's softball teams. "We like to say I'm the 'general manager.' I form the team, send out the invites and pester people until they pay their dues," he says.
Softball, which is offered in both the spring and summer, consists of weekly games for six weeks. People can sign-up collectively as a team, or join individually and be assigned to a team at random. Games typically take around an hour (75 minutes max) and are played outdoors at Dacca Park Complex in Fife, Wash. At the end of six weeks, the teams who played the best advance to the finals and "Championship Tournament."
But, Ball explains that Comeback Sports is more than just what happens on the field or in the gym. "After the games, we go out and socialize," he says. Each sport is sponsored by a local bar where players can gather after the game to enjoy drink specials and socialize with other players. After-game socializing is optional, but it gives players the opportunity to get to know their teammates, opponents, and maybe even form new friendships.
Ball says the spring softball teams are currently gearing up for a favorite annual event: Comeback Sports Night at Cheney Stadium. This all-inclusive evening includes craft beer, wine and all you can eat barbecue atop Cheney Stadium's exclusive party deck, and features an extra special shout-out and game time league recognition.
While the spring season quickly comes to a close, Ball encourages people interested in participating in the summer league to register now while spaces are still available. Of course, if softball isn't your forte, Comeback offers a wide range of other sports, year-round.
Summer kickball is a Comeback favorite. With little skill necessary to play, kickball is a great way for people to get out during the summer and socialize while getting their heart rate up. Or choose from one of the many other summer sports offered through Comeback, including flag football, basketball, volleyball and the South Sound's largest outdoor soccer league.
After summer season sports go into hibernation, Ball says dodgeball is one of his favorite sports to play through Comeback. "It's a bunch of adults throwing balls at each other. It gets really intense though, especially as it comes to the finals," he says. Played indoors at Peoples Community Center, Ball says dodgeball is a great sport for someone just looking to have fun.
And that's what it's really all about: fun. Ball says his experience with Comeback has been nothing but rewarding. "All of the people I've met through Comeback are all outgoing, fun and nice. There's no petty grudge matches, everyone's there to have a good time."
With 500 teams and 6500 players each season, Comeback Sports provides adults across the entire South Sound with year-round recreation opportunities.
To learn more about Comeback Sports, or to register and become a member of a team, visit their website here.