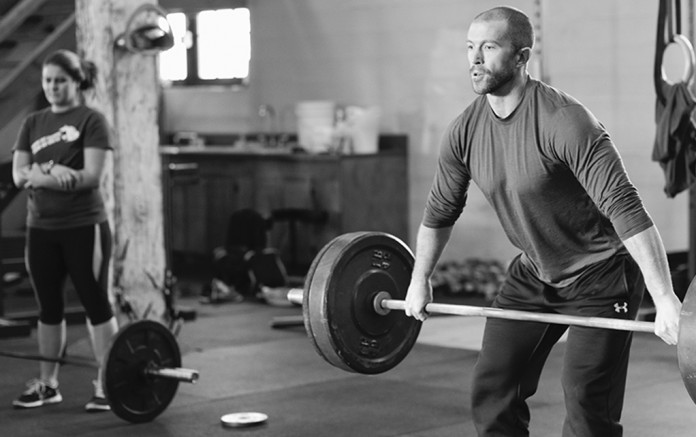 By Shelby Taylor 
The New Year always dawns so shiny, so full of promise and potential. We resolve to work on our mental well-being, our finances, our careers, and our educations immediately following January one. Not so surprisingly, gym memberships are also at an all-time high during this most reflective time of the year.
Should your start-of-year goal-setting include losing weight and increasing physical wellness, we've got you covered on the local front:
General Fitness
If you want to shed a couple of pounds and get your health back on track, there are several gyms and fitness clubs around Tacoma that can help you achieve your weight loss goals.
GStandard Gym
GStandard's booming playlist can be heard from the parking lot, a sign that no headphones are needed for working out at the old school gym. Members have access to GStandard 24-hours-a-day via key code, and when exercising, are able to solely focus on fitness — you'll find no supplements or product peddling here. Employees blend in with gym members, yet are quick to act as spotters and motivational coaches for those looking to get the most out of their work out. GStandard strives to crush the corporate cookie-cutter gym stereotype by bringing it back to the basics and focusing on community building.
GStandard Gym
10719 A St S
Tacoma, WA 98444
253-539-3539
Innovative Fitness
At Innovative Fitness, it starts with the trainer. From one-on-one to small groups, you decide how to best soak up what Innovative's certified team has to offer. Sign-up starts with an in-depth assessment, where personal health goals are identified. Then off you go on a journey of learning — learning how to exercise, learning how to eat right, and learning how to be the best you you can be. Along for the ride are experts with backgrounds ranging from physiology to biomechanics, nutrition to lifestyle management.
Innovative Fitness
1105 Regents Blvd, Ste C
Fircrest, WA 98466
253-565-1965 
STAR Center Fitness
As part of the Metro Parks family, STAR Center Fitness brings community to the fore. STAR Center is literally part community center, so while you beat the bulge, kiddos can entertain themselves with urban play spaces or be entertained at Child Watch drop-in daycare (for those ages 6 months to 8 years). The fitness center itself is housed in an eco-friendly building and takes a state-of-the-art approach to working out. Treadmills with Netflix and virtual personal trainers, oh my!
STAR Center Fitness
3873 S 66th St
Tacoma, WA 98409
253-404-3939
Taiso Fitness and Nutrition
At Taiso Fitness, lifelong wellness rules. Yes, small group classes, personal training and TRX are among the offerings, yet Taiso stands out with holistic Z Health Movement which calls upon the brain's relation to the body. With more open space than gym equipment, Taiso's atmosphere parallels a way of working out that can be quite simple at times. Taiso members train with the intention of repairing the network that connects body to brain for pain free, optimal exercise.
Taiso Fitness
5104 6th Ave #110
Tacoma, WA 98407
253-223-6365
Figures
Figures is, plain and simple, beautiful. With more of a spa/salon feel (Water feature? Check. Towel service? Check.), the gym reads feminine and relaxing. A purple-walled dance studio and cheery yellow cycle class bikes perfectly fit with what Figures is all about — debunking the gym as a man's world and giving a comforting edge to serious exercise spaces and equipment.
Figures
2079 Mildred St W
Fircrest, WA 98466
253-564-7546
Specific Focus
People looking to take a more focused approach to their fitness – whether it be building muscles or getting toned – can head to specialty gyms around Tacoma that offer the trainers, equipment and resources necessary for achieving even the most ambitious of goals.
Barre253
Barre253 refers to itself as, "not your daughter's ballet class." Like ballet, the full-body workout is centered on a barre or stationary handrail. However, with Barre, gone are the tutus and traditional use of handrails. Barre253, instead, calls upon the barre from all sorts of positions and makes use of light weights and glide boards for a full hour cardio workout that will push you to the limit. Not to worry, though. Instructors make a point to include modifications.
Barre253
915 Pacific Ave
Tacoma, WA 98402
253-272-0700
Edgeworks Climbing
Walk into Edgeworks and wall upon wall of vertical climbing surfaces sprinkled with colorful footholds greet you. To a novice, they all appear somewhat the same, but a tour by knowledgeable staff reveals that some walls are without ropes, inviting you to hook in if you dare, and that routes marked with white rectangles of paper can be utilized for even more of a challenge. All activities take place over a padded blue floor which is there to cushion falls. In addition to 100, 200 and 300 level climbing courses, Edgeworks facilitates outdoor climbs one to two times a month from spring into fall.
Edgeworks
6102 N 9th St #200
Tacoma, WA 98406
253-564-4899
Hot Yoga, Vinyasa at Expand Yoga
Yoga, especially of the 104 °F variety, can be intimidating. Expand Yoga, however, tries to make the practice of discipline as accessible as possible, encouraging newbies to arrive 15 to 25 minutes before classes to go over the basics. In a studio of mostly wood lit by rounded lantern-like lights, you can even opt for a Tuesday Yoga Lab where teachers assist with individual practice. Yogis too can rest assured that Inversions and Intermediate Classes are advanced as they come.
Expand Yoga
1015 Pacific Ave #200
Tacoma, WA 98402
253-886-7820
CrossFit at Tacoma Strength
CrossFit, as explained by Tacoma Strength, refers to general physical preparedness achieved through high-intensity intervals, Olympic weightlifting, powerlifting, gymnastics, calisthenic training, and the list goes on. With a number of years under their belt, Tacoma Strength has the benefit of increasing its quality and services while other gyms are just getting their feet wet. With their strength and conditioning program, there's no specializing in one field. Rather, Tacoma Strength is made up of generalists who are at home in a group setting, compelled to work hard.
Tacoma Strength
2354 Jefferson Ave
Tacoma, WA 98402
253-310-1940