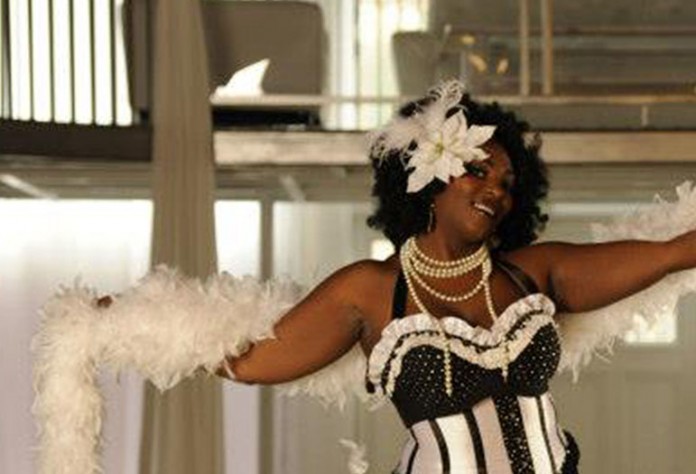 By Steve Dunkelberger
The rising cost of gas five years ago was the final spark that created the Gritty City Sirens, Tacoma's burlesque troupe, after its founding members got tired of having to drive to Seattle to perform and watch shows. They wanted to keep their talents local.
The Sirens are: Rosie Cheex, Ava D' Jor, Polly Pucker Up, Funny Face Fanny, Kitty Kisses, and Heather Hostility. They stage individual and group performances that draw inspiration from traditional burlesque, their own personalities, and a continuing exploration of contemporary and experimental burlesque styles. Their on-stage performances range from sharply energetic to flowingly ballerina-esque choreography. But all performances involve some degree of tantalizingly tongue-in-cheek humor and the removal of costumes to music.
Their typically sold out vaudevillian-style performances have given rise locally to what was once an all but forgotten art form. However, what makes the Sirens a bit different from other troupes is that they were all friends before they started dancing and have remained both friends and performers ever since.
"We are all sisters from different misters," Cheex said. "We really are. We all have insecurities. They are all still there, but we still go on stage. We support each other."
Their loved ones offered varying levels of support, however, when they learned their daughters and girlfriends were interested in dancing semi-nude in front of crowds. Burlesque even ended a few relationships. Kitten Kisses, for example, battled with her urge to dance and her insecure boyfriend when she became a Siren.
"We fought about it a lot, actually," she said. "I eventually became just a stage kitten for a while, and then we broke up over it," Kitty Kisses said. "Your significant other really has to be okay with it."
Polly Pucker Up and her daughter were living with her dad when she became a Siren. She hid her Sunday night rehearsal schedule for a while until she found the right way to tell him out of unwarranted fear over his reaction.
"I told him I was pregnant. 'Just kidding. I'm doing burlesque,'" she said laughing. "He then helped me come up with my name."
Her stage name came from what she considers her best feature: her lips. But she admits that her legs are a close second.
Ava D' Jor became a Siren less out of a need to dance in glittered clothing than because of an internal mission of womanhood and minority empowerment.
"I needed someone like me on stage," she said. "Femininity is not just soft. It is powerful. It is humorous. It is silly."
It also involves women of all shapes, ages, cultures and personalities, a message the Sirens champion with their acts. That supportive and collaborative vibe has allowed the troupe to go from staging a pre-concert dance before a Dick Dale performance five years ago to a steady roster of performances that includes last year's full production of a burlesque version of The Wizard of Oz.
"We knew that we were kicking it up a notch with that," Cheex said. "It keeps climbing."
Future performances include a staging of Oz in April in Olympia and possibly a Tim Burton-inspired Halloween production in the fall. The Sirens are also having conversations about starting burlesque classes for men and women interested in learning more about the art form that dates back a century.
You can learn more about Tacoma's Gritty City Sirens by following them on Facebook, or experience a performance firsthand by attending an upcoming show.
Photos courtesy of Lock and Key Photography.