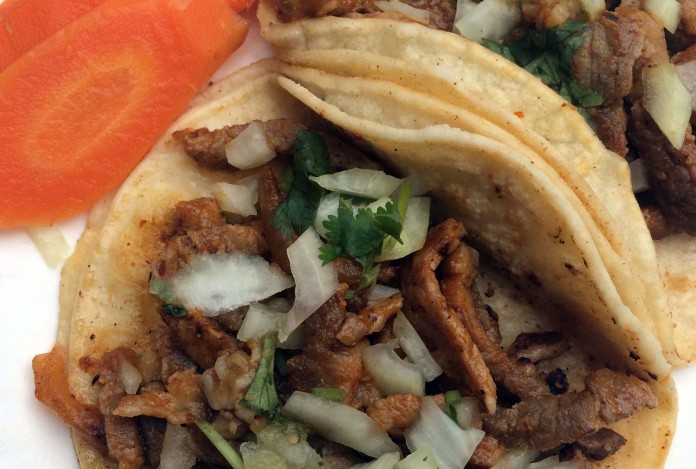 By Margo Greenman
In a way, tacos are the perfect food. Think about it. With numerous filling options, they're completely customizable. Pork, chicken, steak, veggie, tongue — there's something for everyone. And, they're the perfect size, too. Feel like having a snack? One taco is just right. Hungry for something more? Load up with three or four. They also fold up perfectly right into the palm of your hand (no silverware required), making them excellent to enjoy as a quick meal on the go — anywhere!
In Tacoma, there are lots of options for enjoying authentic Mexico city-style tacos and other fare, curbside. With several taco trucks scattered throughout the city, a taco truck is nearby, no matter your location. Bookmark this helpful guide to explore some of the city's taco trucks — you'll want to try them all.
El Super Taco Bas
Situated on East 72nd Street and McKinley, El Super Taco Bas isn't a taco truck, it's a taco bus. And, this big bus is so large that it even houses seating for its patrons. That's right, you can actually eat inside the bus. In addition to unique in-bus seating, you'll also find all the usual suspects on El Super Taco Bas' menu, with tacos priced around just $1.
El Super Taco Bas
904 72nd St. E.
Tacoma, WA 98404
Hours:
Monday–Friday: 10 a.m.–10:00 p.m.
Saturday and Sunday: 10:00 a.m.–11:00 p.m.
Los Tres Hermanos Taqueria
Conveniently located just blocks from 6th Avenue and Sprague, Los Tres Hermanos Taqueria is a short drive, walk or bike ride away. On sunny summer days the crowds line-up for dollar tacos and mouth watering tortas. You can enjoy your tacos on-site at one of the truck's picnic tables or place your order to-go.
Los Tres Hermanos Taqueria
2728 S 12th St.
Tacoma, WA 98405
Hours:
Monday–Sunday: 10:00 a.m.–9:00 p.m.
Taqueria Los Torres
This popular taco truck, located in the heart of the 6th Avenue Business District, is a popular destination for taco lovers near and far thanks to its friendly service and outstanding food. Located near other popular 6th Avenue businesses, Taqueria Los Torres is the perfect pit stop for a bite to eat in between shopping or on your lunch break. We recommend the marinated pork tacos (generously priced at less than a dollar a piece), but most things on the menu are sure to please — like their massive burritos. Don't feel like eating on the go? Taqueria Los Torres operates out of a truck but feel free to enjoy your meal indoors in the adjoining building located next to the truck's order window. Or, on sunny days, the covered tables located in Los Torres' parking lot are popular for those looking to soak up some rays.
Taqueria Los Torres
2515 6th Avenue
Tacoma, WA 98406
253-272-1774
Memo's
Okay, so it's not exactly a food truck, but with its convenient drive-thru window, this 24-hour Mexican food eatery offers a similar feel to the quick and tasty experience you'll find at other taco trucks in the area. And yes, it really is 24-hours, making it a great option for quick, delicious, affordable food after everything else has closed. And, while the tacos at Memo's are great, you'll want to be sure and try one of their burritos (the carnitas burrito is top-notch). All priced under $5, the burritos at Memo's are like two meals in one. Located on 6th Avenue in the former location of it's Greek to Me!, Memo's is centrally located near the 6th Avenue Business District and Stadium District, and it's also just a short detour off the freeway.
Memo's
1703 6th Ave
Tacoma, WA 98405
253-572-9503
Hours:
Open 24 hours, daily
Taqueria La Fondita
If there's one thing this taco truck knows, it's tortas. Located in the heart of Tacoma's Vietnamese District, La Fondita offers a tasty Mexican alternative to the banh mi sandwiches so popular in the neighborhood. Tortas, or Mexican-style sandwiches, are served on a Mexican-style rolls and loaded with veggies like lettuce, avocado and jalapenos, then topped with your choice of meat. Of course, if tortas aren't your thing, you'll find all your taco truck favorites to choose from as well.
Taqueria La Fondita
3737 S G St.
Tacoma, WA 98418
253-472-2577
Hours:
Sunday–Thursday: 10:30 a.m.–9:00 p.m.
Friday and Saturday: 10:30 a.m.–10:00 p.m.
Rico's Tacos
Another popular Tacoma taco truck is Rico's Tacos. What makes Rico's unique from its competition is its impressive assortment of salsas. Add these to intensify the flavor of your chicken burrito or pork tacos, then enjoy your lunch (or dinner) to-go or on location at one of Rico's two covered picnic tables.
Rico's Tacos
5015 Center St.
Tacoma, WA 98409
253-202-8197
Hours:
Monday–Saturday: 10:00 a.m.–9:00 p.m.
Closed on Sundays