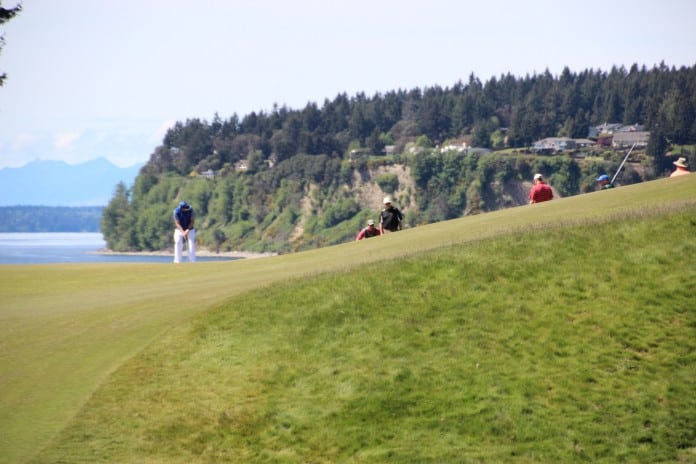 It's awfully nice to be rewarded for something you were going to do anyway, especially with Mother's Day, Father's Day and birthdays just around the corner. Throughout the month of May, your regular play time at the Lucky Eagle Casino & Hotel can pay off with cash, prizes and even a luxury staycation.
Starting Friday, May 1, Lucky Eagle Players Club members have the chance to win free play up to $1,200, $1,000 cash or a trip for two with hotel room and event merchandise to the US Pro Golf Championship at Chambers Bay in nearby University Place through their first ever Hole in One Giveaway.
Drawings for prizes take place every 30 minutes between 5:00 p.m. and 9:00 p.m. each Friday in May. Lucky Eagle Promotions and Events Coordinator Jessica Brooks stresses that winners must be present to claim their prizes and that staff "are really excited to be giving our guests the opportunity to win tickets and attend this event!"
In recent years, golf participation dropped due to the financial belt-tightening of the recession. But Forbes reports that in 2015, "we are seeing participation on the rise. The rounds played per day average was up despite the fact that extreme weather conditions in 2014 led to the fewest course days open since tracking began nine years ago. And we are seeing more youth golfers age 6 – 17 coming to the game, with now more than three million participants. Millennials aged 18 – 34 are active in the game with an estimated 6.3 million golfers. Many of these are drawn by the exceptional, exciting young talent on the PGA TOUR and LPGA." These days there are more than 22 million golf participants in the U.S. alone.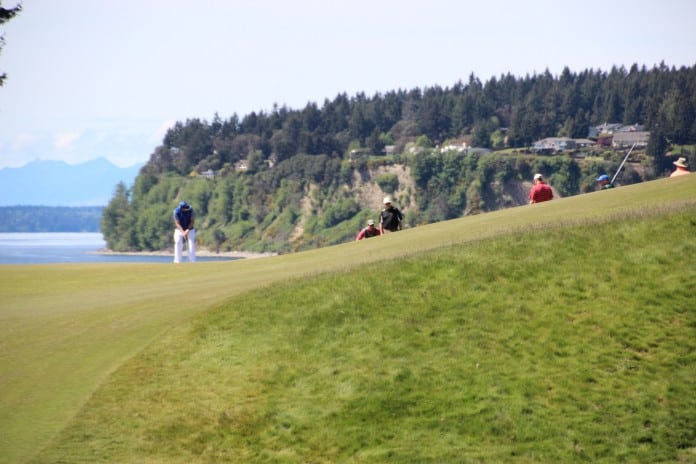 With more than 33 million viewers last year, the US Open was a hugely popular television sporting event. This year's four-day tournament takes place on Monday, June 15, with its first visit to the Pacific Northwest. Chambers Bay promises "massive, rolling fairways, towering dunes, undulating greens and unpredictable coastal winds, the traditional linksland course will provide the world's best with a test unlike anything played at a US Open."
Lucky Eagle's Promotion and Events Specialist LuWana Hawley shares that "our guests love the opportunity to win; promotions and drawings such as the Hole in One Giveaway provide our guests a chance to have their name selected, participate in a fun interactive game show style giveaway, and come away with some extra cash or prizes. The winner of the Hole In One giveaway will win up to $1,200 in free play, plus one lucky winner each night will win coveted tickets to the US Open Golf Championship."
Joining the newly revamped Players Club is easy, free and hugely rewarding. Members receive rewards and discounts for meals, hotel stays, concerts, and even trips to the nearby Great Wolf Lodge simply by playing their favorite games. To sign up, guests over 18-years-old simply stop by the Players Club booth with a valid photo id.
The Lucky Eagle is a great place to get away from it all without going far. They're expanding their role as a prime local destination with world-class dining and entertainment options. By keeping your hard earned dollars local, you also benefit friends, neighbors, and the casino's mission to help fund non-profits and charities throughout our area. The same is true of the upcoming arrival of the 2015 US Open. The region stands to benefit from players and visitors alike as they attend the event and explore this gorgeous corner of creation we call home.
Whether you visit the Lucky Eagle to dine, dance, or play, there's something for everyone. Just make sure to drop by any Friday night in May for your chance at big prizes.
The Lucky Eagle Casino & Hotel is located at 12888 188th Ave SW in Rochester and can be reached by calling 800-720-1788.