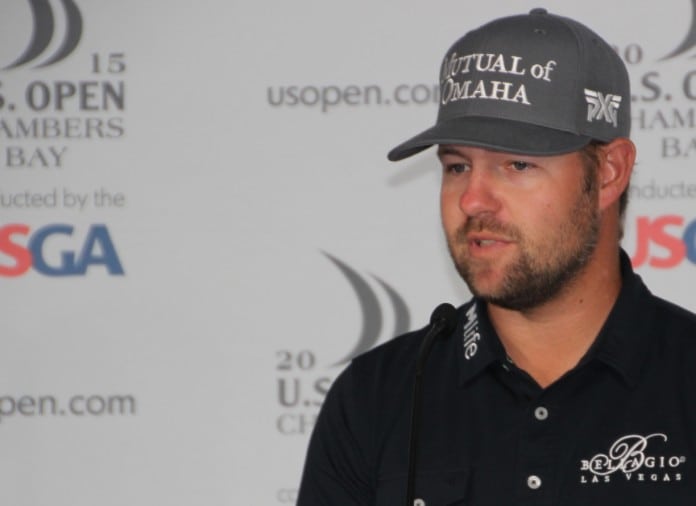 By Gail Wood
He's back where it all began.
Ryan Moore grew up about 10 miles from Chambers Bay Golf Course, the site of this week's US Open. And this week, the bearded Moore returns in hopes of winning his fifth PGA tournament and his first US Open.
"It's huge," Moore said about playing in a PGA event so close to where he grew up. "It's so close to home for me. And it's huge for the area."
Moore will have lots of supporters and family cheering for him to win. He's been hustling tickets from fellow PGA players the past couple of weeks.
"My whole family does live right here, actually all within about five miles of this golf course," Moore said after Monday's practice round. "So, I'm going to get a good crowd out there."
Moore grew up in Puyallup and began swinging a golf club at a young age. His family owned a driving range, so hanging around his dad meant getting tips on how to swing a driver, 5-iron or wedge.
"I was fortunate my dad taught me to golf and would take me golfing and practicing a lot," Moore said.
The driving range became the perfect babysitter.
"I went and hit balls every day, all day," Moore said.
Growing up in the rainy Northwest gave Moore another edge.
"I wasn't spoiled with perfect weather every single day," Moore said.
When he was preparing for a high school tournament, Moore, who attended Cascade Christian High School in Puyallup, he'd get his practice rounds in whether it was sunny or rainy. If he waited for the sun to shine, he would have never practiced.
"I think it just kind of prepared me obviously to be a little tougher golfer conditions-wise and playing in a lot of stuff," Moore said.
Moore would like nothing more than to celebrate his first victory at a major PGA event to be this week when he's playing in his backyard.
"Yeah, I've thought about it a lot," Moore said. "To win any major would be incredible, but to be able to do it potentially where you were born and raised and in front of a local crowd and your family and friends, it would be — it would be incredible."
Sleeping at his own home, Moore took full advantage of squeezing in some extra practice rounds on Chambers Bay's tricky links course.
"I've played it a bunch," Moore said. "I was here the whole week before the tournament just so I could get out there and play the course and just get comfortable with it."
Since Chambers Bay opened in 2007, Moore guessed he's played the course five or six times over the years. But playing it in the last week now that the course is so dry and fast gave him an added sneak preview.
"It's a fun golf course," Moore said. "It's very challenging. It's very tough. But I feel like it kind of gives you a chance even when you miss it in certain areas."
Moore doesn't think being a hometown boy comes with any advantage.
"You're playing against the best players in the world," Moore said. "These guys are all really good and really good at figuring out golf courses really fast and getting comfortable with them."
While PGA players are able to adapt to any course quickly, Moore said his familiarity with the Chambers Bay course doesn't necessarily improve his game. Moore said the course changes all the time, according to the weather. He figured his best advantage might be the weather and the common rainy and chilly June days. But with warmer than usual weather forecasted, Moore isn't likely going to cash in on that.
"It might have been a little bit more of an advantage if it was going to be cold and rainy," Moore said. "But it doesn't look like that's going to happen, which I'm okay with."
Even with all the excitement of playing so close to home, Moore downplays the local-boy-comes-home angle. Golf is golf no matter where it's played.
"In the end, it's a golf tournament and you've just got to go out there and play," Moore said. "I'd love to play well here, but I also really want to enjoy this week. This could be the one time in my entire life I get to play a tournament in my backyard. So, I'm just really trying to enjoy this experience."