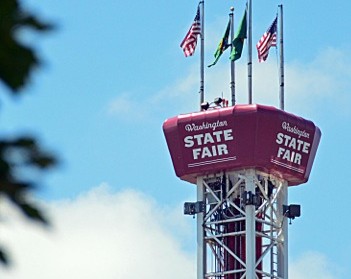 By Sonia Garza
The South Sound offers a wide selection of festivals and events to enjoy throughout the year, but none compare to the Washington State Fair. Drawing in crowds from across the state, the fair, which takes place in Puyallup every September, is a fun-filled way to celebrate the end of summer.
Growing up in Texas, our local fair rarely saw live entertainment. We were happy just to have a few rides to choose from. Now a resident of the South Puget Sound, my family has made visiting the Washington State Fair an annual tradition — and this world class fair offers far more than just scones and elephant ears.
The first year I attended the Washinogton State Fair, my then 2-year-old son was delighted by the petting zoo — a great attraction for families with kids of all ages. However, now that he's a little bit older, I am more than thrilled to take my rambunctious toddler to SillyVille, where he can enjoy the kiddie rides to his heart's content — and I can get my fill of funnel cake, fried Oreos and smore's. Need I say more?
In addition to great food and family-friendly attractions, the Washington State Fair also features several nights of live entertainment. Musical entertainers offer everything from a little bit of country to a whole lot of rock, and headliners include well-known artists such as HEART, Keith Urban, Duran Duran and Pitbull, just to name a few. There's something for everyone to enjoy. In the mood for a good ol' laugh? Makes plans to see America's Got Talent winner Terry Fator or enjoy the comedic musical stylings of "Weird Al" Yankovic.
Each year, the Washingotn State Fair promises new and exciting things, and this year is no different. In 2015, the spotlight is on the new rides and exhibits. Are you a thrill seeker? Check out Evolution, a large thrill ride certain to leave your head spinning. Want to see an aerial view of the fair? Take a ride on the Rock Star, a new ride that elevates riders 55 feet and ends with a unique free-fall experience. It comes complete with a spectacular LED light show, so make sure to ride this one at night.
Calling all Trekkies! This year will also welcome a new Star Trek exhibit. "Trekkies have been calling asking if they can wear their Star Trek costumes," says Karen J. LaFlamme, public relations counsel to the Washington State Fair. "And we're pleased to welcome them." Each Saturday of the fair, Trekkies can relax at the End Zone Sports bar from 3:00 p.m. to 8:00 p.m. for a Romulan Ale (a popular beverage on the TV series), one of several "spocktails," and a range of food items. Additionally, Karen says, "We'll be hosting a Star Trek costume contest each Saturday there at 5:00 p.m., with prizes for the winners."
Another exhibit that is sure to satisfy is Sweet! A Tasty Journey. This new, free exhibit focuses on the history of candy making as it takes guests from machinery used in days gone by to the technology of today. "It is an interactive exhibit, showing the process from farm to table. Also, it was designed for all ages and is sure to be a hit," says Karen.
Want a one-of-a-kind mobile mega-experience? Come thirsty to Beer HavenTM, a celebration of the small, independent, traditional and innovative culture of American craft brewers. Sample a myriad of craft brews at this giant tap room on wheels. It even has a learning component, allowing drinkers to learn about the brewing and canning process from start to finish from the brewmasters themselves.
Are you the ultimate Seahawks fan? Wear your blue and green and attend the Ultimate Tailgate on September 27. It's free with your admission. Enjoy the game as it's broadcasted in the bars throughout the grounds, and enjoy other perks like contests and prizes throughout the day as well as a special Jr. Cheer Camp for the kids. Wear your fan gear, grab some grub and enjoy drink specials. The first 500 guests to enter the family-friendly End Zone Sports Bar will receive a free prize.
This year's fair offers many opportunities to enter the fair for free, keeping your cash in your pocket to spend on fun rides, food and more. Bring a non-perishable food item on the first day of the fair (Friday, September 11). Food donations benefit the Puyallup Food Bank, and last year more than 275,000 pounds of food were collected in one day. Bring an item, get in free and benefit the community. That's a win-win for sure!
Looking to get in the fair free of charge? There are many ways to enter admission-free, leaving you with more to spend on rides, food and fun.
If you have little ones, don't let the thought of a big crowd deter you from attending. Pack the stroller and load up the kids. Kids 18 and younger get in free on Saturday, September 12 and Sunday, September 13. You must have this coupon to enter. Kids 5 and younger always get in free, too.
As a military spouse, I am especially excited for the Military Mondays at the fair. Active military, reserve, retired, disabled veterans and their dependents with a valid ID receive free admission into the fair on September 14 and 21.
And whether you are coming from the north or the south, transportation options are plenty this year with the return of the Fair Express. Pierce Transit buses will be offering direct pickup from the Lakewood Towne Center, Tacoma Mall and South Hill Mall with service to the Washington's State Fiar's Blue Gate. You can park at any one of those locations for free too, making it even easier to attend the fair without the hassle or headache of fighting the traffic and paying for parking.
Mark a day — or two — in your calendar to attend this favorite event. With so much to see and do, you will surely walk away with memories to last all year —until the next fair rolls around, that is.
The Washington State Fair takes place Friday, September 11 through Sunday, September 27. For a full line-up events, additional details (including admission and parking pricing information) and more, visit the Washington State Fair online.