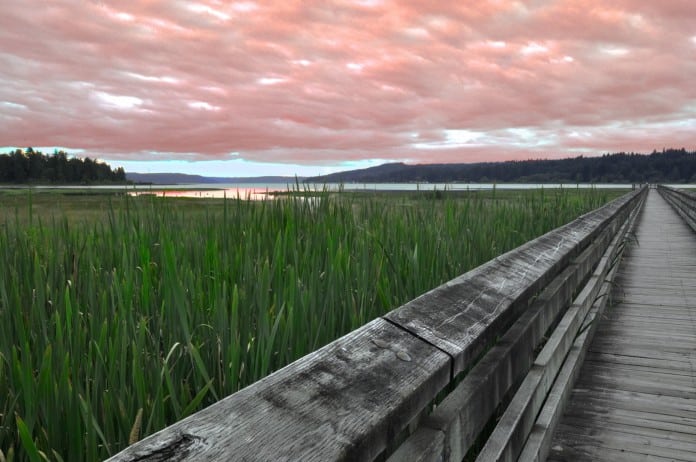 By Kristin Knudson
"Sandals with Socks Guy" was created for a reason. We Washingtonians are passionate about our state's recreational perks and believe that the time of year and season can not (and should not) dictate outdoor activity. The changing leaves and deep moss greens hold a beauty only a non-umbrella user fearless of the damp truly understands. There is no way we would tell our kids they can't play outside three-quarters of the year, and there isn't one good reason we should stop either. So if you're a fair weather runner stop reading, I'm about to share some must-see trails to stretch your legs on no matter what time of year it is.
Runners at heart joke hitting the pavement is their drug, and you do not want to see what happens when they miss their fix. Same goes for trail runners — only it's extra intense. A trail run is more than just pleasing to the eye; it's an adventure that demands all senses. Navigating a windy, bumpy, and obstacle-ridden path with fresh air and unpredictable views stimulates the mind and triggers the extra rewarding muscle confusion that is our own personal kick. It's a beautifully sweaty — and often muddy — adventure every runner should experience. Alas, like a cheesy bar, not all trails are worth their trek. So here you go my fellow soggy soled citizens, an insider list to seven of the best year-round cardio spots to lace up and take off from when you get that ever so wonderful runner's itch.
Tacoma: Puget Park Trail
Trails: 2 miles
Elevation Gain: 300 ft.
Meet the gem tucked magically into a forest smack in the heart of rush hours and cement. Puget Parks' measly two-mile trail is deceiving on paper, but that's only because you haven't experienced it in real life yet. If you call a Tacoma neighborhood home, you will quickly want to make this a daily visit. The run is perfect for all skill levels and it's an incredibly convenient solution to achieve mid-week training mileage when the time for travel, work, family and Netflix is already so limited. The soft, impeccably kept trails and extended inclines are ideal for either building endurance or those wonderfully- painful repeating hill sprints the most dedicated of runners consider a play session.
Tacoma: Point Defiance Park
Trails: 9.3 miles
Elevation Gain: 200 ft.
This round-up wouldn't be complete without a Point Defiance Park mention. But as much as it is loved, it can also be dangerous. Many runners fall victim to the lack of signage and get lost mid-expedition. Map your runs before you're on the path until you become better acquainted and confident. It's well worth the prep work to enjoy more than nine miles of trails surrounded by massive trees that keep you nice and shaded. With a maze full of trails, you'll find some are more frequented and worn with better footing than others. Proceed with extra caution and like always, be safe and drag along a buddy —  lost and alone in the woods is the premise of a scary movie, not a happy little running trip.
Bainbridge Island: Gazzam Lake Preserve to Close Beach
Trails: 3.5 miles
Elevation Gain: 50 ft.
An adventure isn't a Pacific Northwest adventure if there isn't an occasional ferry ride thrown in, so catch a boat to Bainbridge Island, because The Gazzam Lake Preserve Trail to Close Beach is a runner's dream well worth the extra travel time and funds. From a nice consistent warm-up, you can maintain a leisurely pace past Gazzam Lake. Keep going or feel free to take it to the next level and tackle group of tricky paths that dissent to an almost private shore with semi-difficult access. After the lake, you'll have a quick chance for recovery before tackling the true peak of this expedition. The only way to reach Close Beach is if you challenge yourself to some good old-fashioned fun of steep downhill switchbacks. If you still aren't excited, the remote seaside bank and serene view of the Olympic Mountains is one any sensibility will dig.
Vashon Island: Island Center Forest
Trails: 9+ miles
Elevation Gain: 750 ft.
Now if you enjoy the peaceful time on the ferry both before and after your run, board a boat to Vashon Island where you can frolic like a school girl or boy across more than nine miles of trails at the Island Center Forest and nature preserve.
Tackle a short 2.5-mile loop or take in the whole whopping 363-acre wonderland. You can expect mostly single-track shaded trails, dirt, gravel, and grassy shoulders with some nice steep hills mixed along the way to challenge newbies and inspire even the most advanced trainers. No spectacular view-points here, but you can expect continuous natural beauty while your muscles work to lead you to local favorites like Mukai Pond, the Meadowlake Wetlands, and Judd Creek.
Olympia: Capitol Peak Trail
Trails: 9.4 miles
Elevation Gain: 1550 ft.
Every runner I've known admits to some form of insanity within them, and if you're the kind that gets a thrill from testing your limits, the Capitol Peak Trail in Olympia is perfect for your personal contest. This steep, single-track trail dares only the best, so forget the trashy reputation and give it a chance. After the race to the top of this one unforgivably long 9.4-mile hill, the view alone will make you feel like a champion regardless of how you fared getting to it. Take in all of the Pacific Northwest and relish a true accomplishment. If it's a clear day, nothing can beat the view. From just one spot, you get to see Mount Rainier, Mount Baker, the Olympic Mountains, Grays Harbor, Mount St. Helens and the vast Pacific.
Olympia: Rock Candy Mountain
Trails: 18.5 miles
Elevation Gain: 3700 ft.
Don't worry endurance runners, I haven't forgotten about you. Rock Candy Mountain — also in Olympia — has an 18.5-mile loop. You can skip the boring out and back. If endurance isn't your thing, know this adventure is worth all the rough days and preparation it'll take you to reach an 18.5-mile running distance. You get to feast on the Puget Sound's beautiful saltwater inlets while you sweat. You would be crazy not to appreciate such a well-groomed trail that runs you through the perfect representation of a Washington forest. Regardless of the high mileage, don't let distance prevent or intimidate you from making a visit. Turnabout whenever you want, just enjoy the experience.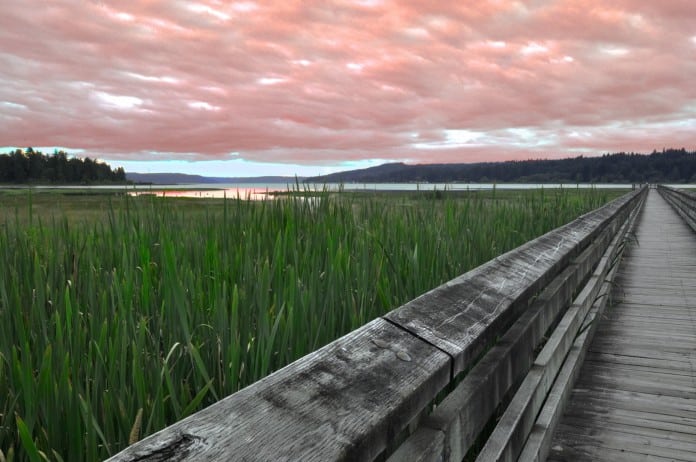 Hood Canal, Belfair: Thelar Wetlands Nature Preserve
Trails: 3.4 miles
Elevation Gain: 500 ft.
The Hood Canal, like the islands, is another unique area that's a must visit. With 212.9 miles of shoreline, your options are endless. But specifically more runners need to know about the charmingly unexpected and gorgeous jackpot of the Theler Wetlands. It is by far one of the most understated destinations to anyone other than a Belfair resident. The trails are primarily flat but will capture the heart of even the most advanced and experienced. Here you get to navigate through lush wetlands to the Hood Canal and mouth of the Union River. But wait, there's more. It's like a sale of running awesomeness because you also pass creeks, marshes and natural canopies galore that keeps surprising even its' surprises. Throw in the view of the Olympic Mountains and the grumpiest anti-runner would be distracted from the fitness. The accessible and well-maintained trails effortlessly transition from dirt to gravel, boardwalks and grass, then back again. If the vast landscape alone doesn't captivate you, let your inner child explore with curiosity the educational exhibits maintained by the North Mason County School District.