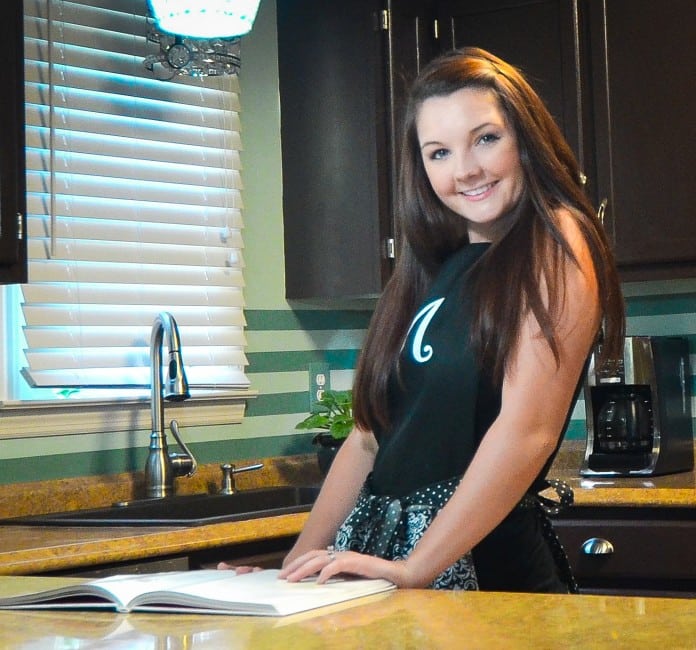 There's nobody quite like Michelle Gainey. From her deep southern accent to her big smile and loving heart, she will have you in stitches within moments of meeting her.
It was on the JBLM playground with our children that Michelle and I met and quickly struck up a conversation about military life. Military spouses are known for their resiliency and many run businesses, but it's not every day that you meet someone as rare and talented as Michelle.
Raised in Patrick, South Carolina, Michelle is truly a southern girl at heart. She is not only a self-taught chef, but is also a self published author of the cookbook, "A Southern Girl Goes Gourmet," and most recently, the aspiring photographer behind Michelle Gainey Photography.
It was recently that I had the honor of tasting Michelle's cooking, and I kid you not, this girl has definitely got "it." I had the rosemary balsamic chicken wings, roasted red pepper goat cheese spread, and the meringue topped strawberry bites. Just one taste had my head spinning for more. It's easy to see that Michelle is a rising star in the culinary spectrum, and one look at her dishes will have you wanting to book your own private tasting party.
Michelle grew up from humble beginnings, raised by her step dad after her father's passing when she was 6 years old. "From that moment, I made my life's most consistent and unwavering best friend. My daddy raised me and my sister as his own, and when my mother passed away when I was 9, we really were his. He was all we had."
Growing up, Michelle prepared meals for her Dad, but cooking was never an early interest for Michelle. "I knew that I enjoyed it, and I would come to understand that it is my 'release.'" Michelle's Dad encouraged her to pursue her dreams and make her ideas "come to life." "I cherish the man who gave me a chance at life, and not only that — he gives me the support that I need on the days when I just don't think I'm good enough."
Michelle's grandma was another powerful influence in her life. "As I grew older, we hung out as often as we could, and I always tried to give her company in the kitchen."
But it wasn't until she was dating Brian, her now-husband, that she realized cooking could be more than a hobby. "I made sushi for the first time and we thought we were in heaven." Michelle's husband quickly became her professional taste tester. "One instance that blew my husband's mind was when we met the chef after we had tasted the meal at a nice restaurant and I asked him if he had infused some roasted garlic into his olive oil, and he almost couldn't pick his jaw up off the ground. He asked how I would pick that one particular secret ingredient out, and I didn't really have an answer other than I just sensed it. Perhaps, that was the day that showed me that I just might have "it."
Michelle clearly has a passion for culinary arts. "Cooking makes me feel in control. It is a way to clear my mind and make a new creation that excites me and brings a feeling of accomplishment and a high five to myself."
After making her dad a binder full of recipes with pictures she had taken herself, Michelle decided that she wanted to publish a cookbook. Friends further solidified her decision when they asked for her recipes. "I wanted to share everything I knew with them," she says. "I couldn't keep this all to myself!"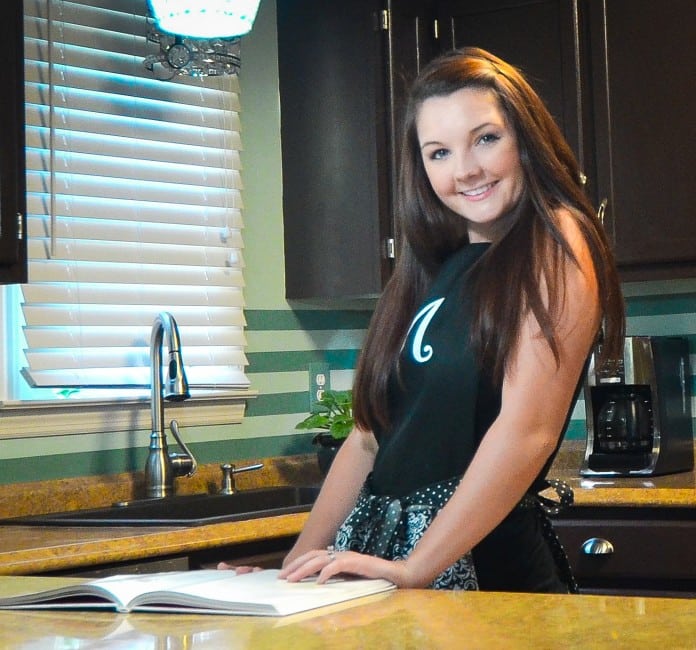 With Michelle's background in journalism and communications, she felt confident that she could successfully self-publish a cookbook on her own. "I had page layout experience, photography experience, and — of course — cooking experience."
Michelle reached out a publisher in November of 2013, and the ball started to roll very quickly. "[The publisher] had been wanting to have a cookbook line, and I came at just the right time." In less than 11 months, Michelle's book was released on October 9, 2014.
"A Southern Girl Goes Gourmet" was a true labor of love for Michelle. She not only spent hours in the kitchen cooking, but also time capturing each perfect picture for the book. "It was very exciting to see my book," she says. "I was so proud my my ability to 'do something,' and to do it on my own."
So what are this chef's favorite meals to cook? "I enjoy eating a steak I have marinated in Worcestershire sauce and kosher salt and cracked black pepper," she says. "To sear it on one side and barely sear it on the other — a perfect medium rare steak is the entree on my plate that will get me singing songs louder and more enthusiastically than anything else. It has to be on a charcoal grill, though. That is a must!"
Her other treasured meal to make is also my favorite meal to eat, and that is eggs Benedict.
"I just enjoy the challenge that any wrong move can ruin the entire breakfast," Michelle explains. "I stay on my toes while I make this favorite dish."
When Michelle's husband is home, she's a cooking machine, "but when he's gone, I cook so much that my fridge is always filled with Tupperware of food that I cook from all my nervous energy. Thank goodness I have two little boys who love food as much as me."
Michelle caters small events and especially enjoys making cheesecakes. "One of my favorite is my blueberry cheesecake with a crushed Oreo crust." She is also available to host tasting parties, which involves a few dishes to taste along with a signature drink. "The average tasting is usually 8 to 15 people," she says. "When it comes to gathering around food, drinks and lovely conversation, I can think of very few things that I love more." Michelle welcomes tasting parties hosted at her home, but she will also come to you. The host also receives a copy of Michelle's cookbook for hosting.
If you are a military spouse looking to pursue a dream, take advice from Michelle. "You are in the most encouraging and uplifting group of people who have passions and dreams," she says. "This is the perfect environment to pursue your dreams and learn how to take your passions with you everywhere you go. When you can make people feel as strongly about what you love as you do, success will follow you no matter where you go."
If you would like more information about Michelle's cookbook, "A Southern Girl Goes Gourmet," visit Holiday House Publishing online. She also sells the book herself for $23 including tax with a special handwritten note, and she is also available for tasting parties to promote the book.
Believe me, you'll want to meet her. Book a tasting party, if for her southern hospitality alone. Until then, enjoy this recipe from Michelle's collection.
Michelle's Holiday Spiced Red Wine
1 bottle red wine
3 tablespoons honey
2 cinnamon sticks
1/2 tablespoon nutmeg
1 teaspoon black pepper corns
1 orange, sliced
1 lemon, sliced
1/2 cup of sugar
In a large pot, combine all of the ingredients. Be sure to squeeze the fruits' juices into the wine before tossing them in. As the wine gets hot and begins to steam, stir to fully dissolve the sugar.
Leave off the heat for about 5 minutes to let the flavors continue to come together.
With a ladle, scoop out the warm wine into a mug and serve.